ß

Amélie H. Scheltema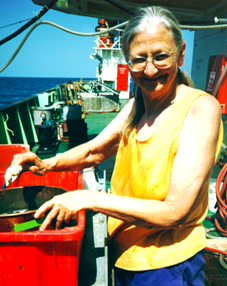 38°C on the Arabian Sea - HMS DISCOVERY October 1994
Address: Woods Hole Oceanographic Institution, Redfield 1-34 MS #34, Woods Hole, MA 02543, USA
Telephone: 1 (508) 289 2337

Fax: 1 (508) 289 2134

e-mail: ascheltema@whoi.edu

Education:

Dr. philos., University of Oslo, Norway, 1992
A.B., Bryn Mawr College, Bryn Mawr, PA, 1950; major, geology







Fellowships, Grants, and Awards

National Science Foundation grant, Partnerships for Enhancing Taxonomic Expertise (PEET) 1995-present
Scholar, Radcliffe Institute, Cambridge, MA, 1965-1967
Professional Societies:
American Association for Zoological Nomenclature
American Malacological Union
Malacological Society of London
Sigma Xi
Unitas Malacologica
Western Society of Naturalists
American Microscopical Society
Malacological Society of the Far East [Russia]

Recent Publications
1993 Scheltema, A. H. Aplacophora as progenetic aculiferans and the coelomate origin of mollusks as the sister taxon of Sipuncula. Biological Bulletin 184: 57-78.
1994 Scheltema, A. H., M. Tscherkassky and A. M. Kuzirian. Aplacophora. Pp. 13-54 in: F. W. Harrison and A. J. Kohn eds., Microscopic Anatomy of Invertebrates. Vol. 5, Mollusca I. Wiley-Liss, Inc., New York.
1994 Scheltema, A. H. and M. Jebb. Natural history of a solenogaster mollusc from Papua New Guinea, Epimenia australis (Thiele) (Aplacophora, Neomeniomorpha). Journal of Natural History 28: 1297-1318.
1995 Buckland-Nicks, J. and A. H. Scheltema. Was internal fertilization an innovation of early Bilateria? Evidence from sperm structure of a mollusc. Proceedings of the Royal Society of London, B, 261: 11-18.
1997 Scheltema, A. H. Aplacophoran molluscs: deep-sea analogs to polychaetes. Bulletin of Marine Science 60: 575-583.
1998 Scheltema, A. H. Class Aplacophora. Pp. 145-159 in: Beesley, P.l., Ross, G.J.B. & Wells, A. (eds.) Mollusca: The Southern Synthesis. Fauna of Australia. Vol. 5A. CSIRO Publishing, Melbourne.
1998 Scheltema, A. H. Class Aplacophora. Pp. 3-47 in: Scott, P. V. & Blake, J.A. (eds.), Taxonomic Atlas of the Benthic Fauna of the Santa Maria Basin and the Western Santa Barbara Channel. Santa Barabara Museum of Natural History, Santa Barbara, CA.
2000 Scheltema, A. H. Two solenogaster molluscs, Ocheyoherpia trachia sp. n. and Tegulaherpia tasmanica Salvini-Plawen from Bass Strait (Neomeniomorpha, Aplacophora). Records of the Australian Museum.
Scheltema, A. H. New eastern Atlantic aplacophoran molluscs (Neomeniomorpha). Ophelia.
2000 Scheltema, A. H. & C. Schander. Discrimination and phylogeny of solenogaster species through the morphology of hard parts (Mollusca, Aplacophora, Neomeniomorpha). Biological Bulletin.
Research Interests:

Deep-sea ecology and biogeography, systematics of aplacophoran molluscs, evolution of Metazoa, and systematics of the Pinnidae