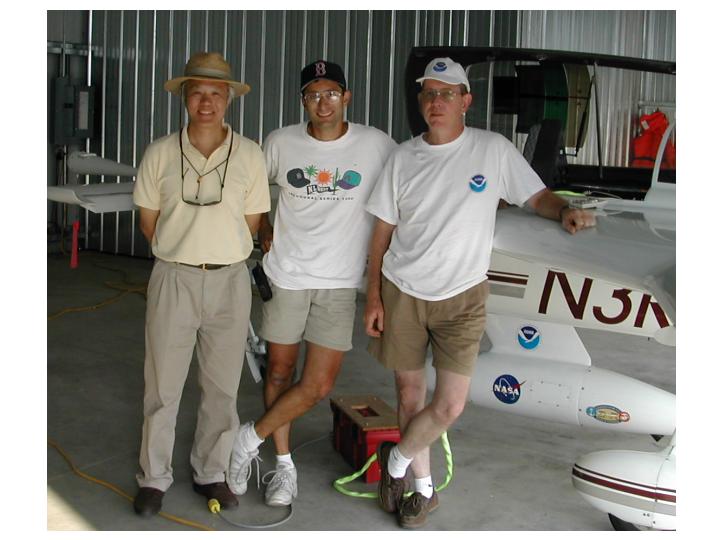 Tim (right) with Simon Chang and Jerry Crescenti in
front of the LongEZ aircraft that Tim built himself.

On August 3, 2002 we tragically lost a husband, father, scientist, engineer, aviator, colleague and good friend, Tim Crawford. Tim suffered a stroke while flying his LongEZ aircraft south of Martha's Vineyard during the CBLAST experiment.
Tim was the Director of NOAA's Air Resources Laboratory's Field Research Division in Idaho Falls. He joined NOAA/ARL as a physical scientist in 1986; prior to that he was a research analyst and an environmental engineer for the TVA. Tim received a Ph.D. in Mechanical Engineering from the University of Waterloo (1977), a M.S. in Civil Engineering from the University of Illinois (1972); and a B.S. in ME from the University of Illinois (1971).
Tim loved to fly. He constructed five experimental aircraft and held FAA aircraft builder and commercial instrument pilot licenses. He was an innovative engineer and received the Department of Commerce Bronze Medal and NOAA Administrator's Award, both for design and application of airborne instrument systems. Finally, Tim was an extremely versatile scientist. As he once said to Jerry Crescenti of NOAA/ARL: "It's not about the flying. It's about the science."
Jerry Crescenti will present a paper in Tim Crawford's memory at the 12th Symposium on Meteorological Observations and Instrumentation in conjunction with the AMS Annual Meeting in Long Beach, California in February 2003. The tribute can be viewed here (pdf).