Related Links
General information
ASP and Domoic Acid producing Diatoms
Brown Tide
Ciguatera
Toxic Cyanobacteria
Golden alga, caused by Prymnesium parvum
NSP and Red Tides caused by Karenia brevis
PSP and Red Tides caused by Alexandrium spp.
Last updated: January 19, 2018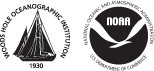 © Copyright WHOI 2007. All rights reserved.
About Us
|
Contact Us
|
Related Links
|
Site Map

The Harmful Algae Page is supported by a National Oceanic and Atmospheric Administration Center for Sponsored Coastal Ocean Research Coastal Ocean Program (NOAA/CSCOR/COP) grant to the National Office for Harmful Algal Blooms at Woods Hole Oceanographic Institution,
Dr. Don Anderson
, Director.