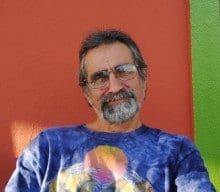 The Woods Hole Oceanographic Institution announces with great sorrow the unexpected death of former employee Scot Birdwhistell on October 27. He was 65.
Scot received his Master of Chemistry from the University of Hawaii. He began his career at WHOI in 1980 as a guest student.  In 1981, he became a full time employee in the Marine Chemistry & Geochemistry Department.  In 1992, he was promoted to a senior research assistant.  He left in 2014.
An enthusiastic outdoorsman, Scot especially enjoyed hiking and kayaking, as well as astronomy.  He was also a member of the Falmouth Theatre Guild and loved being involved with productions, both on stage and behind the scenes.
He was the beloved partner of Noreen Capo and the son of Miriam Birdwhistell and the late Ralph Birdwhistell.
He was a loving father and friend to all who loved and knew him. In addition to his loving partner Noreen, Scot is survived by his daughter Emily Birdwhistell and her partner Chris Nelson; daughter Ariel Shepley-McTaggart and her husband Fletcher; his brother Reis Birdwhistell and his wife Rebecca.  He also leaves his ex-wife Heather Shepley and her husband Philip Alatalo.   He is predeceased by his brother Kurt Birdwhistell.
A celebration of life will be held at the Captain Kidd Restaurant in Woods Hole on November 17, 2018 from 2 to 4 p.m. In lieu of flowers, donations may be made to Planned Parenthood Action Fund Inc., www.weareplannedparenthoodaction.org or to the Appalachian Mountain Club at www.outdoors.org.
Information for this obituary is from the Chapman, Cole and Gleason Funeral Home website.