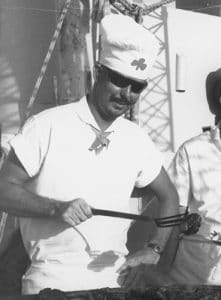 The Woods Hole Oceanographic Institution announces with great sorrow the death of former employee and Korean War Vet, Calvin Karram, on January 19 in Florida.  He was 84.
Calvin was the son of Naheem and Margerite Karram of Falmouth and husband of Gloria A. (Chase) Karram for 48 years.
Calvin was born in North Andover, Mass. He grew up in Lawrence, Mass, and attended Lawrence High School.
Calvin joined the Army in June 1950 for nine years and was with the Navy for six years.
Calvin transferred to Woods Hole and began working at WHOI in 1959 as 2nd cook/baker aboard the R/V Chain.  In 1962 he was promoted to first cook and in 1963 steward.  He left in 1967.  From there, he worked for the Coast Guard at Otis Air Force Base, where he was there for five years.
Notably, he designed a crate for the shipping of the BOMARC Missile from Otis to England A.F.D. Florida.
After retirement, he went into business for himself at 'Cal's Keys' for 15 years. In retirement, he spent winters in Florida.
He was a member of the Cape Cod Ski Club for 40 years. He skied this country, Europe, and Canada. He bowled for two bowling teams in Florida. He was a life member at the Hyannis VFW and Korean War Vets. He was Captain of the Color guard for both. For many years he was also a member of the Hyannis Elks and American Legion in Sandwich, Mass.
Services will be held at Otis Air Force Base on October 26 at 2:30 p.m. There will be a reception at the Hyannis Elks, 852 Bearses Way, Hyannis, Mass., at 3:30 p.m.
Information for this obituary is from the Cape Cod Times.