Funding
We would like to thank the following organizations for their continued support.
NSF
The National Science Foundation (NSF) is an independent federal agency created by Congress in 1950 "to promote the progress of science; to advance the national health, prosperity, and welfare; to secure the national defense…" With an annual budget of $7.2 billion (FY 2014), NSF is the funding source for approximately 21 percent of all federally supported basic research conducted by America's colleges and universities. In many fields such as mathematics, computer science and the social sciences, NSF is the major source of federal backing. MORE

Gordon and Betty Moore Foundation
We believe in bold ideas that create enduring impact in the areas of environmental conservation, patient care and science. Gordon and Betty Moore established the foundation to create this change around the world and at home in the San Francisco Bay Area.
The Foundation's environmental conservation efforts promote sustainability, protect critical ecological systems and align conservation needs with human development. Science looks for opportunities to transform—or even create—entire fields by investing in early-stage research, emerging fields and top research scientists. MORE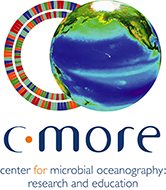 Center for Microbial Oceanography: Research and Education
The Center for Microbial Oceanography: Research and Education (C-MORE) is a recently established (August 2006) NSF-sponsored Science and Technology Center designed to facilitate a more comprehensive understanding of the diverse assemblages of microorganisms in the sea, ranging from the genetic basis of marine microbial biogeochemistry including the metabolic regulation and environmental controls of gene expression, to the processes that underpin the fluxes of carbon, related bioelements and energy in the marine environment. Stated holistically, C-MORE's primary mission is: Linking Genomes to Biomes. MORE
Last updated: October 23, 2015