Using Alvin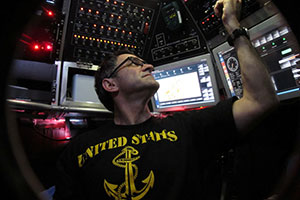 Inside the sphere of
Alvin
. (Photo by Kang Ding, University of Minnesota)
In order to plan a successful Alvin cruise, the user should be aware of the capabilities and limitations of Alvin and its support ship, Atlantis. This Alvin User Manual discusses the functions and characteristics of the submersible as well as safety guidelines and other matters of practical interest. It should provide most of the information necessary for making a well informed, viable cruise plan. Sources which offer related specific information are listed as appendices.
Potential investigators are strongly urged to contact the Alvin Group after reading this manual in order to discuss plans and objectives and learn of possible changes to capabilities. Detailed discussions with members of the group can often generate improved methods for accomplishing scientific objectives. Informal exchanges via email or telephone are welcome, but organized and explicit written communications provide the safest and most reliable means for obtaining additional information and understanding. A list of Alvin Group members and Institution administrators to whom both formal and informal questions may be addressed can be found on the Contact Information page.
The Alvin Submersible Engineering and Operations Group is dedicated to the productive execution of submersible scientific programs. The measurement of our success is expressed most effectively in the publications of Alvin investigators; without references in the literature the program loses precious visibility. Please make every attempt to cite the submersible's involvement in the results of your studies so that we may continue to facilitate deep ocean science.