Home » OCIA » OCIA in the News » COP27: New Models for Science and Industry Collaboration in the Fight Against Climate Change
COP27: New Models for Science and Industry Collaboration in the Fight Against Climate Change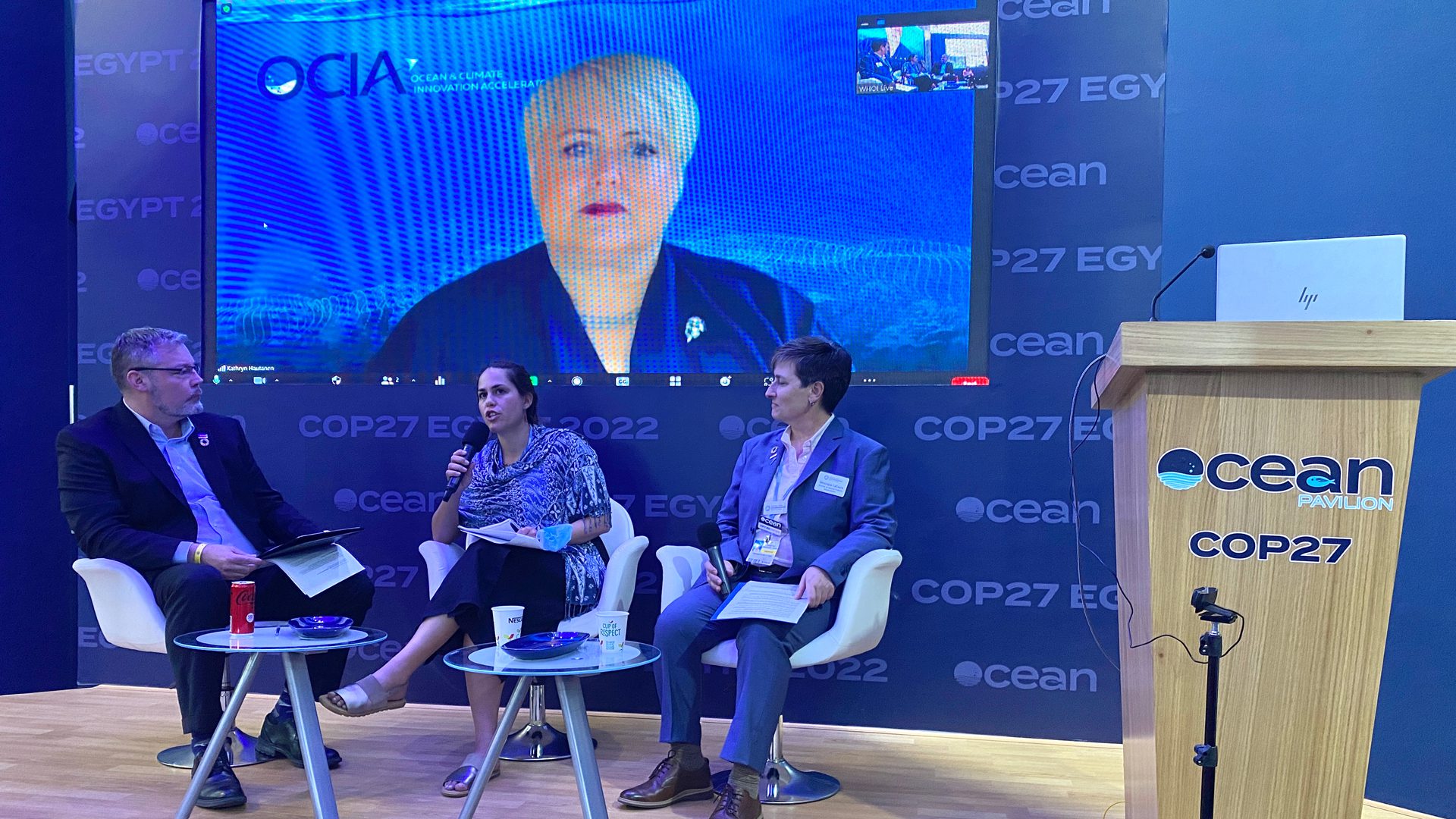 The Ocean & Climate Innovation Accelerator recently took to the global stage at the United Nations climate conference (COP27) in Sharm El Sheikh, Egypt. The OCIA was featured as one of more than 60 events held at the Ocean Pavilion—the first time the ocean has achieved a place of prominence in the official Blue Zone of a UN climate conference.
The founding members of the OCIA—Woods Hole Oceanographic Institution (WHOI) and Analog Devices (ADI)—joined cloud-based software giant Salesforce, in a discussion of how industry and academia can—and must—collaborate to create evidence-based solutions and drive progress in the fight against climate change. The panel included WHOI Vice President for Advancement and Chief Marketing Officer Sam Harp; Salesforce Director of Ocean Sustainability Whitney Johnston, and ADI's OCIA Technology Engagement Program Manager Kathryn Hautanen.
Johnston and Hautanen described how Salesforce and ADI are prioritizing climate action and sustainability within their companies. This includes reducing their own carbon emissions and providing opportunities for their employees to learn and take action themselves, and also looking beyond their four walls to use business as a platform for change. For Salesforce, this means leveraging their massive network to drive emissions reductions throughout their supply chain, create products to help customers reduce their emissions, and influence climate policy. ADI, meanwhile, has partnered with WHOI through the OCIA to provide funding and technological expertise to drive research and technology development at the intersection of ocean and climate.
The ocean-climate nexus was an underlying theme of the discussion, with Harp highlighting the ocean's role as a driver of global climate, and the need to look to the ocean for solutions to achieving net-negative emissions. Another key theme was that both industry and academic science have a role to play in confronting the climate crisis, with each bringing their own strengths to the table.
For industry, the panelists said, a partnership with academic science brings credibility, accountability, and inspires trust. WHOI, for example, has nearly a century of experience in ocean research, with a reputation for independent, impartial science. On the science side, a partnership with industry can mean the ability to move more quickly, with greater flexibility, undertaking high-risk high-reward project that might not otherwise be funded.
Johnston described how their work with a vast number of companies around the globe, which provides them with a "superpower" in that they can influence their network of customers and advance business as a platform for change.
Harp and Hautanen described the OCIA as a new model for industry-science collaboration that goes beyond a company funding a single research project. Under this model, industry partners contribute not just dollars, but also expertise and technology. The engagement takes place at a conceptual level, with academic and industry partners collaborating to define high-level strategic goals, and only then identifying specific projects to receive funding. The third element that sets this model apart is that the engagement takes place not just at the C-suite or sustainability office level, but employee to employee.
In any industry collaboration, Harp noted, an institution such as WHOI must avoid reputational risk and maintain its scientific independence—a non-profit's strongest asset. In addition to the safeguards written into every grant agreement, said Harp, the best way to prevent even the appearance of greenwashing is through the rigorous vetting and selection of industry partners.
Harp, Hautanen, and Johnston all emphasized the urgency of the climate crisis, and the need for industry and academic institutions to join forces to find responsible solutions that don't do more harm than good.