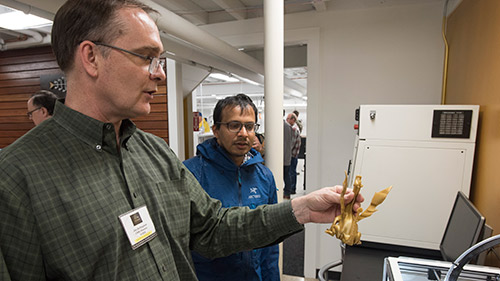 Mission
Working with the marine robotics cluster in the region, greatly accelerate the ability to take our ideas from concepts to tested devices ready for application in the ocean through a collaborative facility that integrates new technologies, create prototype devices, and test them prior to deployment in or around the ocean.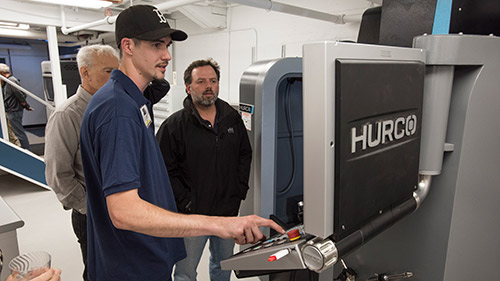 Approach
Creativity is central to making, as is experimentation. Because the work is hands-on, and because the focus is more on a supportive process than an end result, participants can engage in a cycle of trying and failing – failing being a necessary component of risk-taking and innovation. Making relies on intrinsic motivators, rather than extrinsic ones; makers set their own agendas, their own project goals, and their own metrics for success, to an extent. It emphasizes collaboration both at the local and the virtual level. Through the process, users practice and acquire tangible skills, such as the use of software and equipment, that are useful in marine robotics and related and supportive sciences and industries. Thus, making is also a form of self-directed workforce training.
Goals
Create an integrated and interdisciplinary community of Blue Economy technologists that focuses on increased communication, critical thinking, collaboration and creativity.
Accelerate the process of innovation by creating an environment and associated coaching to fail fast and fail cheaply so as to speed up useful and transformative advancements.
Produce useful advancements in marine robotics that in turn grow the cluster including investment, output, revenues and jobs.
DunkWorks is managed by the Center for Marine Robotics on behalf of WHOI.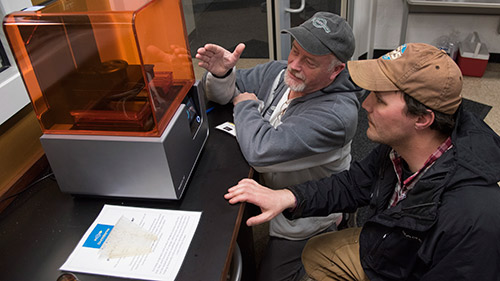 Success Metrics and Meeting Mission
Metrics are techniques that allow us to measure, track and evaluate the performance of DunkWorks on the following:
Engagement (number and diversity of users and projects)
Initiative and Intentionality (projects achieving goals of DunkWorks, failures and restarts and high risk outcome projects)
Outreach Conversion (usage and attraction rate to facilities; value of space to users)
Integration of Communities (cross-department projects, collaboration sessions, external users in affiliate marine robotics areas like science payload integration, sensors, power, autonomy, etc.)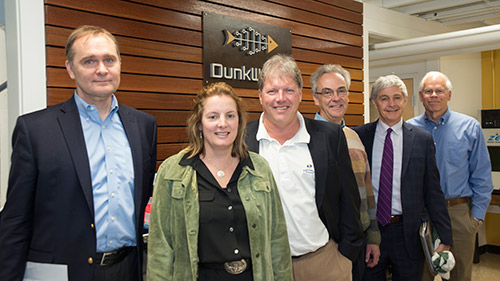 DunkWorks pre-opening tour with the Massachusetts Technology Collaborative. (from left to right: Jim Bellingham, CMR Director; Leslie-Ann McGee, CMR Assistant Director; Tim Connelly, MassTech Executive Director/CEO; Mark Abbott, WHOI President; Pat Larkin, Director MassTech Innovation Institute; Larry Madin, WHOI Deputy Director and VP for Research)
Access to DunkWorks
Access to DunkWorks is controlled and limited to registered users. Between June 1 – July 31, 2017 DunkWorks will undergo a "discovery" period where the facility will welcome internal WHOI staff only to test the model and approach. As of August 1, the facility will be open to the external marine robotics and affiliated community on a membership-fee basis. During the "discovery" period, the Center for Marine Robotics will be implement and unveil a registration process for external users. The membership fee will be a monthly cost processed through a credit card system via the WHOI CMR website, likely. Affiliate Members of CMR will be allotted yearly access limited to a certain amount of time.
» Learn about becoming a CMR Affiliate Member business
Contact Information
DunkWorks Operations: Bob McCabe, rmccabe@whoi.edu
DunkWorks Management and Business Membership: Leslie-Ann McGee, lmcgee@whoi.edu
Funders
WHOI CMR would like to thank the Massachusetts Technology Collaborative for their Robots to the Sea grant investment to develop and build DunkWorks.
Jim Bellingham, Director, WHOI Center for Marine Robotics
Leslie-Ann McGee, Assistant Director, WHOI Center for Marine Robotics
Last updated: July 14, 2017