Educational Activities

With the aim of fostering interdisciplinary research addressing critical ocean climate change issues, fellowships are available to support research associated with the Ocean and Climate Change Institute (OCCI) themes.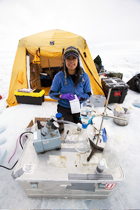 Each year, OCCI presents an award to a graduate student of the MIT/WHOI Joint Graduate Program whose research interests fit within the Institute's themes.

The WHOI OCCI Lecture Series presents to the WHOI climate science community talks by leading scientists from a wide range of oceanographic disciplines sharing their research that is connected by a common topic relevant to climate. The winter/spring series will focus on the Southern Ocean and Climate. The lectures will provide students and scientists with a multifaceted appreciation of the role of the Southern Ocean in climate and foster cross-disciplinary interactions.