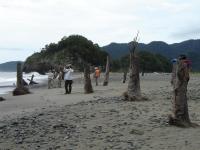 Palm trunks snapped off during the 2004 Indian Ocean Tsuanmi
Tsunami runup scars (vegetation line) can be seen on the rocky headland in the background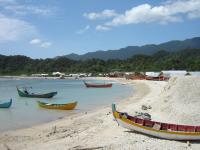 Just beautiful




Sourcing tsunami sediment and characterizing deposits

This continuing research looks at the sedimentary and foraminiferal characteristics of 2004 Indian Ocean tsunami deposits along the Malaysia-Thailand Peninsula, Java and Sumatra.

Besides mapping modern events, I also use stratigraphy to uncover paleo-tsunami deposits at many sites going back thousands of years. A combination of grain size, structure, and microfossil analysis help elucidate information on tsunami flow velocity, deposition style, and sediment source. These parameters are important for understanding the range and magnitude of tsunami hazard on a given coastline.