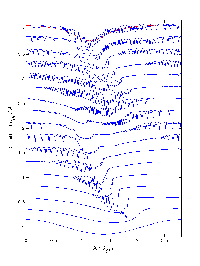 The disintegration of a sinusoidal internal tide in the MCC-f model is arrested after some energy is shed as a packet of shorter nonlinear (solitary-like) waves. The remaining long wave is close to a nonlinear inertia-gravity (red dashed line). The blue dashed line is solution from the hydrostatic shallow water equations.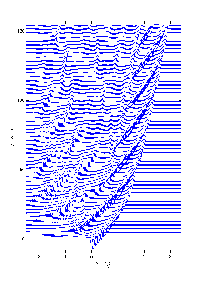 The radiation decay of a solitary wave with rotation leads to the development of a nearly isolated wave packet.




The disintegration (or not) of the low-mode internal tide

The disintegration of a low-mode internal tide into high-frequency solitary-like waves is re-examined in the fully-nonlinear regime. As with weakly nonlinear models, the disintegration is inhibited by rotation. Using a two-layer fully-nonlinear long-wave model with rotation, it is shown that underlying periodic fully-nonlinear hydrostatic waves act as attractors that prevent the complete disintegration of a general (e.g. sinusoidal) initial tide. In the hydrostatic limit the initial tide will steepen to breaking, dissipate energy and eventually settle onto a nonlinear periodic solution. When weak nonhydrostatic dispersion is included, excess energy in the initial tide is shed as a packet of high-frequency waves; however, the underlying long tidal wave is the same. While qualitatively similar to results from weakly nonlinear theory, there are substantial quantitative differences related to the properties of both the underlying low and high-frequency waves.

In a related study, the radiation decay of fully nonlinear, weakly nonhydrostatic internal solitary waves with rotation has been explored. The solitary wave will decay by a radiation damping process. However, the radiated inertia-gravity wave will steepen and eventually a nearly isolated wave packet will emerge.