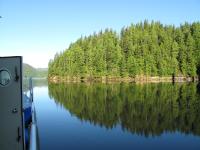 An unusually calm and sunny day on the fjiords of Tofino Inlet, Vancouver Island, British Columbia. (T.Mincer)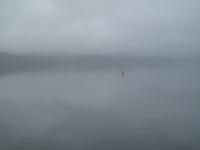 Returning to pick up our mooring. Traps were typically left overnight, to collect copious amounts of sinking detritus. (T.Mincer)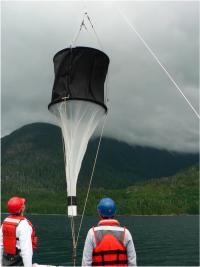 Sediment Trap ready to be deployed. (Summer Student Fellow, Rose Kantor)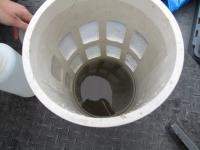 Cod End after trap was deployed.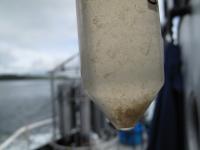 Concentrated trapped particles harvested from the Cod End. (T.Mincer)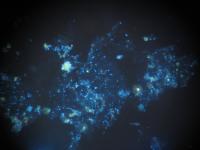 Epifluorescent micrograph of a DAPI stained gelatinous particle (about 200 µm in size) harvested from a particle trap set a 60m depth, from fieldwork (June, 2009) in Clayoquot Sound, British Columbia, Canada. Note individual microbial cells about 0.5–2 µm in length, imbedded in gelatinous material together with other eukaryotic plankton "hard parts." (T.Mincer)




Quorum sensing and its influence on particle degradation in the water column

Collaborators:
Collaborators and current funding source for this work: Van Mooy, B.A.S. & Mincer, T. J. (Co-PIs) (09/01/2008 to 08/31/2011) "Quorum sensing and the carbon cycle: Identifying cell-density dependent organic carbon degradation among marine bacteria on sinking particles." National Science Foundation, Chemical Oceanography. $655K

The vast majority of sinking organic carbon formed within the surface layer of the ocean is degraded in transit through the water column, and heterotrophic bacteria on sinking particles are important agents of this process. Recent work suggests that these bacteria have the ability to regulate organic carbon degrading metabolisms by communicating with one another via quorum sensing (QS). QS is a process where bacteria use cell-cell signaling to gauge the density of related cells in their environment for the purpose of coordinating gene expression among these related cells. Sinking marine particles contain abundant Proteobacteria; this group of bacteria utilizes a class of QS molecules called acylated homoserine lactones (AHLs). Our current results strongly suggest that AHL-based QS systems are active in sinking marine particles. To measure this, sinking particles were trapped, and analyzed for AHLs using a new pre-concentration and mass spectrometry method. Taking this further through field-based incubations we have measured clear induction of hydrolytic activity by the addition of AHLs to sinking particle material. Employing a functional genomics type approach we are currently exploring if genes regulated by AHL-based QS in sinking particles encode enzymes for organic matter degradation. We have constructed large-insert libraries of environmental genomic DNA from sinking particles and are in the process of screening these libraries for AHL production. This will enable sections of genomic DNA that contain AHL-regulated genes to be identified and analyzed further for genes encoding hydrolytic enzymes without relying on sequence database searches, since the luxI genes can be highly divergent at the amino acid level. We have found that some marine bacteria also secrete enzymes to degrade AHLs, and we will examine whether this is occurring on sinking particles using both functional gene expression assays and incubation-based experiments. Impacts: • Our proposed study of quorum sensing in sinking particles has the potential to reveal previously uncharacterized linkages between bacterial community composition and particle flux attenuation. • Quorum sensing is understood to be an important mechanism in pathogenesis providing crucial timing for key gene cluster expression. We now have evidence that this could be a key mechanism in the cycling of carbon in marine environments as well.