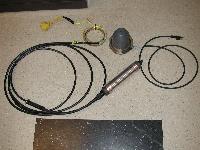 ROV (open loop) and instrument (loop at base of guide-cone) sides of the ICL.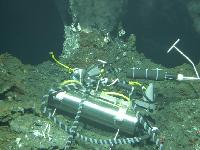 ICL being used to eavesdrop on data being collected by a resistivity probe.




Inductive Coupled Link for communicating with in situ instruments on the seafloor, developed by Al Bradley, WHOI, Dept of AOPE, with funds from the National Science Foundation.

Click here for a pdf file describing the Inductive Coupled Link

The ICL (Inductive Coupled Link, sometimes refered to as SKCM, Sail Keyed Carrier Module) interface allows non contact serial communication with an instrument via the pulsed ac magnetic field of a simple coil of wire. It was designed to be used by an ROV or occupied submersible to talk or listen to an instrument deployed on the bottom without making a direct electrical contact. It can support half duplex bidirectional communication at any baud rate up to9600. It uses only about a microwatt while waiting for a signal. It works in air on deck as well as in water.