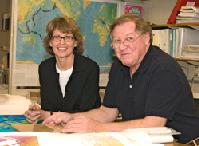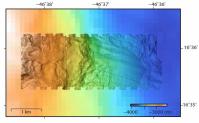 Sentry high-resolution bathymetry overlain on SeaBeam bathymetry. The SeaBeam bathymetry data have been gridded at 150 m grid spacing, and the Sentry bathymetry at 5 m spacing. The Sentry bathymetry data were collected near 16.5N at the Mid-Atlantic Ridge and reveal details not seen in the regional bathymetry, including fine-scale corrugations on a detachment fault surface. ()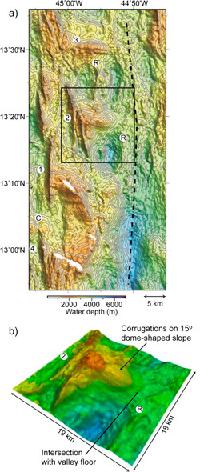 The 3-D image shows a close-up of an active core complex at the edge of the spreading center.




Detachment Faulting and Core Complex Formation at the Mid-Atlantic Ridge

Collaborators:
Hans Schouten, Henry Dick, Brian Tucholke, Joe Cann, Javier Escartin



Normal faults at slower spreading ridges may extend for 10s to >100 km and can account locally for 60-100% of the plate separation. These long-lived faults (commonly referred to as detachment faults) exhume lower crust and mantle rocks. As multibeam bathymetry data coverage increases, many advances in our understanding of detachment faults are being made. A number of different morphologies are now associated with oceanic detachment faulting. These include the well-known domed, corrugated detachment surfaces as well as non-corrugated massifs, highly back-tilted breakaway faults, and broad smooth hills. In addition, detachment fault formation is not restricted to the ends of spreading segments; detachment faults form anywhere along the length of a segment, and may link along axis over a significant portion of a ridge segment.

Spreading by detachment faulting may dominate a region for several millions of years and can generate broad expanses of seafloor. It has been estimated that active detachment faulting occurs along close to 50% of the MAR axis between 12.5º and 35ºN implying that as much as 25% of new seafloor in this region may be formed by detachment faulting. We estimated that detachment fault morphology covers over 60% of the seafloor on the west flank of the 13ºN segment of the MAR. More recently, it has been suggested that the occurrence of detachment faults may be even more widespread if their surfaces are masked by rafted blocks.

The formation of long-lived detachment faults has been linked with low magma supply to the ridge axis. Some observations, however, indicate that corrugated detachment faults also form in the presence of large axial volcanic ridges . To the extent that robust volcanism at the axis can serve as a proxy for robust magma supply, this suggests that magma budget may not be the only mechanism controlling the formation of detachment faults.