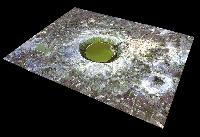 Perspective view of Lonar Crater. Three-band satellite imagery is draped over DEM created from hand-held GPS units.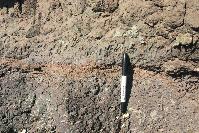 Contact between two Deccan lava flows exposed in the walls of Lonar Crater. Flow bottoms and tops contain high concentrations of vesicles, often filled with quartz and malachite. The contact between the flows is oxidized (red). (Adam Soule)




Volcanology of the Lonar meteor impact crater: structure, morphology, petrology, and chemistry of the Deccan Flood Basalts

Collaborators:
Sarah Stewart-Mukhopadhyay (Harvard) Adam Maloof (Princeton) Benjamin Weiss (MIT)

Young impact craters on the surface of Mars do not prserve any detectable magnetization suggesting that shock waves generated during impact demagnetized large portions of the Martian crust. In addition, it is recognized that nearly all fresh craters on Mars with diameters >3 km are surrounded by ejecta blankets with fluidized morphologies. These features remain enigmatic, and may place important constraints on the evolution of the Martian surface and its internal dynamics. Lonar Crater presents an excellent terrestrial analog to these Martian craters as it is one of only 2 impacts within a an accumulation of basaltic lava flows, The Deccan Traps. We are conducting an intensive, field-based study of Lonar Crater. We are in the process of generating a detailed geologic map, coupled to a 3 meter resolution GPS-derived digital elevation model of the crater. In addition to basic mapping, we are conducting a paleomagnetic and rock magnetic survey of the crater wall rock and ejecta to understand shock effects on the magnetization of basalt. Important to the development of the ejecta blanket is the density structure of the target basalts. Flood basalts contain systematic variations in vesicle structure that impart a layered density structure. These vesicle patterns also provide important information on the dynamics of flow emplacement. During the January 2006 field season, I logged and sampled a series of 6 Deccan lava flows in order to study vesicle and crystal textures in detail. In addition, we will analyze samples for evidence of shock. The results may shed light on the duration of individual eruptive episodes in the massive Deccan volcanic province.