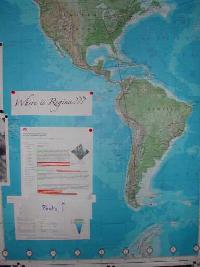 The Class I map at Winsor.  The students follow Ms. Regina via this Website that posts satellite journal entries and coordinates! (Ken Schopf)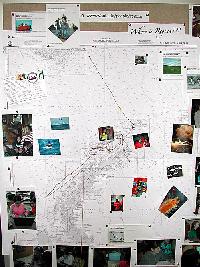 The completed Class I mapping center.  Photos of students searching the website and learning about Antarctica complete the charted cruise track and photo journal posted in the science classroom! (Ken Schopf)




Greetings!

Welcome to the Antarctic Expedition Website! This site will allow Class I Science, Class II Science and the Marine Biology Class of The Winsor School in Boston, Massachusetts to follow the travels of Ms. Regina as she makes her way on a research cruise to Antarctica. They will track her progress from Boston, MA, USA thru the South American city of Santiago, the capital of Chile. From there she will travel to Punta Arenas at the southern tip of Chile, where she will board the Research Vessel (R/V) Laurence M. Gould. The Gould will sail across Drake's Passage to Palmer Station, one of several scientific research stations located in Antarctica.

Ms. Regina is participating in a research cruise conducted by Doctor Rudolf Scheltema from the Woods Hole Oceanographic Institution (WHOI) and Dr. Ken Halanych from Auburn College. They are investigating what types of plankton are found in the waters of this region, where they are located and how many of them are there now. Divers, plankton nets and various ocean instruments will be used to collect organisms, get samples of the ocean floor, and to study water properties along the route to Palmer Station.

Students will track the voyage on a large map using GPS coordinants and web journal entries from Ms. Regina. Photos and other visual aids will be added to the site to enhance interactive multi-media learning. We hope you enjoy following the voyage of The Gould and learning about marine life surrounding the Southernmost Continent.