TIP OF THE WEEK
Turn off computer and other electronics when not in use.

According to the US Department of Energy web site, "Many appliances continue to draw a small amount of power when they are switched off. These "phantom" loads occur in most appliances that use electricity, such as VCRs, televisions, stereos, computers, and kitchen appliances. In the average home, 75% of the electricity used to power home electronics is consumed while the products are turned off." Consider plugging all electronics into power strips so you can conveniently flip one switch to turn everything off when not in use. Do you have a green tip you'd like to share with the community? Email sustainability@whoi.edu.

» View more Green Tips

Check Lists
» Top Ten Sustainabile Lab Actions (pdf)
Welcome to the Sustainability Task Force Website
Our Mission Statement
The Sustainability Task Force is an advocate for sustainability initiatives within the WHOI community. Our mission is to integrate sustainable practices and resource conservation in research, education, and operations to reduce human impact on the environment.
---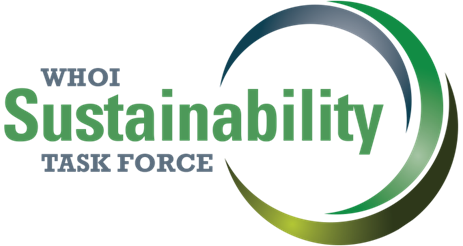 In 2009 several WHOI employees met to discuss how sustainability efforts and energy conservation could be improved within the WHOI community. From this working group the Sustainability Task Force (STF) was formed with representation from most areas of the institution.
In 2013 the STF was revived after a brief hiatus and we have set out to renew and strenghten WHOI's commitment to sustainable practices and energy conservation.
We invite the WHOI community to participate by reviewing the web site, supporting Task Force initiatives, submitting ideas to sustainability@whoi.edu, and encouraging conservation initiatives. We look forward to your input and commitment to these goals.
Sustainability:

Where the Environment, Economics and Society meet