Making the Invisible Visible: The Secret, Bizarre, and Amazing World of Plankton
April 13, 2013 from 12-4pm, Field House at Cambridge Public Library, Cambridge Science Festival
On April 13, 2013 the Broader Impacts Group made their debut at the Science Carnival at the Cambridge Science Festival with their booth "Make the Invisitble Visible: The Secret, Bizarre, and Amazing World of Plankton".

Check out a photo slideshow of their booth here!
The booth was quite popular among young and old visitors and people went home with a new appreciation for the important members of the bottom of our ocean food chain: plankton. The art and science of their watery realm was explored through a live microscope demonstration, jaw-dropping video footage, and an activity to build your own Super Plankton refrigerator magnet. The event brought together both new and old, and MIT and WHOI Broader Impacts Group members to staff the booth.

Why are plankton important?
The term plankton comes from the Greek word "Planktos" meaning wanderer or drifter. Plankton are tiny plants (phytoplankton) and animals (zooplankton) that are incapable of swimming against major currents in the ocean. Although plankton are so small that they go unnoticed to the naked eye, they are some of the most important and oldest marine creatures out there! Plankton influence atmospheric levels of the greenhouse gas carbon dioxide and our global climate – they provide roughly half of the oxygen that we breathe! These tiny organisms have left behind their mark on our planet for millions of years, including beautiful geological deposits like the massive White Cliffs of Dover, as well as key natural resources in oil and gas reserves.
Communications Happy Hour with Science Writer John Bohannon
On a rainy Cambridge night, a couple MIT students met up with science writer John Bohannon for an informal "science communications happy hour" at the Miracle of Science near MIT. Amid conversations about how to communicate about climate change to the public, what the greatest science communications challenges are, and how John got to where he's at (a freelance science journalist who writes for publications including Science Magazine and Discover Magazine), some great ideas emerged. For example: what about developing an online calculator that communities and individuals can use to estimate the costs of climate change damage on their community, based upon real climate change projections and economic data?


It might be a while before we, or anyone else for that matter, invent that tool.
But the take away is clear: great ideas can come out of informal conversations among like-minded people with a passion for using science to inform better decision-making.
Ocean Stories: A Synergy of Art and Science
March 3, 2013 from 1-3pm, Museum of Science
Panel Discussions at the Museum of Science: March 3
- 1pm-2pm
- 2pm-3pm
Free with Exhibit Halls admission
Explore the planet's last true frontier – the ocean – and encounter swirling currents traced in light, mysterious seascapes rendered in paint, and delicate marine life etched in vibrant color. At Ocean Stories you will find works of art infused with a sense of exploration and discovery that is common to science and art alike.
Synergy
is an experimental program that catalyzes partnerships between artists and research scientists. With an emphasis on communication and collaboration, Synergy aims to provide meaningful creative and intellectual experiences for both the general public and for participating artists and scientists. We carefully select and match artists and scientists to work together to formulate a shared voice. We then present the outcome of these collaborations as group exhibitions that invite the public to engage with this unique collision of art and science.
Synergy was conceived in early 2012 in affiliation with Massachusetts Institute of Technology (MIT) and Woods Hole Oceanographic Institution (WHOI) and is affiliated with the Broader Impacts Group.


Science in Ten-Hundred Words: The "Up-Goer 5" Challenge
February 14, 2013 from 12-1pm, Clark Student Center, WHOI
We had a lot of fun with the Upgoer Five activity and wrote some great paragraphs. We struggled with certain concepts such as plankton and the biological pump, but also deconstructed our research to its essential components, for example: How to describe a coral without using the word coral? It's a lot of small animals that live together on rocks and don't move around, and they make the rocks they live on. We also found powerful metaphors, like the idea of a book to convey the idea of DNA, or referring to lights in a house as electricity. This exercise helped us start our communication from where our audience is coming from, rather than what is easiest for us.

Although in some instances the Upgoer Five constraints produce awkward and sometimes confusing wording such as in describing molecules, the exercise is not meant to be taken literally. Starting with these principles and working in words like coral or DNA can lead to effective explanations. One simple way to develop this further would be to pair scientists with school children, possibly at the WHOI Exhibit Center, and ask them to illustrate our research as described in these simple terms. We could compile the text and illustrations into a book.
Below are several entertaining samples from JP Students who attended. Check out the website that inspired this activity and give it a try!

Li Ling Hamady:
"I study animals that have big teeth and live and breathe in the largest bodies of water. By looking at the number of rings in their backs and the types of the small pieces of stuff the rings are made of, I can figure out their ages and where they go and what types of foods they eat. This is important to know because there are not that many of these animals left and we need to know these things to keep them safe from dying out."

Katie Pitz:
"I study tiny living things in the water that need light to grow. There are many types of these small things and some of them make stuff that can hurt people. I want to know why they make this stuff and if it changes because of how hot or cold they are or what food they have. I also want to know what makes them become greater in number. Inside of each of these tiny things is a book telling the thing what to do. I read this book and see how it's different between different kinds of tiny things. Then I can see why some of these living things make more stuff that hurts people than others."
Alexis Fischer:
"I study little red animals that live in large bodies of water. They are so small, you can't see them with your eyes! These animals eat the light from sun and tiny pieces of broken food they find in water. At different times of the year, a very small group of these animals become many in a very short time so the water turns red. The water can be red for only 1 month. But during most of the year, they lie at the bottom of these large bodies of water and do not move or eat. I am interested in why at different times of year these animals grow to a large number and then become a small number so quickly."
Sarah Rosengard:
"I follow hard little pieces of dead life as they move through a body of water, from top to bottom. I am interested in what happens to these pieces as they move. Some things cause them to move faster towards the bottom. Other things cause them to slow down or never make it to the bottom at all. People who study air and land and water think that if more pieces get to the bottom of these bodies of water, the air will get cooler through time. If fewer pieces get to the bottom, the air will get warmer. So if these bodies of water and the life in them are changing, the air that we live in will change too."
Alice Alpert:
"I study how the way water in the largest body of water moves can change when other things like wind and how hot or cold it is change too. These can change quickly in a year, or slowly in a hundred years. They can change on their own or they can change because of how humans are changing the air and the water. I am interested in if the water and the wind were different in the past, and how and why they might be changing now, either on their own or because of humans. The way I can figure this out is because small animals that live on big rocks under the water can feel these changes. The hard bodies of the dead animals show what the water was like when they were living. I can read the hard bodies like a book to see what the water was like in the past.This is important because if the way the water moves is changing, it can be a problem for the small animals that I study and for many people around the world."
Emily Tursack:
"I study how to put water into rocks by using a lot of force and by making the rocks really hot. When I finally get the water into the rocks, I then look at how the water changes the rocks. Once I understand the changes that happen, I try to look at rocks at the bottom of large bodies of water to see how much water is in those rocks. This is important because it helps our understanding of how the world changes under our feet."
Guy Evans
"The world has good drinking water and bad drinking water. Most water is bad drinking water, which comes together in one place. There is a lot of water, so it gets really deep when you put it all together. It's sort of like a great big cup made of rock. The top part of the water is warm and bright because of the sun, but as you go down, it gets darker and very, very cold. It's funny, because the top part of the rock is also very cold, but as you go down it gets very, very hot (like hell fire!).
I study what happens when the cold water goes into the hot rock, because what happens next is totally amazing! When the cold water goes down into the really hot rock, the water gets really, really hot too and comes up out of the rock. Except, now it looks black, almost as if it had been burned by the hell fire and were jumping back out as fast as it can! Sometimes it comes up so fast, it looks like the water is falling up out of the rock.
Anyway, the hot, black water goes back into the really cold water and makes really strange-looking rocks appear very quickly where you didn't see them before. These strange-looking rocks are pretty to look at, but actually smell really bad if you take them out of the water and into the air. You might even say they smell like rocks from hell. Well, it might be hell for us, because we can't live there, but lots of animals actually call these places home. The hot, black water coming out of the rock gives the animals life, even without ever seeing the sun. These places are so amazing that it's hard to imagine just how animals live there, but it's important because we want to understand how things live in strange places and knowing this can even help us to live better too. So, I study these really strange, smell-like-hell rocks, because these rocks can tell us a lot about the place in which the animals live."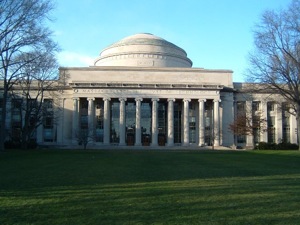 The Broader Impacts Group Kickoff at the MIT Museum


February 11, 2013, MIT Museum


On Monday February 11, the Broader Impacts Group hosted a Cambridge Kickoff meeting at the MIT Museum. The meeting featured speaker John Bohannon, a creative communicator of science who has engaged the public not only via science writing, but through the cutting-edge medium of dance. About 25 participants attended, coming from a range of MIT departments, from earth science to science writing, and backgrounds, from students to museum curators. Our BIG officers- Sarah, Alice, Guy- and John Bohannon led an active discussion on the merits, challenges and methods of science communication, and on potential collaborations that might arise from a BIG's presence in Cambridge. Many ideas made their rounds around the room, including events with the MIT Museum and MIT's Public Service Center. Stay tuned for more to come...





Communications Workshop with Linda Pogue


January 29 & 31, 2013 from 5:00-7:00pm, WHOI


"It's so great that the BIG scientists are taking the initiative to improve how they and their colleagues communicate." – Diana Kenny, workshop participant

Participants in the two BIG communication workshops last week learned effective approaches to presenting scientific material, both to academic and public audiences. In the first session, communications professional Linda Pogue emphasized setting goals for what actions the presenter would like the audience to take after the presentation, be that funding further research or joining a local citizen science effort. Those who wished gave a 5-minute presentation and received feedback on their organization, content, and delivery. These workshops empowered participants to give engaging and compelling presentations with a purpose. Participants found the sessions useful, noting that "it's rare to take part in such a short, to-the-point but useful workshop," and they "will remember the key ideas better, thanks to Linda's well-crafted workshop."





Beyond the Silver Liquid: 3 Joint Program Students blogging at UN Mercury Negotiations in Geneva


13-18 January 2013


Three MIT/WHOI graduate students, Alice Alpert, Bethanie Edwards and Julie van der Hoop, and a several other MIT students are in Geneva, Switzerland, attending the UN Environment Programme's fifth and final meeting to finalize a legally-binding global

mercury

agreement. They are blogging at

mit.edu/mercurypolicy

and will be tweeting live from sessions, sharing their experiences as we observe the treaty-writing process and as we communicate the current state of

mercury

science to delegates.





Blog Writing Workshop


January 15, 2013, WHOI


BIG held a successful blogging workshop on

Tuesday January 15 from 5-6:30pm

in the

WHOI student lounge

. Science writer Ken Kostel from the WHOI Communications Department and students Sarah Rosengard and Ben Linhoff lead an open discussion on the experience of blogging as a young scientist. Workshop participants also engaged in hands-on, interactive practice in concise science writing.





Social Event with At Large Steinbach Scholar Andrew Dessler


August 20, 2012, 5pm - Clark Student Center, Quissett Campus, WHOI
Andrew Dessler will be visiting Woods Hole Oceanographic Institution from August 20th through 22nd as a visiting scholar. A Professor of Atmospheric Sciences at Texas A&M University, Dr. Dessler's research focuses on water vapor feedbacks in the atmosphere and the role of clouds in climate variability. Dr. Dessler has served as a Senior Policy Analyst in the White House Office of Science and Technology Policy in 2000, was named a 2011 Google Science Communication Fellow, and is a co-author of the book

The Science and Politics of Global Climate Change: A Guide to the Debate

.

Please join the Broader Impacts Group for a social hour of light refreshments and insightful discussion on both his cutting edge research and his experience combining a career in academic science with a mission to communicate

scientific findings to the public.




Radio Sound Bites Evening


July 12, 2012, 6-8pm - Clark 271, Quissett Campus, WHOI


The Broader Impacts Group will host a Radio Sound Bites evening with Ari Shapiro, a former Joint Program student and WHOI postdoc and current science radio journalist, and Emily Moberg, a current JP student. Ari and Emily will talk about what goes into radio journalism and how they think about stories and communication when they do radio. They'll also be showing us how to use their equipment and showing us some clips of their work, including interviews with JP students! They will be happy to guide anyone who would like to try their own hand at making a small radio piece. This workshop will be great opportunity to think about communication in a different way and even get some experience in a new medium. Everyone in the Woods Hole community is welcome so please spread the word. We are hoping to make this an informal potluck dinner so please bring something to share. However, beverages will be provided! So bring your ears and your imagination and we hope to see you on July 12 from 6-8pm in Clark, room 271 on the Quissett campus. Directions can be found at http://www.whoi.edu/page.do?pid=8957.





Results from the Kick Off


The Broader Impacts Group convened for the first time on June 19 at the WHOI Exhibit Center in Woods Hole Village. This first expanded dialogue on science communication featured a diverse membership from the Woods Hole community-- scientists from Woods Hole Oceanographic Institution, Marine Biological Laboratory, and Woods Hole Research Center; journalists and science writers; graduate students; and several other key representatives of science outreach.