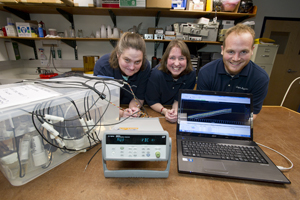 Related Multimedia

Related Links

Cape Abilities partners with Woods Hole Oceanographic Institution to provide quality work at the small and mid-scale production level, while offering opportunities to individuals with disabilities in the science and technology field.

Cape Abilities is a non-profit that has over 40 years of experience providing jobs and job training for people with disabilities on Cape Cod. Cape Abilities works with a variety of businesses to provide skilled and reliable employees. In addition, Cape Abilities operates several businesses on Cape Cod that employ people with disabilities, including Cape Abilities Farm, Cape Abilities Farm to Table, Welcome to Cape Cod and Cape Abilities Vending.

Cape Abilities also provides residential and therapeutic services for people with disabilities.


For our third project, Cape Abilities worker Carol Dimock built alkaline battery packs for use by the Acoustics and Signals Lab and a group in Physical Oceanography.
We finished our second project building Aeolian Sediment Traps for the Coastal Systems Group. We built fifty traps over February 2012 for a deployment in March. Check out more on our current projects page.
For our pilot project, we had a crew of four Cape Abilities workers manufacturing Silver Chloride Electrodes for use in a new fleet of seafloor magnetotelluric instruments, used by scientist Rob Evans, funded by a Major Research Infrastructure (MRI) grant from the National Science Foundation. Production of electrodes continues as some are sold to other scientists and researchers in the United States.




Goals


Our goals for a continuing partnership between Cape Abilities and WHOI are:
Offer Principal Investigators another avenue for increasing the Broader Impact (Criterion II) sections of their proposals
Assist technicians and engineers in production level work
To provide employment for individuals with disabilities in the fields of science and technology
To help create high quality products - to demonstrate that people with disabilities can be part of complex work and have significant abilities and talents to share.