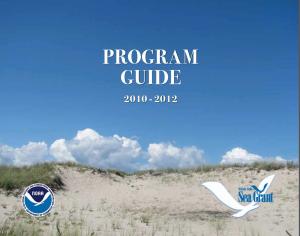 Related Files

During the 2010-2012 funding cycle, the Woods Hole Sea Grant Program supported 13 concurrent research projects and several smaller new initiative efforts aimed at taking the first steps intopromising new areas.Together, these projects fit into the following theme areas: Environmental Technology, Estuarine and Coastal Processes, and Fisheries and Aquaculture.

Many of these projects address local and regional needs, while others have national, or even global, implications.

In addition to research, Woods Hole Sea Grant supports a vibrant marine extension program and a communications, public outreach, and education program. During the 2010-2012 biennium, the program supported additional research efforts funded under peer-reviewed regional and national competitions.

The Woods Hole Sea Grant Program supports research, education, and extension projects that encourage environmental stewardship, long-term economic development, and responsible use of the nation's coastal and ocean resources. It is part of the National Sea Grant College Program of the National Oceanic and Atmospheric Administration (NOAA), a network of 33 individual programs located in each of the coastal and Great Lakes states, as well as Guam, to foster cooperation among government, academia, industry, scientists, and the private sector.

Major by-products of Woods Hole Sea Grant projects include publications, workshops, and presentations. Since 1971, programmatic support has resulted in more then 1,000 publications, including journal articles, theses, books, maps, fact sheets, pamphlets, newsletters, and web-based products.Research and outreach efforts involve the following academic institutions, as well as private industry: Woods Hole Oceanographic Institution, Marine Biological Laboratory, Boston University Marine Program, Harvard University, University of Massachusetts at Amherst, Roskilde University (Denmark), Northeast Massa-chusetts Aquaculture Center, Southeast Massachusetts Aquaculture Center, and Martha's Vineyard Shellfish Group, as well as numerous federal, state, and local agencies and partners, and private individuals.

Sea Grant's affiliation with the Woods Hole Oceanographic Institution began in 1971 with support for a number of individual research projects. In 1973, WHOI was designated a Coherent Sea Grant Program and, in 1985, was elevated to its current status as an Institutional Sea Grant Program. The Woods Hole Sea Grant Program has made great strides in channeling the expertise of world-renowned ocean scientists toward the goal of meeting the research and information needs of users of the marine environment. Public and private institutions throughout the Commonwealth of Massachusetts and the Northeast participate in the Woods Hole Sea Grant Program.



Woods Hole Sea Grant • 193 Oyster Pond Road, MS#2, Woods Hole, MA 02543 • (508) 289-2665 • seagrant@whoi.edu
Copyright ©2011 Woods Hole Oceanographic Institution, All Rights Reserved, Privacy Policy.
Problems or questions about the site, please contact webdev@whoi.edu
Site Map | National Sea Grant | Woods Hole Oceanographic Institution