APOGEE: Autonomous Polar Geophysical Explorer
Sea Trials, Bermuda, July 2001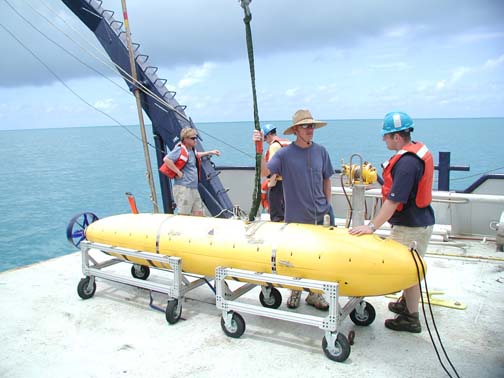 The Bermuda Trials - Leg 1

The second set of sea trials for the prototype vehicle was carried out in the waters off Bermuda. Bermuda is a small island in the sub-tropical western Atlantic. Why test an Arctic vehicle in the warm waters off a resort island? To answer this question you've got to think like a person developing high-tech, deep-sea, oceanographic equipment who is disinclined towards suffering. New oceanographic gear never works the first time, and we have a ridiculous amount of new gear in our vehicle. This pretty much guarantees the vehicle itself will flounder about pitifully when first tested. Even though this is predictable and understandable, it is nevertheless highly frustrating to have a large group of intelligent people working round the clock like maniacs with the sole reward being the discovery of deeper layers of design problems. The laid-back island vibe of Bermuda is an excellent antidote to intense work stress, and problems that might seem overwhelming in other situations are surprisingly tolerable there.

In truth Bermuda is a superb location to test deep water AUVs because it sticks up like a sort of giant space needle from the deep ocean. It is two hours from the pier to water depths of 3 km (1.5 miles). By comparison it would take something like 15 hours of steaming from virtually any East Coast harbor to comparable water depths. To cement the bargain you've also got Murray's Anchorage, a 15 m deep and perfectly flat body of water with a sandy bottom inside the reef north of the island. If you're conducting control trials for a new vehicle, and you're afraid that the vehicle might, say, pitch down 45 degrees when you only commanded five, Murray's Anchorage is your kind of place.

We sailed on the R/V Weatherbird II off and on for about 10 days from July 25 - August 2, 2001, testing various aspects of our prototype design. Great strides were made, and, when it was all said and done, we had a relatively well-behaved vehicle that was performing to our satisfaction. The prototype performed something like 20 successful control missions, and was acquiring the acoustic homing data required to navigate to a beacon for under-ice recovery. The OBS payload section was tested, and the unique configuration of ballasting weights and floats required to place an AUV on the deep sea-floor performed well.

Perhaps most importantly we identified a variety of design changes needed to improve vehicle reliability and performance, and give us the confidence to work in the hostile conditions associated with high-latitude operations. The redesigns began even before we shipped the vehicle back to the states, and the plan is to implement and return to Bermuda during Spring/Summer 2002 to finalize testing prior to an Arctic mission.