ECOHAB-GOM
1998 Mooring Deployment Cruise
R/V Oceanus, Voyage OC320
March 30-April 3, 1998

Cruise Summary: Moorings deployed by the U.S.Geological Survey and the University of Maine at six sites in the Gulf of Maine to support the Ecology of Harmful Algal Blooms (ECOHAB) project in the Gulf of Maine. CTD casts and water collected for nutrient and cell counts were also collected at the mooring sites and at several other locations throughout the Gulf. A small hydrographic of the Kennebec-Androscoggin River plume was also performed.
Science Personnel
University of Maine (Orono, ME):
Neal Pettigrew (chief scientist), David Townsend, John Wallinga, Robert Stessel, Peter Brickley, Scott Boone.
U.S. Geological Survey (Woods Hole, MA):
Rich Signell (co-chief scientist), Marinna Martini.

Cruise Information
Ship Track (with CTD & Mooring Locations): Whole Gulf | Casco Bay
Mooring deployment locations.
Cruise Photo Gallery
Underway Hydrographic Data
Near-Surface Salinity: Data was extremely noisy and unusable. Bummer!
Casco Bay Area CTD Survey: April 2 & April 3, 1998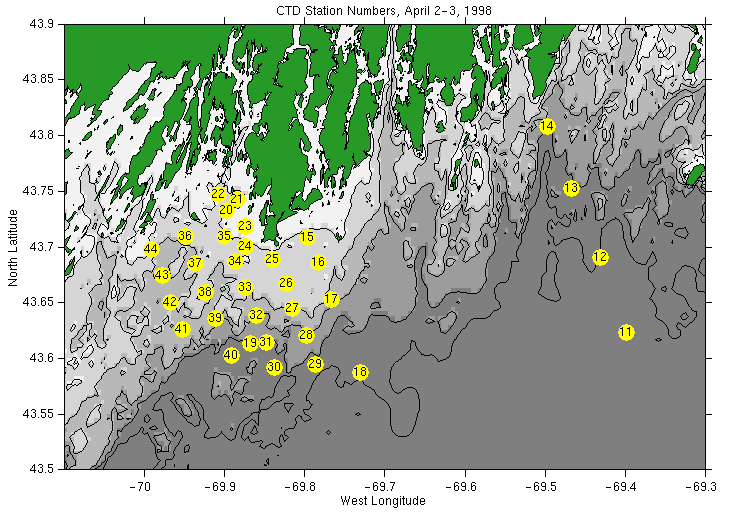 ASCII text table of CTD station locations
Horizontal Horizontal Sections of Salinity: 2 m | 5 m | 8 m
Horizontal Section of Beam Attenuation: 2 m
Vertical Sections of Temperature, Salinity and Density: