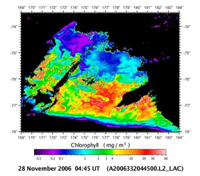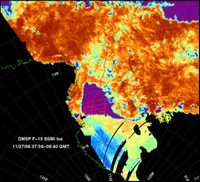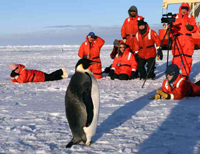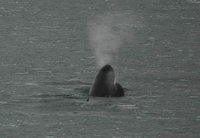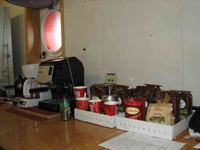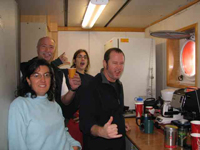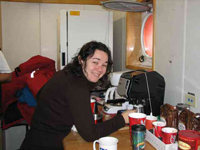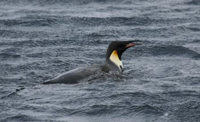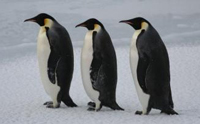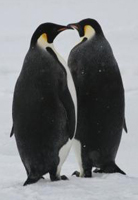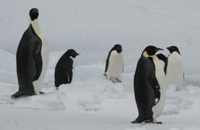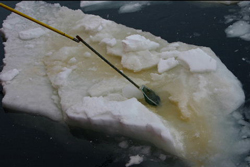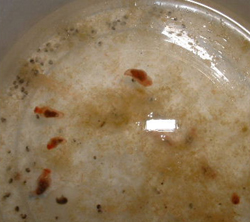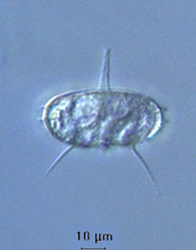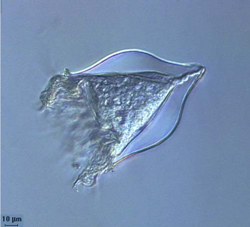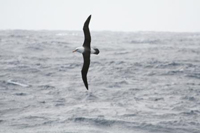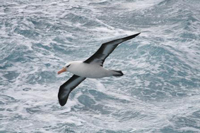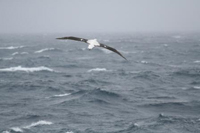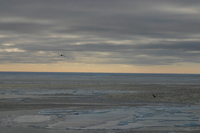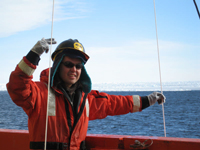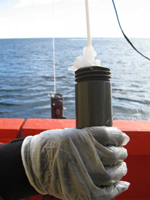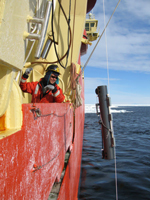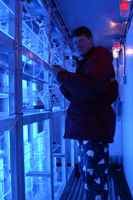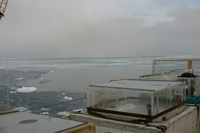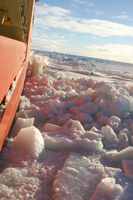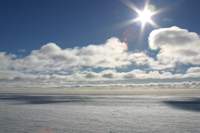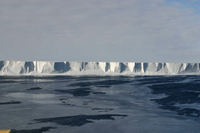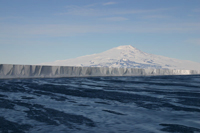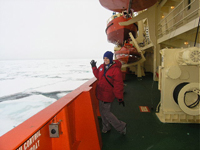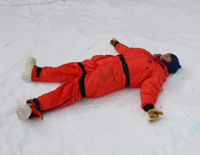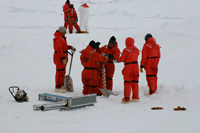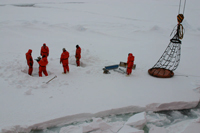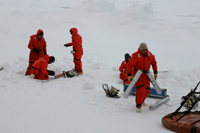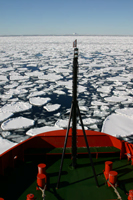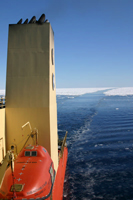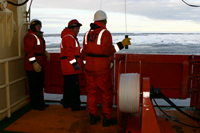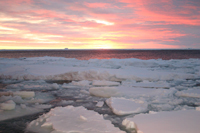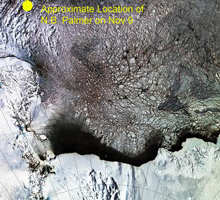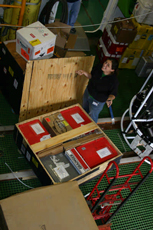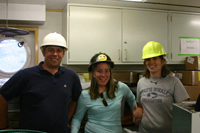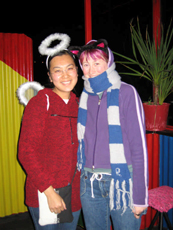 Related Multimedia

December 15 - Nathaniel B. Palmer docks in Christchurch
The Natty B has safely docked back in Christchurch, New Zealand.


December 5: Aimee's blog - contemplating animals in captivity
So things are winding down here on ye ol' NBP. We were delayed a day of science so now we only have time for one more station before we head back to New Zealand. I feel like we just got here. The reason we have to head back so soon is b/c the ice north of us is so thick that it will take some time to get through. I feel like we haven?t done enough here, but I guess there is nothing I can do about it. I am looking forward to a little R and R, though. I am attaching a couple of satellite photos. One is of chlorophyll intensity, which I talked about in a previous blog. The dark red indicates lots of chlorophyll, which means lots of phytoplankton. You can see a large patch of orange/red on the right side or eastern part of the Ross Sea. This is where we are headed right now. The second is of the cruise track (the red lines) and the location of the polynya (in dark purple), which is surrounded by lots of red, indicating the presence of thick ice.
So I read a disturbing article recently about the killer whale that attacked a trainer at the San Diego SeaWorld. I grew up going to SeaWorld in Sandusky, Ohio. I loved going to see Shamu and the dolphins. I liked feeding the fish with the little brown pellets you could buy out of 25 cent machines. I also enjoyed the otter shows, where the otter was usually a pirate or something. I still have a stuffed Shamu my parents bought for me in the early 80s. I think it was an extension of my desire to be a marine biologist. Killer whales are my favorite type of animal. However, as I grew up and started thinking about the implications of these wild animals kept in captivity, I decided that I was against it. Even though many of these animals (but not all) are raised in captivity, I believe there is still a sense of wildness and a desire as well as an instinct to be free, to be swimming in the wide open oceans. These are wild creatures. They are not meant to be kept in small tanks at SeaWorld. I believe both animal and human alike instinctually know when their freedoms have been taken away, even if they were born without them. These thoughts make me sad. I start wondering how my life would be different if I hadn't gone to SeaWorld during my childhood years. Did going to SeaWorld shape my future career as a marine biologist? I appreciate the fact that these types of places are for fun and education. But I am not sure I agree anymore with keeping animals in captivity.
December 4 - More blog from Aimee - Penguin fun
I don't know how many of you have seen Monty Python and the Quest for the Holy Grail, but every time I see the penguins running away I hear the characters going "Run away! Run away!" For those of you who have not seen it, you probably won't get it, but it is funny to me. They are just so cute. The Adelies run around like little kids, usually bumping into each other or tripping over ice. The Emperors are like the adults. The Emperors just sulk around and usually walk pretty slowly compared to the Adelies. They never look like they are having any fun. I saw one video where an Adelie walked right up to an Emperor just to annoy him. The Emperor kept slapping the Adelie with its fin, but he kept annoying him. Finally he just moved on to the next Emperor. It was very amusing. However, both types of penguins love the camera. They are such hams. Most people say they are just curious b/c they don't see humans very often and want to check us out. I think they like getting their picture taken. They are vain little creatures. I'm kidding. I just think it is funny that they will stand there for several minutes while just about everyone is snapping pictures. I am attaching some gratuitous pictures. One is of the aforementioned penguin hamming it up for the camera, with the onlookers soaking it up (including myself?. he he). The second is of some orcas (mother and calf) that we saw the other day. This picture is courtesy of Bettina, who has a much better camera that I do. Cheers!


Nov 29: Excerpts from another blog
Cruise participant Aimee Neeley is maintaining a blog of her own for family and friends back home. Here are a couple of great excerpts...
11/21/06
In today's blog, I am taking an opportunity to talk about a very important and necessary component of research cruises. Today I am going to talk about.............COFFEE. You may think that to go on a research cruise, we need computers and all those complicated gadgets and instruments. Well, you are wrong. The most important piece of equipment to bring is that which will make your favorite variety of coffee. There are several different types of coffee made on this ship. There is your regular everyday Mr. Coffee. You also have your espressos. Add some frothy milk and you have your cappuccino. One group also has an old school coffee press. Then of course there is always the mass produced ship coffee, which isn't typically very good. The first picture I am including is of the coffee area set up in our lab space. It includes 2 cappuccino makers and a regular coffee pot. The smaller cappuccino maker on the right has been retired since the Gaggia, on the left, showed up. The Gaggia makes great espresso. Then you must notice the many bags of coffee we brought with us. This does not include the cans of espresso grounds in the drawer. The second picture is of all the scientists that tend to crowd around the small area that is Coffee Central. Pete is at the helm making the cappuccinos. Also in the picture are Ana (front), Jack and Juliana (back). The third picture is of Maeve, who was gracious enough to make me a cappuccino. I am spoiled. Everyone else makes me my cappuccinos. They taste better that way. Some people have issues making coffee, like when they accidentally use seawater instead of fresh water (Dave Hutchins). Also, some people get cranky when they cant find their coffee filters that unknowingly fell behind a cabinet and start accusing people of stealing them (Dave). Espresso time -- a time to relax and socialize. It wouldn't be the same without coffee.
11/18/2006
I saw an emperor penguin today, up close! It was still from the ship though. I got some cool video too with my camera. It is a little shaky because I am not a great videographer but I have it. I think I caught him going #2. I have a fascination with Antarctic animal feces. Yes I know that is pretty gross. When I was in Palmer Station I saw seal poop for the first time. Yes, I have a picture. I was fascinated because it is red. When I first saw red sploches on the ice, I thought it was blood from a seal fight. I learned, however, that seal poop is red because they eat krill, which is the main food source of many animals down here, including whales, seals and penguins. Krill have a slight pink color, so I guess if you eat enough of them your poop turns pink. I don't have first hand experience but I have seen the results. You never thought you would read a blog on poop did you? I have been sick for almost a week now but I am finally feeling almost normal again. When something goes around the ship, it is hard to avoid. I take my vitamins everyday and it still didn't help. I suppose going onto the ice when the wind chill is -20°F and spending lots of time in a 35°F cold room probably does not help either. But that is ok. I am not a whiner; I can take it! Well that concludes the excitement for today. I have more to talk about but I shall save it for the next blog.
11/11/2006
Today was a 2nd day of ice coring. Yesterday we didn't do any ice coring because the wind speeds were over 30 knots. The winds speeds must be below 30 knots so that we can be safely craned onto the ice and also because we don't want the ship to be blown away or into us. We found a nice piece of ice to collect some cores. We got out onto the ice and the chunk we were on started separating from the main piece. We drilled about 5 cores before we decided it was time to go. I got to drill another ice core also. As soon as all of us were off of the ice and back on the ship, a crack formed right where we had been standing. We missed it by a couple of minutes. It was a near death experience! Not really, but it was pretty close. There were some penguins "tobogganing" behind us. This just means that they were sliding around on their bellies, which is more energy efficient for them. I believe they were Adelie penguins because they were pretty small. We should be seeing some more soon and they will probably be really close. We usually have a party on the ice at some point to give everyone a break from the ship. They are usually around us being very curious. It is a lot of fun.... So here are a few bits and pieces of info for you all. The water temperature here is around -2.0°C or 28.4°F. If you were to fall into the water without protection, you would only survive for about 4 minutes tops. With the mustang [exposure suit] you may last a little longer. When I was at Palmer Station I jumped into the water there for fun. I think it was around 4°C or 39.2°F. It may have been less than that. Either way it was pretty cold. I have a great picture of me in the water with a bergy bit floating beside me. Tomorrow is the crossing ceremony. After tomorrow, I shall tell you all about it.
Cheers,
Aimee
Nov 27 - The Algae Need Their Flintstones Too - Update from Mak
We've been working hard lately sampling the Ross Sea as the ice has receded and the Phaeocystis is growing. When the bloom is dense you can actually smell the sulfidic compounds the Phaeo makes (dimethylsulfide) when you take a shower here (the ship makes its own freshwater from the seawater).
We've received some good news, last year we observed a surprising and unusual finding here in the Ross Sea: the phytoplankton community was co-limited by iron and vitamin B12. This means that when we add iron and B12 together, the algae grow to significantly higher biomass levels than with iron alone. This is one of the first findings that phytoplankton can be influenced by a vitamin in the natural environment, and suggests that this vitamin could be quite important in controlling the ecology of this marine ecosystem. Vitamin B12 is a molecule that is only made by bacteria and archaea and has to be taken up from the environment by the algae that require it. This molecule also contains an atom of the metal cobalt in its center, which is an element that is very scarce in seawater, and hence is also part of our study here as well. We wrote up these results last year after returning from the first cruise and have just heard that our manuscript has been accepted in the journal Limnology and Oceanography for publication likely sometime early in 2007 and this work is co-first authored by Graduate Student Erin Bertrand (Bertrand, Saito et al). This is the first of what will likely be many future CORSACS publications.
Nov 17 - Note from Mak
There are a lot of Emperor penguins out here this year on the ice. It's great! See the photos at right, by Chris Payne.


Southern Ocean and Antarctic Birds ? from Chris Payne
During our Southern Ocean crossing we observed 5 different species of albatrosses: Wandering Albatross, Salvin's Albatross, Black-browed Albatross, Grey-headed Albatross and Light-mantled Sooty Albatross.As we got closer to the Antarctic continent we saw less and less albatrosses and we are now seeing almost exclusively Antarctic Petrels and Snow Petrels, as well as Adelie and Emperor Penguins. Penguins and petrels are adapted to these colder conditions, possessing a dense layer of subdermal fat, a coat of heavy down and an outer surface of overlapping contour feathers.Even when at rest, these features keep the birds sheltered from the cold, wind and precipitation.
A few interesting facts about albatrosses: albatrosses are the longest-winged flying birds on earth and reach wingspans that can exceed 3m.Wandering Albatrosses range widely at sea and have been shown in some cases to travel 10,000-25,000 km in just a few weeks.Recent GPS-tracking of these great giants demonstrated that they achieve a mean of 55km/h in flight and travel upwards of 85 km/h about 10% of the time.These graceful birds are a joy to observe at sea but are presently experiencing a population decline due to habitat deterioration on breeding islands, and also from the longline fishery.Many seabirds are also threatened by plastic pollution so please do your part by never throwing plastic into the ocean.
Further reading/source:(Shirihai, H. A Complete Guide to Antarctic Wildlife: The Birds and Mammals of the Antarctic Continent and Southern Ocean. 2002. Alula Press. 510p.)
Nov. 17: Today's weather forecast for the Ross Sea
20-25 knot winds and snow, -11C

Weather
(Brought to you by Unkle Skip)

1. METEOROLOGICAL SITUATION AT 170600Z: SATELLITE INPRETATION INDICATES AN AREA
OF LOW PRESSURE NEAR 78S 170W MOVING SLOWLY NORTHWARD INTO THE SOUTHERN ROSS
SEA. THE LOW WILL MOVE SHIFT SLOWLY TO THE NORTHEAST THROUGH THE PERIOD. UPPER
LEVEL DISTURBANCES ROTATING ABOUT THE LOW WILL BRING MOSTLY CLOUDY TO CLOUDY
CONDITIONS, SOUTHWESTERLY WINDS AND PERIODS OF LIGHT SNOW WITH BLOWING SNOW TO
THE AOR.

2. 24 HOUR FORECAST COMMENCING 171200Z ALONG ESTIMATED TRACK FROM 75S 175E TO
75S 178E AS INDICATED REFERENCE A:

A. SKY/WEATHER: MOSTLY CLOUDY TO CLOUDY.

B. VISIBILITY (NM): UNRESTRICTED, 1-3 IN PERIODS OF LIGHT SNOW/BLOWING SNOW.

C. SURFACE WIND (KT): SOUTHWEST 20-25, DECREASING TO 15-20 BY 180600Z.

D. MAX/MIN TEMPERATURE (C): -7/-11.

E. SEA SURFACE TEMPERATURE (C): -1 TO -2.

F. COMBINED SEA (FT): 0-1.

G. ICE ACCRETION: NONE.

3. OUTLOOK TO 48 HOURS: WEAK HIGH PRESSURE WILL BUILD INTO THE AOR AS THE AREA
OF LOW PRESSURE DRIFTS OFF TO THE NORTHEAST BY MIDPERIOD. EXPECT MOSTLY CLOUDY
SKIES AND WINDS SHIFTING TO THE SOUTH AT 15-20 KNOTS.//
Nov 16 - Message from Mak - "Working at Environmental Extremes"
This is only my second trip to Antarctica. I've been on a number of research cruises, but none where we have pushed the limits of weather and environmental extremes like this cruise. This is the second of two cruises in the CORSACS project (Controls on Ross Sea Algal Community Structure). Last year's was in the late summer, by Antarctic conditions, which means that the annual sea ice that completely covers the Ross Sea in the winter was melting and opening up first as water body surrounded by ice, also known as a polynya. Later that sea ice broke away and melted allowing the Ross Sea to be open to the Southern Ocean. This year, we arrived in Spring/Early summer, where the Ross Sea is largely still covered in ice, so that we could study the phytoplankton at the beginning of season as it blooms when the ice recedes. So it's noticeably colder so far this year. The past few days have been examples of that, what had opened up as a polynya seems to have partially refrozen as "pancake ice", leaving only small leads of open water that have opened up between the ice so far.
It's been a real learning experience in terms of sampling. Today we were outside when it was -11 degrees Celsius (That's negative eleven, not dash eleven. And that's not including wind chill, fortunately there wasn't much wind today). That's cold enough that the seawater that dripped from the sampling lines (ropes) we were using would freeze in the few moments it took for the line to come on board the ship (see picture of the slush/ice forming on my equipment). For freshwater rain to freeze while falling is common as snow and hail. But snow gets to fall a lot farther, from clouds, whereas the seawater that's freezing much faster - it's only about twenty feet over the ship's deck. Plus all the salt in seawater lowers the freezing point of the water significantly, a chemical phenomenon known as a colligative property. I'm amazed to see this seawater freezing right before my eyes. My sampling bottles don't work the same way at such cold temperatures too: they're designed to enter the water closed and pop open under pressure as we sink them past eight meters in depth, then we send down a weight to "trip" the bottle shut. But I've found that at -1.8 degrees Celsius water temperature, the bottles never pop open automatically, so I've had to modify my equipment to deal with this.
We're also trying to do "incubation" experiments where we take the algae in the seawater, place it into different kinds of bottles and incubate them in tanks on deck with seawater flowing through them to keep their environment as similar to the ocean as possible, with respect to temperature and light. It's so cold here though, that we're really worried about the seawater in our incubators freezing and ruining our experiments. We've got all kinds of backup plans including chilled vans with light banks where we simulate the natural environment for our experiments. One is nicknamed the Martini Van by the crew because of the blue shaded lights inside, but you wouldn't want to hang out in there very long, it's a balmy zero degrees Celsius.
Finally, the Sedwick group (Pete, Ana, Maeve, Angie, and Geordie) are using a pump that is towed by the ship to sample seawater without trace metal contamination. Amazingly, it's so cold that the lines keep freezing when they've tried to deploy it thus far, despite heaps of heat tape and foam insulation around the tubing. As a result we had to setup our first set of experiments collecting water using a zodiac motor boat, where water was sampled ahead of the boat as it slowly moved forward to avoid trace metal contamination.
It's pretty amazing to be here studying this unique ecosystem that thrives in such an extreme environment. The life here is obviously much better adapted to deal with these low temperature extremes than we human visitors are. Just in the past day, we've noticed how the algal community is poised to explode in an early summer bloom, as it does every year here as the ice recedes. And it certainly makes for some of the most scenic sampling I've ever done. Even though I'm covered head to toe in multiple coats and socks, hats gloves, and boots, and thermal underwear, when I look up and see the Adelie penguins sitting on the ice sheet across from the water where I'm sampling and think about the fascinating algae and biogeochemistry below in the seawater ecosystem, I know our long and difficult journey down to the Ross Sea has been worth it.
-Mak
November 16 - Message from Tyler
So, yesterday morning we arrived at the ice shelf, the official above sea level continental antarctic! We sailed in near Mt Erebus and tried finding some open water to work in. I'm not sure if anyone has updated the website with the fact that the polynya froze over since the satalite image about a week ago... so there's probably only about a half mile strip along the edge of the continent where there is somewhat open pack ice... this means we're going to have to adapt our science plan a bit. A week ago this was all open water, but now we're having an unexpected cold snap.

-Tyler


See associated slide show!
See the associated slideshow for additional shots of sunsets and ice.
November 15: Notes from "first-timer" Juliana Miller
Hi! My name is Juliana and this is my first trip to Antarctica. My first time in the southern hemisphere actually. Not only is it my first trip, it will most likely be my last because my research is actually on coral and not polar algae. So I am trying to take advantage of this trip as much as possible. I go outside at least once a day if time and weather permit. One of the things I've really enjoyed watching since we have reached the ice is the ship plow through the ice. In the beginning, when we saw ice for the first time, the ship cut through it like butter. It was very smooth and hardly even noticeable. As the ice got thicker, it was really neat to see how the boat just pushed through it. If you look overboard from the side, you can see the ice popping out from under the ship or just being pushed up forming a small mountain-like pile. You can also see lines from the layers of ice that have built up on top of one another. If the ice gets really thick, the ship has to ram through it. To do this, it has to reverse back through the path it has already created in the ice. This is in order to give it some room to build up ramming speed. Then it plows forward again faster than before. Sometimes it actually goes up on top of the ice and uses its own weight to crack the ice. It's great watching the ice start to crack and then see those cracks spread out to break the ice into several pieces. When the ship has to work this hard to break the ice, it can get really loud in the galley where we eat making conversation nearly impossible.
While we are in the ice, some of the investigators need to collect ice cores. I have been lucky enough to get to go out on the ice several times in order to drill into the ice to collect samples. People in my lab like to get pieces of ice that are from the bottom of the sheets so they can get the algae which lives there. You can see a brown color in the bottom of the cores because of the ice algae. Once we get the pieces we need, we wait for the ice to melt down and then we analyze if for a sulfur compound that can affect climate. It's important to understand this compound because of global climate change. We want to know what the affect of the sulfur compound has on the change in climate. It can get pretty cold out on the ice, and yesterday when we went, there was a wind chill of -40 degrees Celsius!! I wore 4 layers of clothes in order to stay warm but my face still always gets blasted with wind.
As we get further south, we are nearing the polynya where there should be much less ice. I'm looking forward to the next stage in the research cruise, and I'm always on the lookout for more marine life. My lab partner and I are keeping a tally of the marine life that we see. We have seen many Adelie penguins, a few Emperor penguins and no orcas! That is the goal -- to see an orca. Wish us luck!
Pictures from Tyler, Nov. 9
Here are some pictures that I took during the first two days after we entered the ice.


Quick note from Mak on Nov 9
The latest satellite ice photo is to the right. We've just hit the ice edge. Nice and smooth sailing now until it gets thicker.


Quick note from Tyler on Nov 8
It's very cold. We're working on a GoFlo cast right now and I'm typing with gloves... burrr!


Quick note from Mak on Nov 6:
It is daylight for about 18 hours a day now. We're trying to enjoy our last bits of nighttime before we go daylight 24-7. The weather is still terrible!


November 5th, 2006 (9pm, 8:00GMT; -56 56.008 179 24.590)
Rough Seas

As Jack wrote in his recent entry, we were expecting rough weather. Today at about 4am most of us awoke to rough seas tossing us around in our bunks. The science party and crew did a few more rounds of checking the ship to make sure all of our equipment was secured in the laboratories. And the captain closed access to the outside decks due to rough seas (see picture), as a precaution. There's a big storm to the south of us, so we've changed course going west and slowed our speed to 4 knots to go around behind the storm and/or wait it out. As I write this my coffee cup is sliding back and forth on my desk (don't worry, it's empty). So it's been kind of a slow day, too rough to sample over the side of the ship or even give talks (we've been doing science talks in the morning to discuss our research), mostly just waiting out the storm reading and hanging out. The winds outside are between 28 and 35 knots right now. The Palmer rides rough weather well though, it's a nice big stable ship. -Mak


02 November 2006 09:30 GMT
Terms and Travel
We're now two days off from New Zealand. Calm seas. Over the course of the cruise you will hear accounts of both science activities and shipboard life. Our primary objective of course is to collect the data to meet our scientific goals -- to better understand a piece of our planet, namely the Ross Sea.
I thought it would be fun to start off with some simple everyday terms you would hear onboard. For example, each morning, rather than visiting the kitchen, we go to the mess, where the galley staff has prepared a variety of meals to choose from, typically two or three options, including vegetarian. Our beds/bunks are above decks. On a ship you have the main deck, and above that the 01 (pronounced "O-one") deck, 02 deck, etc. Similarly, below the main deck are platforms.
When navigating the ships interior, you walk through passages, not hallways, and stairs are called a ladder. A bathroom is the head because (so I've been told) historically, when nature called, a sailor would go to the ship's head for relief. Moving toward the front/bow is going forward, and to the back/stern of the boat is moving aft. Rather than right or left the ships halves are port and starboard. When setting a course you use a chart, not a map. Well that's enough terms; you'll learn more terms in future notes from other cruise participants.
So far we've traveled about 340 nautical miles (390 statute miles or 630 km). From Christchurch, New Zealand, to the Ross Sea is about 1500 nm; perhaps this is similar to the distance from San Diego to Portland, or New York to Jacksonville, FL (but probably worth checking my guess on that). Without ice in the way we will travel about 10 knots (11.5 mph). Since we haven't reached our study area yet we have been able to take some time, adjusting to the ship's motion -- known as getting our sea-legs. Each science group continues to prepare their allotted space onboard for the particular research they plan to perform. Some of us have set up mass spectrometers, others nutrient analyzers, and my group has built a special clean environment simply called "the bubble" where we will do electrochemistry to profile trace metals in the ocean.
More information on some of the instruments used and research goals should be posted, or will be soon. In the mean time, we await any questions or comments you have. That's all for today.
Cheers!
-Tyler
P.S. Educators, depending on your plans, you may consider building quizzes off of blog entries. Depending on the grade taught, you may ask simple questions like "what do sailors call a bathroom/kitchen/hallway/etc.", or "what time is 16:00 hours (and visa versa 4:00PM, or convert GMT to EST)", or more difficult questions like "what is the distance from Christchurch, NZ to Latitude -047 deg 01.8 min and Longitude 174 deg 23.0 min".