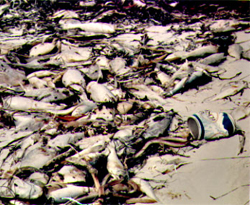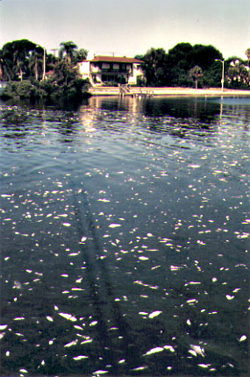 Fish Kills
Whether toxic or noxious algal species dominate a bloom or alternatively, occur at low but harmful levels within a phytoplankton community, their presence often affects other trophic levels, resulting in ecosystem dysfunction, public health risk, and enormous economic losses. The devastating effects of HABs are frequently seen on the west coast of Florida where the proliferation of the toxic dinoflagellate Karenia brevis can result in massive fish kills, closure of shellfish beds due to NSP and skin and respiratory irritation to humans at the seashore. These blooms are responsible for the loss of millions of dollars to the commercial and recreational fisheries and tourist industries.

Pictured here are fish killed by red tide blooms, washed ashore either to accumulate on beaches or in small quiet coves near residential homes. These fish pose a health hazard as they rot and decay, and birds such as pelican, seagulls, cormorants, and possibly marine mammals can become intoxicated by eating dead or dying fish.

Impacts of Prymnesium parvum or "Golden Algae"
Prymnesium parvum, commonly referred to as "golden algae," is one of the most problematic HAB taxa in the U.S. and has caused fish kills in Texas each year since 2001. P. parvum has been documented in more than 25 lakes and rivers in five of Texas' major river basins, with most toxic blooms occurring in winter months and in brackish inland waters. Fish kills have included game fish such as largemouth bass, smallmouth bass, striped bass, catfish, crappie, and rainbow trout, as well as threatened species such as blue suckers and Rio Grande darters. P. parvum has also been confirmed in New Mexico, Colorado, Wyoming, North Carolina, South Carolina, Georgia, Arkansas, and Alabama and has been suspected in Oklahoma and Nebraska. In New Mexico, P. parvum has entered into stream environments where it endangers the survival of the Pecos bluntnose shiner, which is listed as a threatened fish species.
Last updated: July 31, 2012