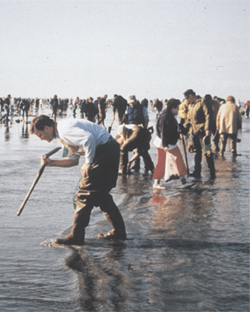 Societal Impacts
HABs have an effect on recreation, tourism, and local aesthetics by diminishing the quality of the environment. This can manifest in a variety of ways in different regions of the country. Some examples are:

Massive fish mortalities that result in fish accumulating on beaches
Closure of recreational fisheries
Respiratory ailments experienced by beachgoers from aerosolized toxins
Unsightly and noxious piles of macroalgae that accumulate and decompose on beaches
Discoloration of water
Mortalities of protected species and modification of their habitats
HAB occurrences affect consumer perceptions of the safety of uncontaminated shellfish, reducing the demand for shellfish and affecting the fishing and aquaculture industries even where there is no contamination. Freshwater HABs can similarly affect the perception of drinking water safety, impacting decisions by consumers and public utilities.
Estimating the full range of societal impacts of HABs is as difficult as estimating human behavior in response to a traumatic event. Working patterns can be disrupted when fishermen seek alternative occupations or sources of income and restaurants seek alternate suppliers for their seafood. Charter boat reservations and pier attendance for recreational fishermen in Florida can be reduced during HAB events because of fish kills, respiratory irritants, and misinformation about HABs. Vacations can be ruined, and some may never visit an impacted region again. People who have retired to coastal or lake shore homes may find their property values are adversely affected when HABs frequently occur.
Seafood Safety
Seafood constitutes a significant portion of the world food supply with more than 70 million metric tons harvested each year. Estimated seafood consumption is 9 kg per person per year in the U.S. Although an important and popular food source, seafood ranks third on the list of products most frequently associated with food-borne disease. Several seafood related diseases are caused by contamination of seafood with potent neurotoxins naturally produced by marine algae associated with HABs.
Recreational and Drinking Water
Cyanobacteria are a component of freshwater and marine ecosystems. The abundant growth of cyanobacteria in reservoirs contributes to significant practical problems for water supplies. Moreover, many of the known cyanotoxins (e.g., microcystins, saxitoxins) have been associated with deleterious human health effects. The full impact of the presence of these toxins on contaminated water bodies remains unknown.
Domoic Acid Closes Recreational and Commercial Harvests of Shellfish in Washington and Oregon
Tens of thousands of visitors are drawn to Washington and Oregon coastal communities to harvest razor clams recreationally. The economic contribution of these visitors is especially important to small coastal communities during the quiet fall, winter, and early spring months. Since 1991, high levels of domoic acid have resulted in three year-long closures of these fisheries. The economic impact in terms of reduced recreational spending of the most recent of these closures has been estimated to be between $10 and $12 million. In addition, the Native American coastal tribes who posses fishing rights for razor clams have also been heavily impacted by the closure of their commercial and subsistence fisheries. The coastal Dungeness crab, another key commercial fishery, has experienced disruptions with closures in portions of the fishing grounds and continues to face the real threat of future closures over much wider areas.
Last updated: July 11, 2016