Announcements
Conferences
Save the Date!
The 18th International Conference on Harmful Algae will take place from October 21-26, 2018 in Nantes, France. This will be the second ICHA in France. A major goal of the 2018 conference will be to connect the science on harmful algae with the beneficiaries of this research. The scientific program will include topics such as Harmful Algae Biology and Toxins, Surveillance and Management of Harmful Algal Blooms, and impacts of HABs on the Socio-ecosystem.
Websites and Resources
The latest issue of Harmful Algae News is now available
Harmful Algae News, November 2017

CDC launches reporting system for harmful algal blooms and associated human and animal illnesses
The CDC recently launched a reporting system for harmful algal blooms, as well as a new website with important information for both health officials and the public. The One Health Harmful Algal Bloom System (OHHABS) collects data on harmful algal blooms and associated human and animal illness. This voluntary reporting system is accessible to state and territorial public health partners. OHHABS is an example of One Health surveillance. One Health is an approach that recognizes that human, animal, and environmental health are interconnected, and that human health, animal health, and environmental health communities can more effectively address many linked health challenges by working together. The new Harmful Algal Bloom website provides information about harmful algal blooms and associated illnesses for the general public, including ways that people can protect themselves, their families and their pets.
Last updated: July 11, 2016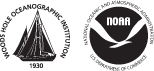 © Copyright WHOI 2007. All rights reserved.
About Us
|
Contact Us
|
Related Links
|
Site Map

The Harmful Algae Page is supported by a National Oceanic and Atmospheric Administration Center for Sponsored Coastal Ocean Research Coastal Ocean Program (NOAA/CSCOR/COP) grant to the National Office for Harmful Algal Blooms at Woods Hole Oceanographic Institution,
Dr. Don Anderson
, Director.