Announcements
Conferences
The 10th International Conference on Toxic Cyanobacteria
The 10th International Conference on Toxic Cyanobacteria will be held in Wuhan, China from October 23-28, 2016.

The 17th International Conference on Harmful Algae
The 17
th
International Conference on Harmful Algae (ICHA) will be held in Florianópolis, Brazil, October 9-14, 2015.
Last updated: February 25, 2016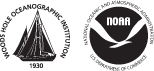 © Copyright WHOI 2007. All rights reserved.
About Us
|
Contact Us
|
Related Links
|
Site Map

The Harmful Algae Page is supported by a National Oceanic and Atmospheric Administration Center for Sponsored Coastal Ocean Research Coastal Ocean Program (NOAA/CSCOR/COP) grant to the National Office for Harmful Algal Blooms at Woods Hole Oceanographic Institution,
Dr. Don Anderson
, Director.