Profile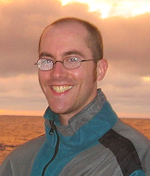 Tyler Goepfert
Research Associate II
Marine Chemistry & Geochemistry
Chemical Oceanography
Office Phone: +1 508 289 3551
WHOI Mailing Address:
Woods Hole Oceanographic Institution
266 Woods Hole Rd.
MS# 51
Woods Hole, MA 02543-1050
Education
Cornell University 2003 B.S. Biological and Environmental Engineering
Oldenburg University, Germany 2010 M.Sc. Renewable Energy
Research Interests
Biorefinery / Industrial Ecology, Oil Chemistry, Trace Metal Chemistry, Molecular Biology, Engineering Systems
Skills
Multidisciplinary research across several land-based labs and at sea. Instrumentation: Flow Injection Analysis, Chemiluminescence, Mass Spectrometry, & Capillary Waveguide Spectrophotometer. Experimental design including culture work & field studies. Molecular biology: primer design, PCR, gel electrophoresis, interpreting gene sequences & clone library development. Limited experience with Mass Spectrometry (LCMS), Atomic Absorption Spectrophotometer (AAS), and High performence Liquid Chromatography (HPLC). Computer networking, digital image processing and storage related to molecular biology gel electrophoresis cataloging.
[back]