People Directory : Lloyd Keigwin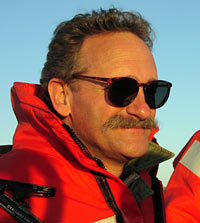 Lloyd Keigwin
Scientist Emeritus
Geology & Geophysics
Office Phone: +1 508 289 2784
Fax: +1 508 457 2183
WHOI Mailing Address:
Woods Hole Oceanographic Institution
266 Woods Hole Rd.
MS# 08
Woods Hole, MA 02543-1050
Education
B.A. Brown University, 1969, Geology
M.S. University of Rhode Island, 1976, Oceanography
Ph.D. University of Rhode Island, 1979, Oceanography
Research Interests
Climate and ocean history using oxygen and carbon isotopes in foraminifera, biostratigraphic techniques, and sediment lithology; specific interests include: circulation history of the pre-Quaternary ocean on orbital time scales; history of climate and ocean circulation change in the Holocene and late Pleistocene on millennial and century time scales; relationship between the ecology of living benthic foraminiferal species and their stable isotope composition.
[back]