People Directory : Janet J. Fredericks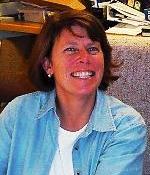 Janet J. Fredericks
Oceanographer Emeritus
Applied Ocean Physics & Engineering
Martha's Vineyard Coastal Observatory - Project Manager
Office Phone: +1 508 289 2573
Fax: +1 508 457 2194
WHOI Mailing Address:
Woods Hole Oceanographic Institution
266 Woods Hole Rd.
MS# 09
Woods Hole, MA 02543-1050
Education
B.S. State University of New York at Albany, 1973, Chemistry
Research Interests
Data analysis and display; computer programming and systems administration; digital signal processing; image processing; current meters and measurement; data acquisition systems; real-time data display; ocean observatories.
[back]