A New Complimentary Service
from Carlson Wagonlit Travel
CWT will be deploying a new, complimentary service for your travelers to help them streamline and improve their overall travel experience. In addition to the itinerary your travelers get when booking a trip, they will also begin receiving a predeparture notification via email approximately 24 hours in advance of travel. This service will be rolled out to all US clients beginning November 19th until the end of the month.
The predeparture email notification will serve as a timely reminder to travelers of their upcoming flight details, offer a direct link to the airline's online check-in site, and provide other services such as flight status and airport parking information. Following a pilot of this service, CWT received feedback that the predeparture email helped travelers save time, improve their productivity, lower their stress and feel more satisfied with their travel experience.
A sound addition to CWT's core suite of traveler services, getting predeparture email is easy, there is nothing the traveler needs to do. Once the service launches, predeparture emails deploy automatically to all travelers who book a flight on a carrier that offers online check-in. Predeparture notifications will be sent automatically to all travelers whobook a flight directly with a travel counselor, as well as for those clients that utilize an on line booking tool.
At the bottom of this email I have included a screen shot of the notification travelers will receive.
In addition to the convenience this service offers your travelers, this service benefits WHOI travelers serviced by CWTas it:
Is included in CWT's core offering at

NO ADDITIONAL COST

.
Encourages travel policy compliance by helping to channel the resources travelers may use to prepare for a trip.
Provides most expected services in one e-mail with:
ü Online check-in with more than 160 airlines

ü Free flight status

ü Sent 24 hours before flight departure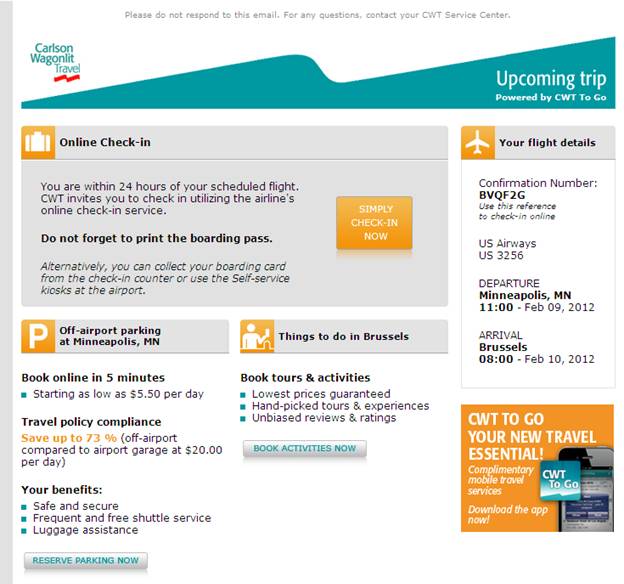 Last updated: November 15, 2012