Instruments, A to Z
Acoustic Recording Package
Acoustic Recording Packages (ARPs), developed at the Scripps Institution of Oceanography Marine Physical Laboratory Whale Acoustics, are long-term, autonomous devices which record marine mammal calls (e.g. whales and seals).

The ARPs consist of a small frame (approx. 4' x 4' x 3') that holds weights, batteries, and a hard disk, together with a hydrophone suspended roughly 10 m above the frame. The sample rate is 500 Hz, and the hard-disk storage capacity of 36Gbytes makes the ARP capable of a 400 day deployment. The ARPs are deployed by lowering them into the water at pre-determined locations using the ship's crane. They sit on the bottom and continuously record data until the time of recovery. ARPs have been successfully deployed and recovered in a variety of locations.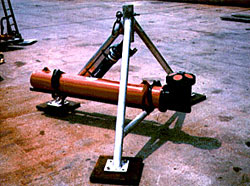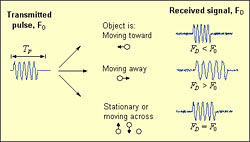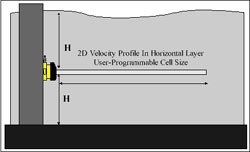 Acoustic Doppler Current Profiler (ADCP)
What is it and why do we use it?
An Acoustic Doppler Current Profiler, or Acoustic Doppler Profiler, is often referred to with the acronym ADCP. Scientists use the instrument to measure how fast water is moving across an entire water column. An ADCP anchored to the seafloor can measure current speed not just at the bottom, but also at equal intervals all the way up to the surface. The instrument can also be mounted horizontally on seawalls or bridge pilings in rivers and canals to measure the current profile from shore to shore, and to the bottoms of ships to take constant current measurements as the boats move. In very deep areas, they can be lowered on a cable from the surface.
How does it work?
The ADCP measures water currents with sound, using a principle of sound waves called the Doppler effect. A sound wave has a higher frequency, or pitch, when it moves to you than when it moves away. You hear the Doppler effect in action when a car speeds past with a characteristic building of sound that fades when the car passes.

The ADCP works by transmitting "pings" of sound at a constant frequency into the water. (The pings are so highly pitched that humans and even dolphins can't hear them.) As the sound waves travel, they ricochet off particles suspended in the moving water, and reflect back to the instrument. Due to the Doppler effect, sound waves bounced back from a particle moving away from the profiler have a slightly lowered frequency when they return. Particles moving toward the instrument send back higher frequency waves. The difference in frequency between the waves the profiler sends out and the waves it receives is called the Doppler shift. The instrument uses this shift to calculate how fast the particle and the water around it are moving.

Sound waves that hit particles far from the profiler take longer to come back than waves that strike close by. By measuring the time it takes for the waves to bounce back and the Doppler shift, the profiler can measure current speed at many different depths with each series of pings.
What platforms are needed?
ADCPs that are bottom-mounted need an anchor to keep them on the bottom, batteries, and an internal data logger. Vessel-mounted instruments need a vessel with power, a shipboard computer to receive the data, and a GPS navigation system (so the ship's own movements can be subtracted from the current data). ADCPs have no external read-out, so the data must be stored and manipulated on a computer. Software programs designed to work with ADCP data are available.
Advantages and limitations?
Advantages:

In the past, measuring the current depth profile required the use of long strings of current meters. This is no longer needed.
Measures small scale currents
Unlike previous technology, ADCPs measure the absolute speed of the water, not just how fast one water mass is moving in relation to another.
Measures a water column up to 1000m long
Disadvantages:
High frequency pings yield more precise data, but low frequency pings travel farther in the water. So scientists must make a compromise between the distance that the profiler can measure and the precision of the measurements.
ADCPs set to "ping" rapidly also run out of batteries rapidly
If the water is very clear, as in the tropics, the pings may not
hit enough particles to produce reliable data
Bubbles in turbulent water or schools of swimming marine life can cause the instrument to miscalculate the current
Users must take precautions to keep barnacles and algae from growing on the transducers.

Sources:
Frank Bahr, research specialist in the Physical Oceanography Department at WHOI
Jim Culter, program manager of the Benthic Ecology Department at Mote Marine Laboratory
RD Instruments: www.rdinstruments.com/products.html - particularly the ADCP (BroadBand) Practical Primer
Related Links
Management Unit of the North Sea Mathematical Models
United States Geological Survey
Bongo Paired Zooplankton Net
General Information
One of the simplest biological samplers, zooplankton nets are made in a wide variety of styles and sizes. The two nets in the MARMAP Bongo vertical-haul net system shown here each have a mouth diameter of about 25 cm.
History
The historic roots of plankton sampling reach back to the early 19th century when Thomson invented a net he used to sample crab and barnacle larvae. From this simple collecting device has evolved an astounding array of instrument types and collecting strategies for sampling in an immense and often hostile environment. The history of nets and their use in collecting zooplankton from the world's oceans, continental shelves, coastal embayments, and freshwater bodies are almost as varied as the subjects zooplankton biologists have undertaken to study. An account of the tools that have been employed to collect zooplankton has been recently prepared by Wiebe and Benfield (2000), and provides a description of standard sampling methods. Wiebe and Benfield provide a chronological listing of the instrument systems and categorized systems presented in the text.

When sampling plankton, an investigator is attempting to answer two questions in a quantitative way: 1) What living plankton organisms does the sea contain at a given time?
2) How does this material vary from season and from year to year? In the early history of ocean sampling, an assumption was made that plankton were evenly distributed in the oceanic waters and because of this one could take small samples which would be representative of large oceanic areas (if the volume of water filtered by the net could be determined exactly and providing some of the organisms caught by the net would not escape through the net mesh). This premise was tested in a variety of ways by many investigators, and many of the sources of error associated with sampling plankton by nets and with counting methods to analyze the samples were identified.

Ultimately the research community recognized that there were large scale spatial variations in the concentration of planktonic forms. This spatial variability led to a reassessment of sampling that produced the tools we use today.

The Bongo net was invented in the mid-20th century. Today, bongo nets are available both in opening/closing and non-closing form. However, the most commonly used net is a non-closing MARMAP Bongo Net, developed around 1980.
How It Works
A pulley with a 19 mm diameter chain or cable is used to lower the nets into the water column. A collecting bucket, attached to the cod-end of the net, is used to contain the zooplankton sample. Finally, when the net is retrieved from the ocean, the collecting bucket can then be detached and easily transported to a laboratory.
Technical Information
Advantages:
Very simple to operate
Light weight

Disadvantages:
Nets do not open and close
Manufacturers
Ocean Instruments
Aquatic Research Instruments
Typical Costs
Nets only: $50-160 each, depending on length and mesh size
Stainless steel ring frame: $200-300
Collecting buckets: $40-60 each
Deployment Gear/Constraints
Ring frame
Chain/cable, 19 mm. diameter
Further Information
Some descriptions modified from: Wiebe, Peter H. and Benfield, Mark C., From the Hensen Net Toward 4D Biological Oceanography; Woods Hole Oceanographic Institution, Woods Hole, MA 02543; Louisiana State University, Department of Oceanography and Coastal Sciences, Baton Rouge, LA 70803; 20 March 2001.

Harris, R.P.; Wiebe, P.H.; Lenz, J.; Skjoldal, H.R.; Huntley, M. Zooplankton Methodology Manual, Academic Press, London/San Diego, 2000.
Box Corer
General Information
This is one of the simplest and most commonly used sediment corers. The stainless steel sampling box can contain a surface sediment block as large as 50cm X 50cm X 75cm with negligible disturbance. Once the sediment is recovered onboard, the sediment box can be detached from the frame and taken to a laboratory for subsampling and further analysis.
How It Works
The core sample size is controlled by the speed at which the corer is lowered into the ocean bottom. When the bottom is firm, a higher speed is required to obtain a complete sample. A depth pinger or other depth indicator is generally used to determine when the box is completely filled with sediment. Once the core box is filled with sediment, the sample is secured by moving the spade-closing lever arm to lower the cutting edge of the spade into the sediment, until the spade completely covers the bottom of the sediment box.
Technical Information
Advantages:
Minimal disturbance to sediments
Simple to operate
Greater sample volume
Can sample overlying water with sediment

Disadvantages:
Not designed to sample living organisms
Heavy to transport/deploy
Manufacturers
Ocean Instruments
KC Denmark
Deployment Gear/Constraints
Heavy gauge winch wire
Large boat size required for deployment
Extra wires/workers to lift and deploy
Depth pinger (optional)
Conductivity, Temperature, Depth (CTD) Sensors
What is it and why do we use it?
A CTD — an acronym for Conductivity, Temperature, and Depth — is the primary tool for determining essential physical properties of sea water. It gives scientists a precise and comprehensive charting of the distribution and variation of water temperature, salinity, and density that helps to understand how the oceans affect life.
How does it work?
The shipboard CTD is made up of a set of small probes attached to a large metal rosette wheel. The rosette is lowered on a cable down to the seafloor, and scientists observe the water properties in real time via a conducting cable connecting the CTD to a computer on the ship. A remotely operated device allows the water bottles to be closed selectively as the instrument ascends. A standard CTD cast, depending on water depth, requires two to five hours to collect a complete set of data.Water sampling is often done at specific depths so scientists can learn the physical properties of the water column are at that particular place and time.

Small, low-powered CTD sensors are used on autonomous instruments like the moored profiler, gliders, profiling floats and AUVs .

What platforms are needed?
There can be a host of other accessories and instruments attached to the CTD package. These include Niskin bottles that collect water samples at different depths for measuring chemical properties, Acoustic Doppler Current Profilers (ADCP) that measure the horizontal velocity, and oxygen sensors that measure the dissolved oxygen content of the water.
Advantages and limitations?
Advantages:
Remote sensing
Very accurate
Light weight (CTD only)
Can be used at depths up to several thousand meters

Disadvantages:
The small, low-powered CTD sensors that are used on autonomous instruments like the MP, gliders, profiling floats and AUVs are more complex to operate, the chief limitation is the need to calibrate the individual sensors. This is particularly true for autonomous instruments deployed for long time periods. (Ship-deployed CTDs are referenced with the water sample data which are not generally available with autonomous instrument deployments.) Therefore, the sensors must be stable for the period of deployment, or assumptions about the ocean water properties must be made and referenced to the sensor data. (For example, deep water properties are usually very stable, so autonomous sensor data is adjusted to match the historical water properties at depth. The danger of course is that we miss real changes in the ocean - ship based measurements are still required!)

Sources:
Encyclopedia of Ocean Sciences, vol. 1, p. 579-588

Related Links
Epibenthic Sled
History
The epibenthic sled was designed by Dr. Robert Hessler of Scripps Institute of Oceanography Howard Sanders and George R. Hampson of the Woods Hole Oceanographic Institution (Hessler, Sanders 1966). The net (1mm mesh) was specially designed plankton net made by William Shoeder's (WHOI) daughter, Mrs. Ernest Case of N.J. She designed the nets for both the small (4ft. long) and the larger epibenthic sleds (7ft. long).

The larger 7-ft. sled was primarily designed for deep-sea sampling. For the WHOI Sanders/Hessler project, we towed it at depths exceeding 5000 meters. The purpose was to collect rare deep-sea animals which otherwise would be impossible to capture with grab samplers or box cores. However, the epibenthic sled was considered to be less than quantitative. Distances covered over the bottom can be estimated from the ship's log to get an estimate of the area covered, however the sled was never as accurate as the box corer for density determinations of the macrofauna.

How It Works
A semi-quantitative bottom-sampling device is designed to trawl just above the bottom at the sediment water interface (the epibenthic zone). The sled occasionally (inadvertently) digs into the bottom, so an infaunal sample is also collected. The sled is fitted with a 1mm mesh net. The end of the sled is fitted with an extended removable cod end, which served to provide the sled with a protected area where the animals were not subjected to abrasion. Some cod ends were made with 0.5mm mesh to retain smaller organisms.

A "front door" closing device was incorporated to retain the collected sample inside the dredge to prevent washing while the dredge is being brought to the surface. This spring-driven closing of the trawl was activated by a timing devise designed by Benthos of North Falmouth.

The smaller (4 ft. long) sled has been used successfully for many years to collect benthic organisms from local coastal waters.

Further Information
Some descriptions provided by George R. Hampson.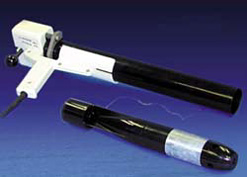 Expendable Conductivity, Temperature and Depth (XCTD) Sensors
There are occasions, especially in a harsh environment like the Arctic Ocean, when it is not feasible to deploy a CTD package. For instance, if the ship is swaying in rough seas the crew can be placed in danger from a swinging CTD package as it is being deployed or recovered. For this reason the Polar Star is outfitted with an XCTD system, which stands for expendable CTD. These are small probes, manufactered by Sippican Inc., which are attached to the ship via a thin wire. The probes are dropped over the side and the data are fed in real time back to the ship.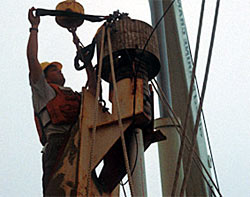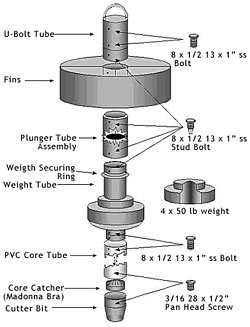 Gravity Corer
What is it and why do we use it?
The gravity corer allows researchers to sample and study sediment layers at the bottom of lakes or oceans. It got its name because gravity carries it to the bottom of the water body. Recovering sediment cores allows scientists to see the presence or absence of specific fossils in the mud that may indicate climate patterns at times in the past, such as during the ice ages. Scientists can then use this information to improve understanding of the climate system and predict patterns and events in the future. Cores capture a time capsule that, in some cases, can span the past hundreds of thousands and even millions of years. Because sedimentation rates in some areas are quite slow, even a smaller corer a few meters in length may represent thousands of years of particles. These particles are a historical record of condition in the water column and in the atmosphere and can be used to reconstruct past conditions on Earth.
What platforms are needed?
To operate the gravity corer, users need a boat with a winch powerful enough to lower and raise the corer (it can be heavy, with have hundreds to thousands of pounds of lead weights attached). Users also need enough wire rope to reach the bottom of the water body.
Advantages and limitations?
Advantages:
It is simple, robust, and relatively reliable. There is little cost associated with it, it is extremely easy to use, and requires little maintenance.

Disadvantages:
It can be heavy and awkward to deploy and recover. Long cores must be lifted to a horizontal position and maneuvered over the rail to bring aboard the vessel.

Data produced
Scientists and students at the Sea Education Association on Cape Cod, Mass. do fairly simple analyses by looking at sub-samples from various levels in the core to determine color, angularity, grain size and type, and the presence of certain species of marine life. Researchers with more sophisticated scientific projects look at isotope ratios and other chemical signatures to answer paleo-oceanography questions.

Sources:
Encyclopedia of Ocean Sciences, vol. 1, p. 579-588
Related Links
KC Denmark: small gravity corer
Hydraulically Damped Gravity Corer
General Information
This instrument, like other corers and grab samplers, is used to sample sediments from the ocean floor. The unique aspect of this instrument is that it penetrates the sediment slowly in order to minimize disturbance of the water/sediment interface. The rate of penetration into the sediment is controlled by a water-filled piston that empties at a selectable rate. This feature allows collection without the bow wave that may occur when samplers approach the bottom swiftly. Cores up to 60 cm long are recovered in muddy sediments. Cores up to about 30 cm are collected in sand.

A hydraulically damped gravity corer is owned by Michael Bothner at USGS. If you wish to borrow it from the Coastal Ocean Institute (COI) instrument pool, please contact Michael (mbothner@usgs.gov).
History
Other sediment samplers, including the grab sampler and box corer, are still in use and take valuable samples. Although the box corer can collect even larger amounts of virtually undisturbed sediment, water and other fluids are effectively isolated. Therefore, the need exists in some cases to obtain "clean" samples of the water/sediment interface. A hydraulically damped gravity corer may be used to tackle this problem. As a result, sediment/water cores have been successfully taken from both muddy and sandy sediment, from the east coast Continental Shelf and from estuaries such as Boston Harbor and Long Island Sound.
How It Works
The hydraulically-damped gravity corer consists of a four-legged frame with a central sliding shaft that holds a heavy weight stand and a clear polycarbonate cylindrical core barrel. The apparatus is constructed of aluminum, plastic, and stainless steel in order to minimize heavy metal contamination of sediments.

The key feature that differentiates this corer is the hydraulic damping mechanism, consisting of a water filled piston that empties at a selectable rate as the corer penetrates the mud. When the corer contacts the ocean floor and releases tension on the winch wire, the water filled piston connected to the sliding shaft controls the speed that the core barrel enters the sediment. Typically, the core barrel takes 10 to 15 seconds to fill completely with sediment. As the core tube enters the sediment, a mechanical switch changes the sampling rate of a sonar transducer (optical sensor), providing a confirming signal on the ship's depth recorder. When this signal is received, the instrument is winched out of the sediment. A check valve seals the top of the core barrel. When the bottom of the core tube clears the water/sediment interface, a spring-loaded paddle slides against and seals the cutting edge of the core tube. Both sediment and ambient overlying water are captured by seals at the top and bottom of the core tube at the moment of pullout.

The core quality and sedimentary features can be observed by visual inspection through the clear core barrel. The core is then removed from the frame, capped and taped at both ends, then stored under refrigeration. To preserve the water/sediment interface, the core should be secured in a vertical position at all times. Overlying water is left to completely fill the head space above the water sediment for transport and storage. The cylinder can be safely transported by ship or car without resuspension or other disturbance.
Technical Information
Advantages:
Samples both sediments and overlying water
Minimal disturbance to water/sediment interface
Can be used to sample metals and other inorganic material
Metal barrels can be used for organic geochemistry studies compromised by the use of plastic
Disadvantages:
Small sampling area and volume
Not designed to sample living organisms
More complex to operate
Manufacturers
Can be custom built by any machine shop capable of reading engineering drawings.
Typical Costs
Approximately $20,000
Deployment Gear/Constraints
Heavy gauge wire/winch for deployment (corer weighs approx. 1/2 metric ton)
Large boat size for transport
Pre-deployment preparation of core tube.
Further Information
M.H. Bothner, P.W. Gill, W.S. Boothman, B.B. Taylor, and H.A. Karl. Chemical and Textural Characteristics of Sediments at an EPA Reference Site For Dredged Material on the Continental Slope SW of the Farallon Islands, U.S. Geological Survey Open-File Report No. 97-87.

M.H. Bothner, P.W. Gill, W.S. Boothman, B.B. Taylor, and H.A. Karl. Chemical Gradients in Sediment Cores from an EPA Reference Site off the Farallon Islands - Assessing Chemical Indicators of Dredged Material Disposal in the Deep Sea, U.S. Geological Survey, Marine Pollution Bulletin, Vol. 36, No. 6, pp. 443-457, 1998; Elsevier Science Ltd., Great Britain.

M.H. Bothner, M. Buchholts ten Brink and F.T. Manheim. Metal Concentrations in Surface Sediments of Boston Harbor - Changes with Time, U.S. Geological Survey, Marine Environmental Research, Vol. 45, No. 2, pp. 127-155, 1998; Elsevier Science Ltd., Great Britain.

Pictures and some descriptions provided by the United States Geological Survey (USGS), courtesy of Michael H. Bothner.
Improved Meteorological Packages (IMET)
General Information
Exchanges of heat, gas and water across the air-sea interface couple the ocean and atmosphere in a dynamic system that creates and drives the planet's global climate. To understand this system's role in climate change, scientists have designed an array of buoy-based sensors that measure sea surface temperature, air temperature, wind speed and direction, barometric pressure, solar and long-wave radiation, humidity, precipitation, and levels of aerosols such as ozone. These measurements permit increasingly accurate estimates of air-sea fluxes. The sensor packages include the capability to telemeter some data on a regular basis via satellite to a central data facility
Technical Information
Advantages:
Can measure a variety of meteorological parameters
Very accurate

Disadvantages:
Complex to operate
Heavy to transport
Data Produced:
Sea surface temperature
Air temperature
Wind speed/direction
Barometric pressure
Solar radiation
Long-wave radiation
Humidity
Precipitation
Aerosol levels
Further Information
Introduction modified from: University-National Oceanographic Laboratory System (UNOLS), The Research Fleet, edited by Vicky Cullen, 2000.

WHOI DGE (IMET systems) Documentation, maintained by Geoff Allsup, Woods Hole, MA, 2002. (http://frodo.whoi.edu)
Large Volume Water Transfer System (LVP)
McLane Large Volume Water Transfer Systems are designed to collect particulate matter, in-situ, in support of oceanographic research projects and environmental monitoring programs.

The WTS 6-1-142LV series of oceanographic pumps draw ambient water through filters at flow rates from 2 liters per minute to 50 liters per minute and can pump more than 40 tons of seawater during a single cast. The LV pumps are designed for use from a ship's hydro-wire and employ advance control algorithms to dynamically optimize flow rates as material accumulates on a filter and to deliver precisely measured sample volumes. McLane's WTS-LVs are the finest, most accurate, oceanographic pumps in the world today.

The WTS-EC, is configured to draw ambient water through 47 mm pre-filters followed by in-line extraction columns to allow the collection of radio-nucleides, organics, and trace metals from seawater. The pre-filters are identical to those used in the WTS-47FH and the extraction columns can be bypassed, permitting use as a WTS-FH.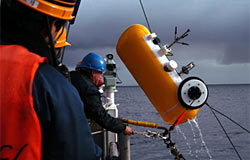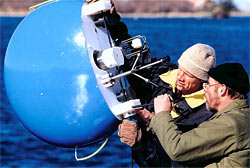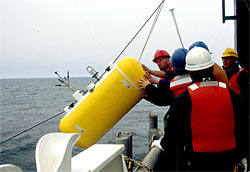 Moored Profiler
What is a moored profiler and why do we use it?
A moored profiler makes repeated measurements of ocean currents and water properties up and down through almost the entire water column, even in very deep water. The basic instruments it carries are a CTD for temperature and salinity and an ACM (acousting current meter) to measure currents, but other instruments can be added, including bio-optical and chemical sensors.

As interest in global climate change grows, so does our need for long records of ocean variability. Data collected over seasons and years are critical for developing ocean-atmosphere models, and learning about air-sea interactions. Moored profilers were conceived as a cost-effective way to conduct long-term ocean sampling.

How does a moored profiler work?
The moored profiler is attached to a subsurface mooring cable that can run from a depth of 50 meters (165 feet) down to the sea floor at 5,000 meters (3 miles) or more. The profiler uses a battery-powered traction motor to climb up and down the mooring. Its sensors document water and current properties as the profiler climbs or descends.

The profiler has enough battery power to travel a total of about one million meters per deployment. (Deployments often last a year at a time.) An onboard microprocessor can be programmed to conduct complex sampling schedules. These include burst sampling, in which several profiles are collected in a day followed by several days of no sampling, with the whole pattern repeated through the deployment. Burst sampling minimizes "alias errors," where unresolved high-frequency motions contaminate long-period signals.

The moored profiler stores its data for the duration of its deployment. Scientists download the data when they recover the instrument. Engineers and designers are looking ahead to the prospect of sending data home in real-time via satellite. (At present moored profilers can't contact satellites because radio communication doesn't work through sea water.)

How was the moored profiler developed?
Research groups and companies from several countries have developed moored profilers. At WHOI, members of the Advanced Engineering Laboratory of the Department of Applied Ocean Physics and Engineering working with members of the Department of Physical Oceanography to develop the WHOI moored profiler.

This work began with grants from the National Science Foundation and the WHOI Director's Discretionary Fund. Follow-on support was obtained from the Office of Naval Research and the National Oceanic and Atmospheric Administration.

In 1998, WHOI's licensed its moored profiler technology to McLane Research Laboratories, Inc. of nearby Falmouth, Mass., who are now marketing an improved profiler (called the McLane Moored Profiler, or MMP).

The main difference between WHOI's instrument design and the MMP is the pressure vessel for the main electronics and battery. The WHOI prototypes placed these systems inside glass spheres; the MMP uses a titanium pressure case, which is easier to service. To accommodate the new pressure case, McLane developed a new mechanical layout and gave the MMP a streamlined cylindrical shape.


Advantages
Moored profilers record water conditions over immense depths - up to 5,000 meters (3 miles). A single CTD cast to that depth from a ship would take many hours.

Moored profilers operate for up to a year at a time, so they record daily and seasonal changes that would be simply impossible to collect from a ship.

Limitations
Moored profilers climb up and down subsurface mooring cables, which usually are festooned with instruments measuring many aspects of the water. The profilers need a clear run of cable, so scientists can't place instruments in a profiler's path. To get around this problem, subsurface moorings are often set out in pairs, with a moored profiler on one and and other instruments on the sister mooring.

As with most subsurface instruments, moored profilers are limited by being isolated from the surface. They have to carry their own batteries to power instruments and the motor, and the life of the batteries limits how long the profiler can stay out. Also, the profiler never comes to the sea surface, so it's cut off from radio contact with satellites. Researchers have to wait until the deployment is over to see their data.

Sources
See "Related Files" at right.

Related Links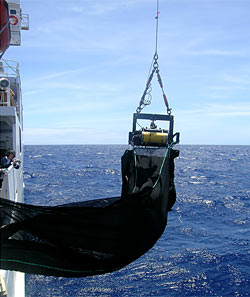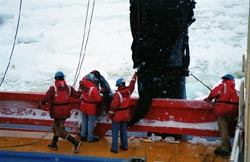 MOCNESS
Multiple Opening/Closing Net and Environmental Sensing System
What is MOCNESS and why do we use it?
MOCNESS is a much-improved, high-tech version of the humble sampling net. The letters in MOCNESS refer to the specific improvements: it's a Multiple Opening and Closing Net, with an Environmental Sensing System.

As MOCNESS tows behind a research ship, each net can be opened and shut independently so that it samples a discrete patch of water. The researcher chooses exactly when by using the environmental sensing system. This is an array of sensors mounted on the instrument frame that relays water conditions up to the ship in real time. The data also help researchers match what they find in their sample to the physical properties of the seawater.
How does it work?
MOCNESS consists of a sturdy rectangular frame that carries sensors and controls anywhere from 6 to 20 nets. A research vessel tows MOCNESS at a crawl - 2 to 3 knots. The cable connecting ship and instrument also carries the data and allows scientists to control the instrument's depth. MOCNESS can sample as deep as 6,000 meters (3.7 miles). Sensors report conductivity (salinity), temperature, depth, and chlorophyll, oxygen and light levels.

MOCNESS nets are long and tapered, like butterfly nets except much larger. They are up to 18 meters (60 feet) long and dyed black or dark blue to blend in with the surrounding waters. The rectangular opening cuts through a precise area of water during a tow and comes in six sizes: 0.25, 1, 2, 4, 10, and 20 square meters (2.7, 11, 22, 43, 108, and 216 square feet; sizes take into consideration that the frame leans at a 45 degree angle when underway).

The nets are made of fine mesh sized to catch specific kinds of plankton. Holes can be as small as 64 microns, to catch microzooplankton, or up to 3 mm to focus on the largest organisms. The smallest mesh sizes are large enough to let phytoplankton through. Anything larger than the mesh size gets swept into the back of the net and collected in a sampling container called a cod end.
What have we learned using MOCNESS?
With MOCNESS, scientists see details of water and plankton in precise parcels of the ocean. Researchers have used MOCNESS to map the distributions of zooplankton in the complex, three-dimensional eddies and swirls at the edges of the Gulf Stream, California Current and elsewhere.
What platforms are involved?
MOCNESS works by being towed behind almost any research vessel. Even fairly small ships like the 18 meter (60 feet) Tioga will work, as long as they have a winch, the proper kind of data-conducting cable, and enough engine power to pull the MOCNESS through the water.
Advantages
With nets that open and close on command and a real-time data feed, MOCNESS gives scientists great control over where and when they take their samples. Without this information plankton sampling is a little like chasing butterflies with your eyes closed.

The ability to put a large number of nets in the water at the same time is a practical advantage. Scientists can collect many more samples at once, saving ship time and research funds. And from a sampling perspective the alternative - making multiple passes over the same patch of water - might change the characteristics of the water being sampled.
Limitations
Different kinds of zooplankton live in different parts of the water column. MOCNESS can sample only in open water. Collecting plankton from the ocean bottom or from cluttered areas like coral reefs requires a different method.

MOCNESS has to be towed slowly (at less than 3 knots). The slow speed means that some of the larger zooplankton can actually out-swim the net and escape. MOCNESS estimates for these larger species are less reliable than for smaller zooplankton (although researchers are working on this problem; see Sources).
Sources
Peter Wiebe, Senior Scientist, Biology Department, Woods Hole Oceanographic Institution. Peter Wiebe lab homepage

Wiebe, P. H., K. H. Burt, S. H. Boyd and A. W. Morton. A multiple opening/closing net and environmental sensing system for sampling zooplankton. Journal of Marine Research 34:313-326. (1976)

Wiebe, P. H., A. W. Morton, A. M. Bradley, R. H. Backus, J. E. Craddock, V. Barber, T. J. Cowles and G. R. Flierl. New developments in the MOCNESS, an apparatus for sampling zooplankton and micronekton. Marine Biology 87:313-323. (1985)

Wiebe, P. H., and M. C. Benfield. Zooplankton sampling with nets and trawls. p. 3237-3253 in J. H. Steele, K. K. Turekian and S. A. Thorpe (eds.), Encyclopedia of Ocean Science, Academic Press, San Diego, CA. (2001)

Wiebe, P. H., and M. C. Benfield. From the Hensen net toward four-dimensional biological oceanography. Progress in Oceanography 56:7-136. (2003)

Wiebe, P. H., C. Ashjian, S. Gallager, C. Davis, G. Lawson and N. Copley. Using a high powered strobe light to increase the catch of Antarctic krill. Marine Biology. 144: 493-502. (2004)
Related Links
Voyages into the Antarctic Winter
Checking the Forecast for 'Marine Snow'
Nets and Water Bottles
Water sampling devices range from a bucket dropped over the side of a ship to large water bottles sent thousands of meters toward the seafloor on a wire. Probably the most commonly used water sampler is known as a rosette, or a collection of water bottles.

Collecting nets come in a wide array of sizes. The smaller ones, perhaps a meter long, may be towed briefly in near-surface waters. The largest, towed for many hours, have great metal frames carrying as many as 20 nets, with multiple opening and closing devices and an environmental sensing array that sends information back to the ship's laboratory. Aboard ship, biologists may signal the nets to open in sequence as they observe temperature, depth, salinity, and other physical, chemical, and biological characteristics of interest in the water column.

When biological samples come aboard the ship, some may be examined immediately under microscopes in the ship's lab. Animals may be dissected or analyzed for clues to their food sources or exposure to pollutants. Other samples may be preserved for further work in shore-based laboratories.
Remote Access Sampler (RAS)
McLane Remote Access Samplers are designed to collect in-situ water samples in support of oceanographic research projects and environmental monitoring programs. The RAS 3-48-100 and RAS 3-48-500 collect ambient water and suspended material in tedlar bags, isolating the samples for subsequent laboratory analysis. RAS systems can optionally be fitted with in-line pre-filters. Each RAS can collect up to 48 samples, autonomously following a user defined sampling schedule. The RAS 100 and RAS 500 are substantially similar systems, differing in the size of the sample collection manifolds to support 100 milliliter or 500 milliliter sample bags.
Related Links
REMUS
What is REMUS?
REMUS is an acronym for Remote Environmental Monitoring Units. These vehicles are robotic submarines resembling torpedoes that navigate without a human crew onboard and without cables connecting them to research vessels at the sea surface. They are among a class of ocean instruments known as autonomous underwater vehicles, or AUVs.

The vehicles are designed for coastal monitoring as well as survey operations at various depths in the ocean. They are used widely for both scientific and military operations. Oceanographers use them as a vehicle to carry a wide variety of ocean instruments for data collection. Computers on the vehicle are used for system control, such as navigation and propulsion, as well as for data collection.

Members of the military also use REMUS, usually to locate mines. In a 2003 article describing the use of REMUS vehicles in Iraq, the science writer said: "In March and April of 2003, the US Navy enlisted several REMUS vehicles to detect mines in the Persian Gulf harbor of Umm Qasr during Operation Iraqi Freedom. While a few Navy-trained dolphins starred in front-page headlines, the REMUS vehicles quietly tracked back and forth through the harbor, making detailed sonar maps of the likely locations of mines."

"Navy officials told the media that they preferred using the AUVs because each REMUS could do the work of 12 to 16 human divers, and they were 'undeterred by cold temperatures, murky water, sharks, or hunger.'"
How does REMUS work?
As REMUS travels back and forth through the water, it resembles a lawnmower moving over an area. In fact, researchers sometimes say that while REMUS is working it is "mowing the lawn." All of these movements are carefully prescribed through parameters that are downloaded into the vehicle's control computer before a mission. After entering the water, REMUS uses acoustic navigation to independently survey the area while sensors inside the instrument sample and record the data.

A few short lessons allows a person to learn how to program a REMUS mission then launch, recover, and process the data. More than one REMUS can be used with different sensors to increase the data gathered or area covered. Researchers are working on technology that soon will allow REMUS vehicles to reliably communicate with each other or the operator during the survey using underwater acoustic modems.

REMUS navigates with an acoustical system that uses 20 to 30 kilohertz transponders deployed using Global Positioning System (GPS) satellites. REMUS has three motors, each with its own controller, that operate the propeller and two pairs of fins used for steering and diving. Inside each REMUS vehicle is a control computer that functions like a miniature laptop computer. It sits on a custom motherboard that includes digital signal conversion channels, input/output ports, and power supplies.
What platforms are needed for its use?
The shallow water version of REMUS can be launched from a small boat or even deployed from a dock or on the beach.
Is there more than one type of REMUS?
There are several versions of REMUS. The deep ocean version, known as Semi-Autonomous Mapping System (SAMS), dives to 6,000 meters (3.7 miles) and can be operated from most any research vessel or ship that can accommodate a portable lab. In addition, there is a mid-water depth vehicle currently in design and testing. Engineers say that it will be smaller, easier to handle, and have a more flexible shape than the SAMS vehicle.

Another type of REMUS was employed to visit unexpected places- tunnels. The Tunnel Inspection Vehicle (TIV) was specifically adapted for insertion into the tunnels of the Delaware River Aqueduct to survey the tunnel walls for leaks.

In June 2003, this custom-designed REMUS swam several hundred feet below the Catskill Mountains and Hudson River to inspect a 45-mile section of the Delaware River aqueduct. The TIV completed the 15-hour survey, emerging from the aqueduct with 160,000 digital photographs and 600 gigabytes of data that fills 150 DVDs. All this data is being analyzed by engineers to determine where the tunnel leaks.
What are the advantages of using this instrument?
There are several advantages: diversity of payload; both vehicle and operating costs are relatively low; and speed and accuracy of the survey exceed that of other platforms. A standard instrument suite would include a 12 kHz up/down-looking Acoustic Doppler Current Profiler (ADCP), side scan sonar (usually 900 or 600 kHz), Conductivity, Temperature, Depth sensor (CTD), and often an optical back-scatter sensor. REMUS can be configured with a diverse instrument suite such as a fluorometer, bioluminescence sensor, radiometer, acoustic modem, forward-looking sonar, camera, plankton pump, Acoustic Doppler Velocimeter (ADV), and video plankton recorder.

REMUS is cost effective to operate because it does not require a large, sophisticated platform or vessel nor does it require a lot of training to operate or maintain it.

REMUS can survey at 3 to 5 knots, faster and more accurately than a towed system. Multiple navigation modes (long-baseline, ultra-short baseline and dead-reckoning) allow for more accurate purpose-based navigation choices.
What are the disadvantages of using this instrument?
The only disadvantage of REMUS is that it does not hover, which prevents it from performing high resolution, close-up imaging. The smaller versions of REMUS do not go deep. The large version (SAMS) requires a substantial support vessel and is a lot more expensive. Selecting the appropriate sensor suite and best version of REMUS for each application can eliminate nearly all of these potential problems.
Is there a patent on REMUS?
REMUS was invented and continues to be developed at Woods Hole Oceanographic Institution. It is now manufactured by Hydroid Inc. of Pocassett, MA.
How big is REMUS, how deep can it dive, and how fast can it travel?
The weight of each REMUS vehicle varies based on the weight of the instrument it carries. But overall, they are relatively small and lightweight, measuring 19 centimeters (7.5 inches) in diameter and weighing about 37 kilograms (92 pounds). The length starts at 160 centimeters (64 inches) and may also vary depending on the instrument payload. 

The basic, shallow water REMUS vehicles can dive up to 100 meters (328 feet) deep. It is capable of conducting an 80 kilometer (50 mile) survey while moving at a speed of 3 knots (that's about 5.4 kilometers, or 3.3 miles, per hour).
Related Links
WHOI Oceanographic Systems Laboratory
Realizing the Dreams of Da Vinci and Verne
Seafloor Reconnaissance Reveals Hidden Dangers off Antarctica
REMUS: Between Iraq and a Hard Place
Rosette Sampler
General Information
Water sampling devices range from a bucket dropped over the side of a small boat to large water bottles sent toward the deep ocean seafloor on a wire. Probably the most commonly used water sampler is known as a rosette. It is a framework with 12 to 36 sampling bottles (typically ranging from 1.2- to 30-liter capacity) clustered around a central cylinder, where a CTD or other sensor package can be attached.
Technical Information
Advantages:
Relatively simple to use (rosette only)

Disadvantages:
Heavy to transport/deploy
May be very fragile
Deployment Gear/Constraints
Heavy gauge winch wire
High capacity boat
Further Information
Introductory text modified from: University-National Oceanographic Laboratory System (UNOLS), The Research Fleet, edited by Vicky Cullen; Moss Landing Marine Laboratories, Moss Landing, CA; 2000.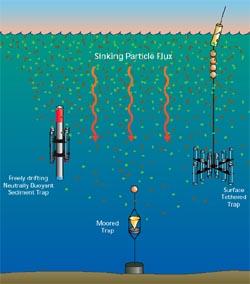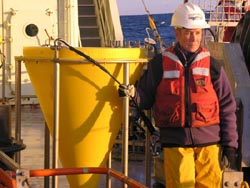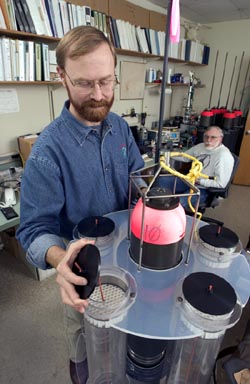 Sediment Trap
What is a sediment trap and why do we use it?
Sediment traps are containers that scientists place in the water to collect particles falling toward the sea floor. The traps collect tiny sediment or larger accumulations called marine snow - made up of organic matter, dead sea creatures, tiny shells, dust and minerals.

Analyzing the samples helps scientists understand how fast nutrients and trace elements like carbon, nitrogen, phosphorus, calcium, silicon and uranium move from the ocean surface to the deep ocean. These materials are what almost all deep-sea life uses for food (since plants can't grow in the dark). Other researchers analyze the trace elements for clues about ocean circulation thousands of years ago. And sediment trap data helps to understand the other end of the nutrient cycle: how upwelling currents create such productive fishing areas.
How do sediment traps work?
The basic sediment trap consists of a broad funnel with a collecting jar at the bottom. The funnel opening covers a standard area (such as 0.25 square meter [2.7 square feet]) and has baffles at the top to keep out very large objects that might clog the funnel.

The trap clamps at a specific depth to a fixed cable attached to an anchor or buoy. Traps are often placed very deep, where they can catch sediment near the ocean bottom.

When a ship returns to retrieve the trap, the crew activates a remote-controlled device called an acoustic release. The release severs the line between the trap and its anchor, and the trap floats to the surface with its samples.

The first sediment trap was deployed in 1978 off Bermuda, in more than 3,200 meters (2 miles) of water. In more recent experiments, several traps have been spaced every 500 meters from the upper ocean to 500 meters above the seafloor. By comparing the trap catches, scientists learn how much material gets recycled by sea life on its journey downward.
How have sediment traps been refined since 1978?
New, automated traps carry up to 21 collection vials on a motorized tray. The pre-programmed unit swaps out the vials at set intervals or when sensors on the unit record a change in water conditions. Each sealed vial stores information about a narrow slice of time, and together they allow the unit to operate continuously for up to a year.

Scientists studying the upper ocean use smaller traps that are easier to handle and collect multiple samples at the same time. In shallower waters, much more sediment falls through the water than at depth. That means upper-ocean sediment traps can forgo the bulky funnel top. They can be deployed for only a few days at a time and still collect useful samples.

But currents near the surface can be strong enough to push sediment past a trap the way rain can blow past a rain gauge. So scientists designed the neutrally buoyant sediment trap, which drifts with prevailing currents at a specified depth while catching falling sediment.
What have we learned using sediment traps?
Before sediment traps, scientists assumed that nutrients and the tiny bodies of plankton would sink very slowly, taking centuries or millennia to finally reach the sea floor. During the long descent, they reasoned, much of the material would re-dissolve or be consumed by sea life and never reach bottom. Just how deep-sea life could survive with so few nutrients arriving became a puzzle.

Sediment traps showed much larger particles (to 12 mm [0.5 inch] long) than scientists expected. This marine snow sinks as fast as 200 meters (656 feet) per day and can reach bottom in just a few weeks. At that speed, transient surface conditions, like a summer bloom of phytoplankton, can be felt on the sea floor in the form of a blizzard of marine snow.

Years of trap data now indicate that about 740 million metric tons (815 million tons) of carbon reaches the global sea floor every year. That's about 1 percent of the ocean's total production of carbon in a year. Scientists have made similar calculations for other important elements and nutrients.
What platforms are involved?
Sediment traps are usually mounted on the mooring cable of a subsurface or a surface buoy. The traps are bolted onto the lines at specific depths, where they remain for up to a year before a research vessel returns to collect the samples.
Advantages
Sediment traps are the only means for scientists to get hard data about the amounts and kinds of material that surface waters transport to the deep ocean.

Sturdy titanium construction means traps can be redeployed as soon as the collection vials are replaced.
Limitations
Sediment traps have to remain vertical in the water to work properly. Traps deployed in strong currents must continuously record their tilt angle so scientists can tell whether the samples have been compromised.

In deep water, it takes a long time to collect enough sediment for a sample - especially because, back on shore, scientists from a wide range of disciplines are waiting for a part of the sample.

The samples can bias themselves. The deep ocean is low on food, so a collection jar filled with sediment is a buffet for local zooplankton. In some traps, the majority of the catch can come from "swimmers" who arrive looking for a meal, and not from sediment at all. Trap designers are working on ways to keep live organisms out of the samples.
Sources
Susumu Honjo, Scientist Emeritus, Geology and Geophysics, Woods Hole Oceanographic Institution.

Steve Manganini, Research Specialist, Geology and Geophysics, Woods Hole Oceanographic Institution.

Ken Buesseler, Senior Scientist, Marine Chemistry and Geochemistry, Woods Hole Oceanographic Institution. Buesseler lab website ("Cafe Thorium").

Jim Valdes, Senior Engineer, Physical Oceanography, Woods Hole Oceanographic Institution.

Coale, K. H. Labyrinth of doom: a device to minimize the "swimmer" component in sediment trap collections. Limnology and Oceanography 35:1376-1381. (1990)

Honjo, S. Trapped particulate flux. p. 3045-3048 in J. H. Steele, K. K. Turekian and S. A. Thorpe (eds.), Encyclopedia of Ocean Science, Academic Press, San Diego, CA. (2001)

Lampitt, R. S. Marine snow. p. 1667-1675 in J. H. Steele, K. K. Turekian and S. A. Thorpe (eds.), Encyclopedia of Ocean Science, Academic Press, San Diego, CA. (2001)

Valdes, J. R., and J. F. Price. A neutrally buoyant, upper ocean sediment trap. Journal of Atmospheric and Oceanic Technology 17:62-68 [doi:10.1175/1520-0426(2000)017<0062:ANBUOS>2.0.CO;2]. (1999)
Related Links
Catching the Rain: Sediment Trap Technology
Transmissometer
General Information
The beam transmissometer measures the fraction of light, from a collimated light source, reaching a light detector a set distance away. Light which is absorbed or scattered by the media (usually water) between the source and the detector does not reach the detector. The fraction of light received is converted to the beam attenuation coefficient (usually called "c") by the formula c = ln(T)/z where T is the fraction of light transmitted and z is the path length of the instrument. Our beam transmissometer has a wavelength of 660 nm (spectral line width = 40 nm) and a path length of 10 cm and a pressure rating of 2000 meters of water. In general, the measurement of c at 660 nm (c660) is related to the concentration of particulate material in the water. The exact relationship varies with the type of particles present.

Several WET Labs (formerly Sea Tech) transmissometers are available through the Coastal Ocean Institute Instrument Pool.

Technical Information
Advantages:
Highly reliable and accurate
Light weight

Disadvantages:
More complex to operate
Relatively expensive

Manufacturers
Water Environmental Technology (WET) Laboratories, Inc.
Optec Inc.

Typical Costs
Transmitter/receiver: $15,000-30,000
Telescope: $2000-4000
Mounting base/equipment: $1000-3000
Power supply: $200-400
Interface computer: $500-2000

Deployment Gear/Constraints
Mounting equipment

Data Produced
Light visibility through water (path length)
Further Information
Some pictures and descriptions provided by: Coastal Services Center, Coastal Remote Sensing Group, Transmissometer Description, National Oceanic and Atmospheric Administration (NOAA), Charleston, SC; 1998.

Introductory image provided by: C-Star Transmissometer, Water Environmental Technologies Laboratories, Philomath, OR.
Van Veen Grab Sampler
General Information
This sediment sampler has a clam shell-type scoop setup. Although it tends to disturb the sediments more than the hydraulically damped corer, it is much simpler to operate. It can extract samples up to 20 centimeters deep within a sampling area of 0.1 square meters.

Various types of clam-shell type benthic grab samplers, including the Van Veen grab, are available by loan from the Coastal Ocean Institute (COI) instrument pool and may be borrowed by contacting George Hampson (ghampson@whoi.edu).
Technical Information
Advantages:
Substantial sampling area

Disadvantages:
Significant disturbance to sediments
Cannot sample overlying water
Not designed to sample living organisms
Manufacturers
Duncan and Associates
Kahl Scientific Instrument Corporation
KC Denmark
Water Transfer System (WTS)
The McLane Water Transfer Systems are designed to collect particulate matter, in-situ, in support of oceanographic research projects and environmental monitoring programs. The WTS 6-24-47FH and WTS 6-24-142FH draw ambient water through filters in which suspended material is collected. Each WTS-FH can collect up to 24 samples, autonomously following a user defined sampling schedule.
Related Links
Zooplankton Sampler (ZPS)
McLane Zooplankton Samplers are designed to collect zooplankton, in-situ, in support of oceanographic research projects and environmental monitoring programs. The ZPS 6-50 sample volume is carefully designed to avoid triggering zooplankton escape responses related to velocity or light gradients. Ambient water is drawn from the sample volume through mesh windows in a sample belt. Zoooplankton are held on the mesh by the flow until trapped in the sample window's well by a covering mesh. Samples, undamaged by the collection procedure, are preserved in a fixative reservoir. The ZPS can collect up to 50 samples in a single deployment, autonomously following a user defined sampling schedule. JAMSTEC participants were trained in the operation, deployment, and data retrieval of this important device.
Related Links