Featured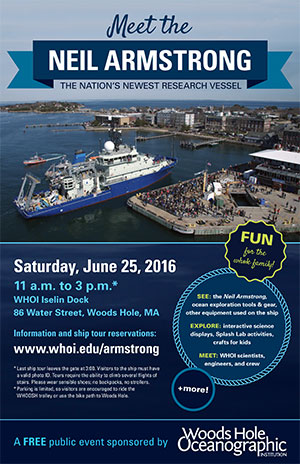 Saturday, June 25, 2016 • 11 a.m to 3 p.m.
WHOI Iselin Dock
86 Water Street, Woods Hole, MA
Calendar of Events

Other Events and Notes of Interest
PEANUT BUTTER CLUB: June 17
Presents the video "Wild Ways"on Friday, June 17, at noon, in Redfield Auditorium, 45 Water St., Woods Hole. Explore how newly established wildlife corridors offer hope to endangered species. Sponsored by the Information Office. Coffee, tea, and cookies served. Donations accepted.
PEANUT BUTTER CLUB: June 24
Presents the video "The Gorilla King"on Friday, June 24, at noon, in Redfield Auditorium, 45 Water St., Woods Hole. Among the mountain gorillas of Rwanda, Titus reigns as king. In the decades that followed his birth in 1974, Titus was orphaned and abandoned, survived poachers, and overcame the deadly challenges of his rivals. Researchers and conservationists recount his triumphant story as they share their memories and archival footage of Titus, from his days as a newborn to his rise to power as a silverback. Sponsored by the Information Office. Coffee, tea, and cookies served. Donations accepted.
MEMORIAL SERVICE FOR DICK VON HERZEN: June 17
A memorial service for Dick Von Herzen will be held at the Church of the Messiah, 22 Church Street, Woods Hole, on Friday, June 17, at 2:00 p.m. A reception will follow at 3:00 p.m., in Fisher House next door.
2016 WOODS HOLE JUNETEENTH CELEBRATION: June 17
Sponsored by the Woods Hole Black History Month Committee and the Woods Hole Diversity Initiative, continues the theme of "hallowed grounds: sites of African American memories" with a lecture on the life of Ernest Everett Just, the first African American marine biologist who spent many summers in Woods Hole. Biochemist W. Malcolm Byrnes of Howard University will discuss "E.E. Just's Broad (and Hidden) Influence on the Development of Modern Biology" on Friday, June 17, at noon in the Speck Auditorium of Rowe Laboratory at the Marine Biological Laboratory (MBL). The event is free and open to the public. For more information, go to: http://www.nefsc.noaa.gov/press_release/pr2016/news/nr1606/.
WOODS HOLE PUBLIC LIBRARY:
Mashpee resident Wendy Williams, author of the recent book "The Horse: the Epic History of our Noble Companion" as well as the previously published "Kraken" and "Cape Wind," will speak at the library on Wednesday , July 6 at 7:30 p.m. She will focus on a small portion of what is in the book in her multi-media presentation called "Can Horses Read?" After her talk, Ms. Williams will offer the book for sale and will be happy to sign copies. The library is looking for bike donations for their annual children's event, the Carnival and Tag Sale, to be held this year on Saturday morning, July 9. For the last five years, there has been a bicycle component to the day, thanks to Woods Hole summer resident and volunteer Josh Olins, who fixes up all the gift bikes he deems worthy. He not only takes bikes home ahead of time to fix, but he also sets up a repair stand at the library to adjust and "fit" the bikes to the purchasers. All sizes of bikes are welcome, but kid-size bikes are the preference. Obviously, bikes do not need to be in excellent condition for the library to accept them, but they must be in working order, with only minimal repairs necessary to get the bikes safely on the road. All the proceeds from the bike sale will go towards children's programming at the library. Bikes may be dropped during open hours in the weeks before the tag sale. The library's annual Tag Sale and Carnival for Kids will be held on Saturday morning, July 9 from 10:00 a.m. - noon. This event is, as usual, run by and for kids. The "Library Kids" look forward to running this event which is filled with new versions of old fashioned games and timeless pleasure. Their parents are delighted that the kids are learning both organization and community service while having fun. Proceeds go towards library programming for kids. Items for the Tag Sale may be dropped off in the late afternoon in the week preceding the sale, July 5-9, during library open hours, which always include 3-5:30 p.m. For more information, call the library at 508-548-8961 or visit the website www.woodsholepubliclibrary.org.
WOODS HOLE HISTORICAL MUSEUM
Exhibits are open 10:00 a.m. – 4:00 p.m., Tuesday- Saturday.
Gallery 1: Science Connection: - Woods Hole and Japan
Gallery 2: Historic Cod Fish
For more information, please visit visit woodsholemuseum.org or call (508) 548-7270. The museum is free and open to the public.
WHOI OCEAN SCIENCE EXHIBIT CENTER & GIFTSHOP
Located at 15 School Street, Woods Hole, the center is open Monday – Saturday, 10:00 a.m. – 4:30 p.m. For more information, call (508) 289-2663. WHOI merchandise is available year-round by visiting our online store at http://shop.whoi.edu/