K-12 Activities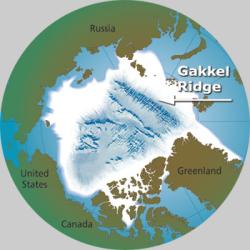 Polar Discovery - Arctic Seafloor Expedition 2007
No one has ever laid eyes on the bottom of the Arctic Ocean. For the first time in the history of humankind, a scientific team, partially supported by DOEI, using unique underwater and under-ice vehicles, will try.
» Visit The Polar Discovery Expedition 2 website to learn more

Polar Dicovery: Expeditions to the Polar Regions
Polar Discovery brings you the story of science on ice. The polar regions are experiencing unprecedented environmental changes that have significant potential impacts on global climate, ecosystems, and societies. Through daily stories, photos, and videos, our Web site gives you an inside look at scientific expeditions to the frozen ends of the earth. Using the latest engineering advancements, scientists will study the heart of the icy Arctic Ocean, the glaciers of Greenland, and the creatures of Antarctica's Southern Ocean.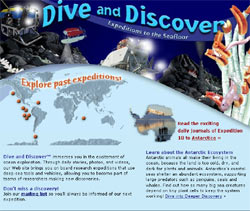 DOEI provides funding for Dive and Discover, an online expedition website.
Dive & Discover: Expeditions to the Seafloor
DOEI provides funding for Dive and Discover, a website that immerses you in the excitement of ocean exploration. Through daily stories, photos, and videos, our Web site brings you on board research expeditions that use deep-sea tools and vehicles, allowing you to become part of teams of researchers making new discoveries.

» Visit the Dive and Discover website to learn more

Last updated: August 28, 2008