MIT/WHOI Joint Program
» MIT/WHOI Joint Program Website

The MIT/WHOI Joint Program is one of the premier marine science programs in the world. It draws on the complementary strengths and approaches of two great institutions: the Massachusetts Institute of Technology (MIT) and the Woods Hole Oceanographic Institution (WHOI).

Students admitted to the MIT/WHOI Joint Program in Oceanography/Applied Ocean Science and Engineering not only have access to the faculty and staff of both institutions but also to their extensive physical facilities. All decisions from admission to the conferring of the degree - a single document issued by both institutions - are made by consensus of joint MIT/WHOI committees.

"It is a superb program that offers important advantages to both partners, a link to field-based environmental research for MIT and a link to fundamental science and engineering instructional courses and research for WHOI."
— 2004 MIT/WHOI Joint Program External Review Committee

» To learn more about the program please go to the MIT/WHOI Joint Program Website.
» To find out everything you need to know about applying to the program please go to the MIT/WHOI Joint Program Admissions web page.
An All-student-written Issue of Oceanus Magazine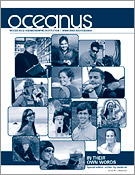 Special edition written by MIT WHOI Joint Program students.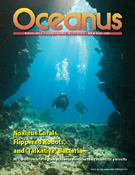 MIT/WHOI Joint Program graduate students describe their scientific pursuits
More about the MIT/WHOI Joint Program

VIDEO
2007 Ph.D. Recipient
» iPod compatible


VIDEO
2006 Ph.D. Recipient
» iPod compatible