Featured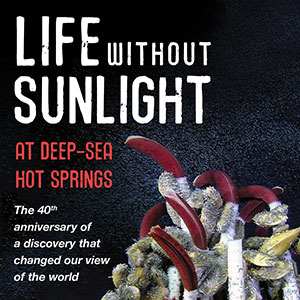 Sunday, August 27, 2017 • 6-8 p.m.
Lillie Auditorium, 7 MBL Street, Woods Hole, MA
Sponsored by the Elisabeth and Henry A. Morss, Jr., Colloquia Endowed Fund
Calendar of Events

There will be no seminars today
12:00 PM
There will be no seminars today
12:00 PM
Other Events and Notes of Interest
PEANUT BUTTER CLUB: August 18
Presents the the video "Treasures of the Earth: Power" on Friday, August 18, at noon, in Redfield Auditorium, 45 Water St., in Woods Hole. Drill underground to see the treasures that power our world—today and into the future. Sponsored by the Information Office. Coffee, tea, and cookies served. Donations accepted.
PEANUT BUTTER CLUB: August 25
Presents the the video "Search for the Super Battery" on Friday, August 25, at noon, in Redfield Auditorium, 45 Water St., in Woods Hole. Explore the hidden world of energy storage and how it holds the keys to a greener future. Sponsored by the Information Office. Coffee, tea, and cookies served. Donations accepted.
SUMMER WALKING TOURS AT WOODS HOLE OCEANOGRAPHIC INSTITUTION:
During July and August, knowledgeable WHOI volunteers guide visitors on free walking tours through the WHOI dock area and other restricted village facilities. Tours are offered at 10:30 a.m., and 1:30 p.m., Monday - Friday. Reservations are required. To reserve your spot, please visit http://www.whoi.edu/main/summer-walking-tours.
CONTRA AND FOLKDANCING:
With live music by the Woods Hole Folk Orchestra and a Dance Leader happens the first Saturday of every month from 8-11 p.m., all year round in the Woods Hole Community Hall, 68 Water Street in Woods Hole. Admission is $10, kids half price. All are welcome. For information, call the Armstrongs at (508) 548-6661.
INTERNATIONAL FOLK DANCING: September 6
Is held the first Wednesday of each month at the Woods Hole Community Hall, 68 Water Street, Woods Hole. The next one will be Wednesday, September 6, from 7-10 p.m. All ages & levels are welcome. Admission is $5 for adults. Children are free. For more information, call (508) 540-8950.
SPLASH LAB AT THE OCEAN SCIENCE EXHIBIT CENTER
Hands-on activities for kids using water, and fun for kids of all ages – at the Ocean Science Exhibit Center, located at 15 School Street in Woods Hole. Splash Lab will be held on Wednesdays and Thursdays from 1:00 – 3:00 p.m. No reservations necessary. For more information, call (508) 289-2663.
FRIENDS OF NOBSKA LIGHTHOUSE
Twenty-eight artists have donated their time and talents to do amazing artwork on 24" tall wooden lighthouses to support "The Friends of Nobska" restoration efforts at Nobska Lighthouse. The little lighthouses have been traveling in Falmouth all summer. See them in person at Martha's Vineyard Saving Bank in Woods Hole until August 18 – then at the keepers house in conjunction with the open tower tours August 22, 24, 29, and 31, from 10:00 a.m. - noon. Meanwhile the lighthouse tower is open for tours Tuesday and Thursday mornings from 10:00 a.m. - noon through August, weather permitting.
WOODS HOLE PUBLIC LIBRARY
The Social Justice Book Club of the library has been reading and meeting in discussion all summer. Their first book was The Warmth of Other Suns, by Isabel Wilkerson, about the migration north and west of freed slaves in the century after the Civil War. The second meeting of the group focused on two books: James Baldwin's The Fire Next Time and the recent update by Jesmyn Ward The Fire This Time. That evening also featured a stimulating and thoughtful talk by Dr. George M. Langford, nationally known cell biologist and neuroscientist and his wife Sylvia Langford, bringing the topic to a very personal and local level. After these two stimulating evenings of discussion, the Book Club continues with its study of the third book of the summer, Never Caught. It tells the story of Ona Judge's quest for freedom while George and Martha Washington tried to use federal power to keep her enslaved. With impeccable research, historian Erica Armstrong Dunbar weaves an engrossing tale that offers fascinating new scholarship on how one young woman risked everything to gain freedom from the famous founding father. The Book Club will meet to discuss Dunbar's book at the library, 581 Woods Hole Road, on Wednesday, August 30, at 7:30 p.m. The event is free and open to the public and will be held in the lower level of the library which is handicapped accessible. See the website www.woodsholepubliclibrary.org for more details.
DESTINATION SCIENCE
The Woods Hole Business Association is proud to partner this September with the world – renowned Woods Hole science community to present "Destination Science: Discover Woods Hole," a weekend packed full of free events in celebration of the global impact being made by laboratories right here! Come this fall to experience Cape Cod like a local, with themed weekend events. The theme September 15 – 17 is "Rachel Carson: Women in Science Pioneer." This weekend will commemorate the 55th anniversary of Carson's groundbreaking work, Silent Spring, released on September 27, 1962. Carson' s ties to Woods Hole run deep; she first arrived in 1929 as a 22 – year – old summer researcher with the Marine Biological Laboratory. It was the first time she saw the ocean, and she learned to swim in the waters of Woods Hole. Carson also worked for the Bureau of Fisheries (now part of NOAA), and conducted research at its station in Woods Hole. In 1949, she became the first woman to go to sea on its research vessel, the Albatross III. For more information about this special weekend, please visit http://woodshole.com/2017/07/01/destination-science-discover-woods-hole/.
WHOI OCEAN SCIENCE EXHIBIT CENTER & GIFTSHOP
Located at 15 School Street, Woods Hole, is open Monday – Sunday, 10:00 a.m. – 4:30 p.m., through the end of August. In September and October, the center will be open Monday – Saturday from 10:00 a.m. – 4:30 p.m. For more information, call (508) 289-2663. WHOI merchandise is available year-round by visiting our online store at http://shop.whoi.edu/.