Featured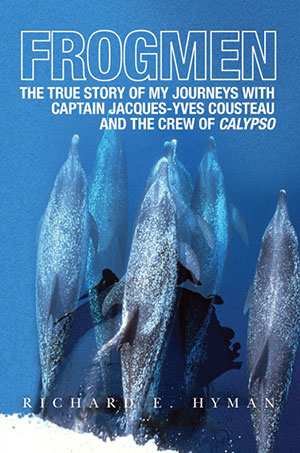 Author Richard Hyman will discuss his book"Frogmen: The True Story of My Journeys with Captain Jacques-Yves Cousteau and the Crew of Calypso" on Friday, September 23, at noon, in Redfield Auditorium, 45 Water St., Woods Hole. In his personal account of expeditions with legendary French explorer Captain Jacques-Yves Cousteau and the crew of research vessel Calypso, Hyman takes us behind the scenes, inside the ship, and under the sea. In 1973, at the age of eighteen and just out of high school, he drives a truck from Los Angeles to the Canadian wilderness to work with Cree Native Americans building a cabin for the Cousteau team to winter in and film beavers. Subsequent journeys include diving in Florida's warm springs with manatees and off the panhandle with stone crabs. Months later, he flies to Mexico's Yucatán and boards the Calypso, a relatively small and unsteady wooden ship, and camps on an uninhabited island to study lobsters. From there he sails south along the 180-mile Belize Barrier Reef, filming the spawning of thousands of grouper and a visit from singer songwriter John Denver. On his final voyage, en route to Venezuela, he experiences treacherous dives on the USS Monitor shipwreck off North Carolina, and skeletons inside wrecks off Martinique, not to mention close encounters with pirates and drug smugglers. "Frogmen" is an inspiring true adventure of a young man who pays homage to one of the greatest explorers and visionaries of all time. Sponsored by the Information Office. Coffee, tea, and cookies served. Donations accepted
Calendar of Events

There will be no seminars today
12:00 PM
Panel Discussion on Transitioning Technology to NMFS Operations
12:15 PM • NEFSC Stephen H. Clark Conference Room, NOAA Aquarium Building
Bill Karp, Sofie Van Parijs, and Dvora Hart, NEFSC and Scott Gallager, WHOI
There will be no Biology Department Department seminar today
12:00 PM
There will be no seminars today
12:00 PM
Other Events and Notes of Interest
PEANUT BUTTER CLUB: September 23
Presents author Richard Hyman who will discuss his book"Frogmen: The True Story of My Journeys with Captain Jacques-Yves Cousteau and the Crew of Calypso" on Friday, September 23, at noon, in Redfield Auditorium, 45 Water St., Woods Hole. In his personal account of expeditions with legendary French explorer Captain Jacques-Yves Cousteau and the crew of research vessel Calypso, Hyman takes us behind the scenes, inside the ship, and under the sea. In 1973, at the age of eighteen and just out of high school, he drives a truck from Los Angeles to the Canadian wilderness to work with Cree Native Americans building a cabin for the Cousteau team to winter in and film beavers. Subsequent journeys include diving in Florida's warm springs with manatees and off the panhandle with stone crabs. Months later, he flies to Mexico's Yucatán and boards the Calypso, a relatively small and unsteady wooden ship, and camps on an uninhabited island to study lobsters. From there he sails south along the 180-mile Belize Barrier Reef, filming the spawning of thousands of grouper and a visit from singer songwriter John Denver. On his final voyage, en route to Venezuela, he experiences treacherous dives on the USS Monitor shipwreck off North Carolina, and skeletons inside wrecks off Martinique, not to mention close encounters with pirates and drug smugglers. "Frogmen" is an inspiring true adventure of a young man who pays homage to one of the greatest explorers and visionaries of all time. Sponsored by the Information Office. Coffee, tea, and cookies served. Donations accepted.
PEANUT BUTTER CLUB: September 30
Presents the video "The Perfect Crime" on Friday, September 30, at noon, in Redfield Auditorium, 45 Water St., Woods Hole. The shocking story of Nathan Leopold and Richard Loeb, two wealthy college students who murdered a 14-year-old boy in 1924 to prove they were smart enough to get away with it. Their trial, with famed defense attorney Clarence Darrow and Cook County Prosecutor Robert Crowe debating the death penalty and scores of commentators weighing in from the sidelines, set off a national debate about morality. Sponsored by the Information Office. Coffee, tea, and cookies served. Donations accepted.
WOODS HOLE HISTORICAL MUSEUM
An exhibit of nature drawings by students of Julia S. Child opened September 6 in Gallery One of the museum. This annual event is the final exhibit of the season for the museum and will be open until October 8. Ms. Child is a biological illustrator and her work has appeared in books, scientific journals, and textbooks. Her most recent is a children's book about honey bees, "Varun's Quest," by Timothy Goldsmith, a Yale University biologist. She has taught at the Children's School of Science for many years. She also teaches a nature drawing class for adults, whose works are shown in this exhibit. Ms. Child works in pen and ink, colored pencil, and watercolor, as well as as in graphite and a carbon dust technique. Most of the students' drawings are in colored pencil and were drawn from live or preserved specimens. The museum is open Tuesday through Saturday from 10:00 a.m. – 400 p.m. The museum galleries will be closing for the winter on October 8. The museum's archives are open to the public by appointment on Tuesdays and Thursdays year-round. The museum is at 579 Woods Hole Road, next to the Woods Hole Library. Admission is free; donations are appreciated.
WHOI OCEAN SCIENCE EXHIBIT CENTER & GIFTSHOP
Located at 15 School Street, Woods Hole, the center is open Monday – Saturday, 10:00 a.m. – 4:30 p.m. For more information, call (508) 289-2663. WHOI merchandise is available year-round by visiting our online store at http://shop.whoi.edu/.