Featured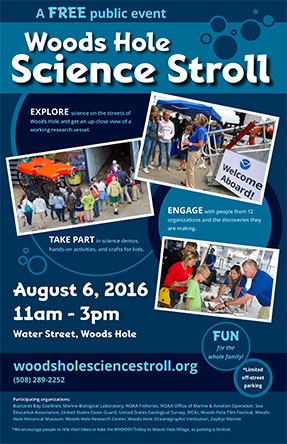 Saturday, August 6, 2016 • 11:00 a.m. - 3:00 p.m.
Walk the length of Water Street in Woods Hole and enjoy this free public day of interactive science sponsored by Woods Hole science organizations. Tour the NOAA ship Bigelow, see ocean robots, explore science displays, animal touch tanks, and hands on activities. Fun for the whole family! Parking in Woods Hole is limited. We encourage people to ride their bikes to Woods Hole or take the WHOOSH Trolley.
Tuesdays • 3 p.m. • WHOI's Ocean Scienc Exhibit Center, 15 School Street, Woods Hole

Science Made Public is an annual, summertime series of publicly accessible talks by scientists and engineers at the Woods Hole Oceanographic Institution.
Calendar of Events

Other Events and Notes of Interest
PEANUT BUTTER CLUB: July 29
Presents the video "Chasing Pluto"on Friday, July 29, at noon, in Redfield Auditorium, 45 Water St., Woods Hole. Watch as the New Horizons spacecraft captures our first clear view of Pluto's icy surface. Sponsored by the Information Office. Coffee, tea, and cookies served. Donations accepted.
PEANUT BUTTER CLUB: August 5
Presents social entrepreneur, film maker, sculptor, and painter from the Dominican Republic Maria Batlle. Maria will be discussing the "The Muse Seek Project" on Friday, August 5, at noon, in Redfield Auditorium, 45 Water St., Woods Hole. The Whale Muse Seek Project is a collaboration with Stellwagen Bank National Marine Sanctuary's (SBNMS) "Sister Sanctuary Program" to protect humpback whales throughout their migratory range in the North Atlantic. Today's lecture is in celebration of the 10th anniversary of the Sister Sanctuary Program between the Dominican Republic and SBNMS. Maria created "The Muse Seek Project" to make a significant impact in the education system for the deaf through music. The project fosters inclusion and aims to open up the world of music to deaf children across the Dominican Republic. Every year, Ms. Batlle explores the benefits of music in education together with Yo Yo Ma, The Silk Road Ensemble, teaching artists, and educators from all over the world at Harvard University. She directed an original documentary film about her latest initiative, "Whale Muse Seek," which opened up the world of live whale music to deaf children, an endeavor without precedent. It was described as a "brilliant initiative for deaf children" by Forbes magazine, as a "revolution in education" by the Dominican Minister of Culture, and presented as a "successful case of accessible tourism in the Dominican Republic" by the Dominican Ministry of Tourism. Sponsored by the Information Office. Coffee, tea, and cookies served. Donations accepted.
WHOI SUMMER WALKING TOURS
Launched from the WHOI Information Office at 93 Water Street in the center of Woods Hole village, the tours take approximately one hour and fifteen minutes and provide excellent background on the research conducted at WHOI and on the history of the Institution. Tours are free and run in July and August, Monday through Friday at 10:30 a.m. and again at 1:30 p.m. Please contact the Information Office for a reservation as space is limited. Telephone (508) 289-2252 or email information@whoi.edu. These tours are recommended for a teenage to an adult audience.
WOODS HOLE HISTORICAL MUSEUM
Exhibits are open 10:00 a.m. – 4:00 p.m., Tuesday- Saturday.
Gallery 1: Science Connection: - Woods Hole and Japan
Gallery 2: Historic Cod Fish
For more information, please visit visit woodsholemuseum.org or call (508) 548-7270. The museum is free and open to the public.
SPLASH LAB AT THE OCEAN SCIENCE EXHIBIT CENTER:
Hands-on activities for kids using water, and fun for kids of all ages – at the Ocean Science Exhibit Center, located at 15 School Street in Woods Hole. Splash Lab will be held on Wednesdays and Thursdays from 1:00 – 3:00 p.m. No reservations necessary. For more information, call (508) 289-2663.
WOODS HOLE SCIENCE STROLL: August 6
The nonprofit organizations of Woods Hole have joined together to host a free public day of interactive science along Water Street on Saturday, August 6, from 11:00 a.m. - 3:00 p.m. Explore science on the streets of Woods Hole and get an up close view of a working research vessel and a Coast Guard rescue boat. See ocean robots, explore science displays, animal touch tanks, and hands-on activities. Fun for the whole family! Reservations are needed for the ship tour of the NOAA Ship Bigelow – reserve your space at www.woodsholesciencestroll.org. Limited off-street parking is available, so the organizers encourage people to ride their bikes or take the WHOOSH trolley to Woods Hole Village. Visit www.woodsholesciencestroll.org.
WOODS HOLE FILM FESTIVAL:
Celebrates its 25th year from July 30-August 6. Besides being the 25th anniversary, the big news is that recent projection and sound improvements to Redfield Auditorium and Lillie Auditorium will make for an exceptional film-going experience! This year's program is notable for the number of films from other countries—more than 30—as well as those made by women—more than a third—mirroring the trend found at many major festivals this year, such as Tribeca and Cannes. There is also a large contingent of emerging and independent filmmakers with a special emphasis on New England filmmakers, especially those from the Cape and Islands. The "Bringing Science to the Screen" program includes 14 feature length and short documentaries about the environment on topics ranging from seeds and trees to fishing and farming, many of them set on the Cape and Islands. For tickets and a complete listing of this year's films visit www.woodsholefilmfestival.org or visit us on Facebook.
WOODS HOLE PUBLIC LIBRARY: Week of July 25
On Monday, July 25 at 7:30 p.m., local film-maker Kristin Alexander will give a presentation at the library, featuring water restoration methods developed by Dr. John Todd of Falmouth, one of the founders of the New Alchemy Institute who has since developed new methods of water purification. Kristin will screen two short films: "Green Eco-Machine" showing Dr. Todd's earlier water restoration work using a natural process. "The Grafton Project" was filmed by Kristin Alexander and Daniel Cojanu, another filmmaker living in Woods Hole. The film shows the restoration of the Blackstone River corridor in Grafton Mass., where polluted water from the old mill goes through a natural restoration process designed by Dr. Todd. At the end of the films, Dr. Todd himself will speak. On Tuesday, July 26 at 7:30 p.m., Jane Pritchard of London will present an illustrated talk about the renowned ballerina Anna Pavlova. The iconic ballerina Anna Pavlova spent almost seven years on the American continent, the equivalent a quarter of her performing career. This illustrated presentation looks at the importance of the ballerina and her tours in North and South America. The talk will be richly illustrated with archival photographs of the ballerina in her prime. Woods Hole summer resident Esther Rowland has written a memoir about her life, which has spanned much of the Twentieth Century. She will give a talk at the library on Wednesday, July 27 at 7:30 p.m. She has called the book: Fellow Traveler, a concept that holds three meanings: first, her journey through life with her husband of 63 years Lewis P. (Bud) Rowland, M.D; second, a description of some of their more memorable travels; and third, the political connotation of a political path she and Bud chose as members of the non-communist left. Copies of Fellow Traveler will be available for sale at the library on the evening of Esther's talk. These events are free and open to the public. For more information, call (508) 548-8961 or visit the website www.woodsholepubliclibrary.org.
NOT BORN IN THE USA: A FOLK BENEFIT CONCERT CELEBRATING CULTURAL DIVERSITY: August 9
On Tuesday, August 9, at 7:30 p.m., at the Woods Hole Community Hall, 68 Water Street, Woods Hole, there will be a special benefit concert featuring New England favorite, Adam Ezra of the Adam Ezra Group. Adam will be playing an acoustic folk concert with his bandmate Corinna Smith on the fiddle. This benefit concert was created to help raise awareness and funding for Mark Chester's incredible new book project: The Bay State: A Multicultural Landscape. Proceeds will benefit The Massachusetts Immigrant and Refugee Advocacy Coalition (MIRA). Tickets are $25.00 and can be ordered online via http://notbornintheusa.bpt.me/ or at Eight Cousins Book Store, 189 Main Street, Falmouth.
WOODS HOLE PUBLIC LIBRARY: Week of August 8
The library presents an evening of poetry written by two long-time summer residents on Monday, August 1, at 7:30 p.m. The two poets will be Joan Burstyn and David Epstein. They will read from their own work. One of her most disturbing poems in her most recent book is called "Lament of Two Mothers" which she will read with her friend Dorothy Stracher. Recently the poem has been set to music. David says his poetry "reflects my efforts to garner wisdom in a vacuous world, and to understand cosmological conundrums like Dark Energy and Black Holes." He adds that he has "recently been publishing a few poems, but a book-length volume of my poetry has yet to occur." The library continues the Lassalle Dance Series with a talk by Reggie Wilson nationally famous dancer and choreographer, on Tuesday, August 2, at 7:30 p.m. Wilson will discuss his current work-in-creation, CITIZEN,a multidisciplinary work that demands us to consider the contradictions imbedded in the co-existence of our individual self with our civil duties. The work wrestles with the many implicit and explicit challenges, struggles, judgments, and webbing that exist between the anonymity of the individual and the experiences of being a citizen of one's homeland, or one's adopted homeland.The newly formed Equal Justice Book Club at the library will continue their discussion of Bryan Stevenson's memoir Just Mercy on Wednesday, August 3, at 7:30 p.m. So many provocative questions were raised about social justice issues of poverty, racism, wrongful convictions and mass incarceration, that it was decided to broaden the conversation at the next meeting. The group will focus on the work of the organization founded and directed by Stevenson, The Equal Justice Initiative, which has won the release of innocent people. It also documents and challenges abusive conditions of confinement in state jails and prisons, and fights against the prosecution of children in adult courts and works to obtain new sentences for children who have been condemned to die in prison, some as young as 13. Copies of Just Mercy are available for loan at the library. Books for future discussions will be described and selected. These events are free and open to the public. For more information, call (508) 548-8961 or visit the website www.woodsholepubliclibrary.org.