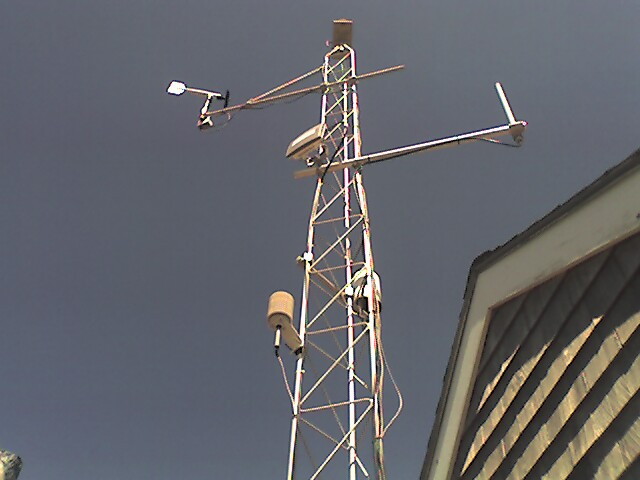 1.
2.
3. WHOI Research Vessel R/V Tioga enroute to the MVCO.
4. WHOI Engineers, Neil McPhee and Steve Faluotico, set up Air-Sea Interaction experiment with James Edson. (July 2005)
5. Divers inspecting the 12m node frame. (December 2004)
6. Jay Sisson dives at the 12m node. (December 2004)
7. Divers on deck of the R/V Tioga watch they approach the Air-Sea Interaction tower. (06/07/2004)
8. MVCO Air-Sea Interaction tower (ASIT). (05/12/2010)
9. MVCO met mast can be seen at South Beach, Martha's Vineyard. (05/12/2010)
10. Emily Peacock, WHOI/Biology, explaining sampling techniques to invited guests on R/V Tioga. (05/12/2010)
11. Emily Peacock, WHOI/Biology, and Ian Hanley, WHOI/RV Tioga, prepare instruments for sampling. (05/12/2010)
12. Meteorologists Tom Horst (National Center for Atmospheric Research) and Jim Edson (visiting scientist at WHOI, full time at University of Connecticut) hold tight to an array of acoustic anemometers as the research vessel Tioga approaches the Martha's Vineyard Coastal Observatory through the fog of a July morning. The researchers deployed the instruments on MVCO's air-sea interaction tower in the summer of 2004 to measure winds near the sea surface for the Ocean Horizontal Array Turbulence Study (OHATS). (Photo by Michael Carlowicz, Woods Hole Oceanographic Institution)
13. Maintaining Ocean Vision
At WHOI's Martha's Vineyard Coastal Observatory (MVCO), Jay Sisson, Hugh Popenoe, and Jared Schwartz (left to right) switch out part of a "node," a device that connects several ocean-monitoring instruments. Regular maintenance like this ensures that MVCO's offshore nodes provide uninterrupted data exchange and power to support increasingly sophisticated coastal ocean research. WHOI's Center for Ocean, Seafloor, and Marine Observing Systems (COSMOS) oversees MVCO and other regional ocean observing efforts at WHOI. In addition, work by these groups will form the basis for a global system of ocean observatories as part of the National Science Foundation's Ocean Observatories Initiative. (Photo by Jayne Doucette, Woods Hole Oceanographic Institution)
14. At the 12m subsea node, divers can plug in instruments through the dive panel interface. Each port is controlled separately, providing individual power and communications for each researcher.
15. The ASIT landing platform, taken from the working platform.
16. When possible, two conductivity, temperature sensors (SBECTD and CTD2) are co-located at the 12m node to provide redundancy and enable assessment of the measurements.
17. The 12m node is recovered each year to be evaluated and serviced. Shown here is the 2012 deployment. The SBECTD sensor is in the foreground and the ADCP, which measures water current profiles and wave characteristics, is seen in the far left corner.
18. The encroaching sand dune has buried the base of the met mast over the past decade.