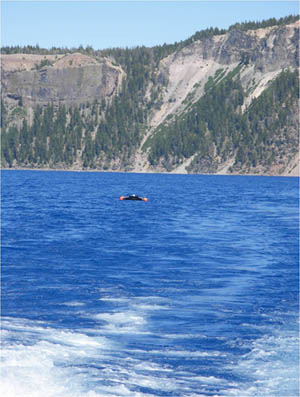 1. The Lake Moored Profiler surface expression in Crater Lake shortly after final anchoring. Photos by Rick Krishfield.
2. Mark Buktenica docks the R/V Neuston at the only access at the bottom of Cleetwood Trail (1.1 mile long, 700 vertical feet) in preparation for loading the lake profiling mooring.
3. All of the mooring equipment was carted down the winding trail to Cleetwood Cove with a small tractor.
4. Discussing strategy before installing the LMP are Mark Buktenica, Rick Krishfield, chief scientist Scott Girdner, Stephen Metzger, and Kira Mazzi.
5. Stephen Metzger attaches the mooring cable flange to the flotation package before lowering into the lake.
6. An extra large grounding plate is attached to the upper inductive modem terminal to ensure that the profiling instrument can communicate with the surface package in the extremely fresh (50 ppm) lake water.
7. Scott Girdner and Stephen Metzger spool out the 580 m of mooring wire with the surface floatation package trailing astern.
8. With the anchor deployed, the top package is lifted, but the vertical height is not enough to facilitate attaching the profiler to the wire.
9.

Consequently, on the following day Stephen Metzger passes the profiler to Mark Buktenica and Scott Girdner who attach the profiler by diving.