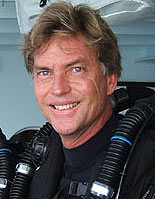 Rob Barrel
NAI'A captain, video, and diver
Rob Barrel has owned and operated the live-aboard dive boat NAI'A since 1993. He and his partner Cat Holloway first dived in the Phoenix Islands during an expedition to search for flight pioneer Amelia Earhart in 1996, and their discovery of a pristine marine ecosystem has led to four subsequent expeditions there aboard NAI'A. Rob's official title on the ships' manifest is "supernumerary", but he'll answer to "Admiral".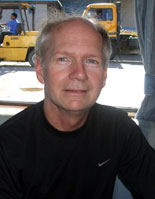 Craig Cook
Undersea Medical Associates, diver, physician on board for the cruise, and diving medicine specialist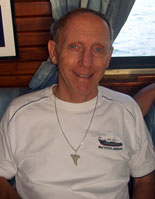 Alan Dynner
Aquarium Board of Overseers, and diver
Alan Dynner is Chairman of the Board of Overseers and a Trustee of the New England Aquarium in Boston. Formerly Vice President and Chief Legal Officer of Eaton Vance Corp., investment managers, he now concentrates on philanthropic and environmental pursuits. A SCUBA diver since he was 15, he has dived throughout the world and participated in a number of scientific diving expeditions with Aquarium explorers. He has been to the Phoenix Islands twice before.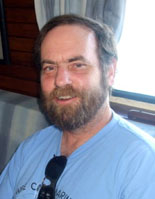 Les Kaufman
Conservation International and Boston University, fish and coral biologist
Les Kaufman studies the ecology and evolution of aquatic species, and develops science to harmonize society with the marine ecosystems on which half of humanity directly depends. Les is Professor of Biology in the Boston University Marine Program, Principal Investigator for Marine Area Management Science at Conservation International, and Research Scholar at the New England Aquarium. His mission at Phoenix Islands is to work with his expedition mates to examine how otherwise healthy coral reefs regenerate, for comparison with places less remote and more susceptible to immediate human impacts. Les' duty stations on this expedition are fish census – counting and identifying fish of the reef ecosystems, and coral stress responses – taking samples for genetic analysis of corals as indicators of responses to stress and injury.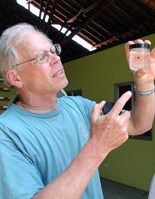 Larry Madin
Senior scientist Woods Hole Oceanographic Institution and NEAq overseer, Pelagic invertebrates and gelatinous zooplankton
Larry Madin is the Executive Vice President and Director of Research, and a Senior Scientist, at the Woods Hole Oceanographic Institution (WHOI) in Woods Hole, MA. Previously he was Chair of the WHOI Biology Department, and Director of the WHOI Ocean Life Institute. Larry received his AB degree from the University of California, Berkeley and his PhD from UC Davis, and has been at WHOI since 1974. His principal research interests are in the biology of oceanic and deep-sea zooplankton and fishes, with special emphasis on medusae, siphonophores, ctenophores and pelagic tunicates. Madin was among the first biologists to use SCUBA and submersibles for the in-situ study of the oceanic plankton. He has participated in over 70 research cruises, serving as Chief Scientist on nearly half of them. On the PIPA expedition, he will be sampling zooplankton by blue-water diving and net tows to begin a characterization of the plankton community in the waters surrounding the Phoenix Islands.
Kate Madin
Woods Hole Oceanographic Institution writer, blogger, and helping with pelagic invertebrate studies
Kate Madin is a science writer at Woods Hole Oceanographic Institution. She received her B.S. in Zoology, her M.A. in Zoology, and her Ph.D. in Invertebrate Zoology from the University of California, Davis, and has co-authored children's books as well as written articles for WHOI's Oceanus online magazine. She is on the PIPA expedition as a blogger and writer, and will help with the work on the zooplankton community around the Phoenix Islands.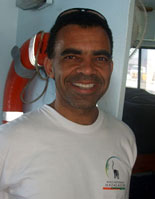 David Obura
Chief Scientist on cruise, Coordinator for CORDIO (Coastal Oceans Research and Development Indian Ocean) East Africa and New England Aquarium, coral biologist
David Obura is the coordinator for CORDIO East Africa, supporting activities in mainland Africa and Indian Ocean island states, including research, monitoring and capacity building of coral reefs and coastal ecosystems. A primary focus is the implications of global and local threats to coral reef health and their long-term prospects and provision of socio-economic benefits. With the future of coral reefs in serious question, their role as an indicator of impending changes to other natural and human-dominated ecosystems is increasingly critical, to prepare for and mitigate future disasters. He received a PhD from the University of Miami in 1995 on coral bleaching and life history strategies, which has developed into a primary research interest in climate change, coral bleaching and resilience of coral reefs. Other areas of work include the development of participatory monitoring and research tools with artisanal fishers in East Africa, and remote-reef surveys such as in the Phoenix Islands, central Pacific, and in the central and western Indian Ocean. David chairs IUCN's Coral Specialist Group and the Climate Change and Coral Reefs working group.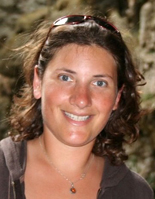 Randi Rotjan
New England Aquarium, coral biologist and coral reef ecologist
Randi Rotjan, Ph.D. at Edgerton Research Laboratory at the New England Aquarium, is a biologist specializing in corals. Her research addresses the interface between ecology, symbiosis, and behavior to ultimately determine how organisms interact with their environments. Although she works on a wide variety of model organisms, Randi most often works on "ecosystem engineers", which are organisms that have a disproportionate influence on their habitat (such as reef-building corals). Randi uses an integrative approach, combining exploratory observations with manipulative experiments to discover the patterns and uncover the mechanisms guiding ecosystem engineer performance. In the Phoenix Islands, she will be investigating predation on and "corallivory" — or consumption of live corals — in the absence of intense fishing pressure by humans.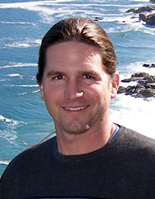 Stuart Sandin
Scripps Institution of Oceanography, coral reef fish
Stuart Sandin is a marine ecologist with the Center for Marine Biodiversity and Conservation at Scripps Institution of Oceanography in La Jolla, California. Sandin is trained in both field research and mathematics and has applied both of these skills to consider the role of human activities in altering the structure and functioning of coral reef ecosystems. His research goals are to apply marine ecological insights to improve the management of the world's imperiled coral reefs. With an expertise in reef fish ecology, especially in the remote tropical Pacific, Sandin joins this expedition to assess the status of the fish assemblages across the Phoenix Islands.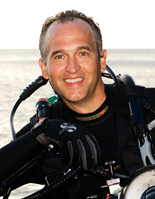 Brian Skerry
National Geographic and New England Aquarium Explorer in Residence, underwater photographer
Brian Skerry is an award-winning National Geographic magazine photographer and the Explorer In Residence at the New England Aquarium. For NGM, Brian has covered a wide range of stories, from the harp seal's struggle to survive in frozen waters to the alarming decrease in the world's fisheries, both cover stories. Other NGM features have focused on subjects such as the plight of the right whale, sharks of the Bahamas, marine reserves, sea turtles and squid. He has published twelve stories in NGM and has several new stories upcoming. On this Phoenix Islands Expedition, Brian will be photographing a new feature story for NGM that will take readers into these primal reefs ecosystems, shedding light on the animals that live here and the science being conducted.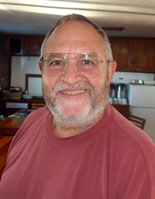 Jim Stringer
Diver and photographer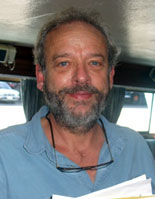 Greg Stone
Expedition Leader, Senior Vice President and Chief Scientist for Oceans with Conservation International and Senior Vice President for Exploration and Conservation for the New England Aquarium
Dr. Gregory Stone is Senior Vice President and Chief Scientist for Oceans with Conservation International and Senior Vice President for Exploration and Conservation for the New England Aquarium. Greg was featured in the September 2008 Smithsonian magazine cover story "Victory at Sea," and he was named one of the five "Bostonians of the Year" by the Boston Globe for 2008 for his work in ocean exploration and conservation. Greg is an ocean scientist who has written prolifically for science and popular publications, including Nature and National Geographic Magazine. He was senior editor of the Marine Technology Society Journal for six years. He has lectured throughout the world and produced an award-winning series of marine conservation films. His book Ice Island, about Antarctica, won the 2003 National Outdoor Book Award for Nature and the Environment. A specialist in undersea technology and exploration, he uses deep-sea submersibles, undersea habitats and SCUBA diving in all oceans of the world. While living in Japan, he established a cooperative deep-sea research program between Japan and the United States. He is a SCUBA instructor and research diver with over 5,000 dives, and he has lived for a month in undersea habitats. He is a National Fellow of the Explorers Club, a recipient of the Pew Fellowship for Marine Conservation and was awarded the National Science Foundation/U.S. Navy Antarctic Service medal for research in Antarctica. Dr. Stone is an honorary associate professor at the Leigh Marine Laboratory at the University of Auckland, New Zealand, and Vice-Chair of the World Economic Forum's Global Agenda Council on Ocean Governance. He was born in Boston and first swam in the ocean off the coast of Massachusetts when he was seven years old.
Tuake Teema
Kiribati Fisheries Ministry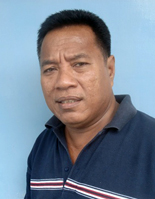 Tukabu Teroroko
Director of PIPA, Kiribati Ministry of Environment, Lands, and Agricultural Development
Tukabu Teroroko is the previous head of the Kiribati Ministry of Fishing and the current Director of the Phoenix Islands Protected Area (PIPA), the largest marine protected area in the world. He has been involved with the PIPA marine protected area initiative since its establishment by the Phoenix Islands government in January 2008. He has been to the island of Kanton in the Phoenix Islands on several occasions, when doing fisheries surveys on that island, and this will be his first visit to some of the islands in this remote, uninhabited region.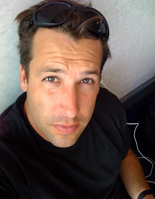 Jeff Wildermuth
National Geographic Magazine and New England Aquarium, videographer
Jeff Wildermuth is a cameraman from Monterey, California who specializes in underwater and marine related imaging. An American Academy of Underwater Sciences graduate from the University of California, Santa Cruz, Jeff is documenting the Phoenix Islands Expedition for the National Geographic Society and New England Aquarium. and acting as assistant camera for National Geographic Magazine Photographer Brian Skerry.