Blogs & Expeditions
Featured Expedition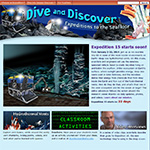 Stories, photos, and videos take you on board research expeditions that explore some of the most remote and unknown reaches of the ocean and the organisms that live there.
2015

Ongoing
WHOI post-doc Cara Fiore explores the role that sponges play in coral reef ecosystems.

Until January 17, 2015
The autonomous underwater vehicle Sentry explores the seafloor of the West Pacific and the history of Earth's geomagnetic field.

January 2015
An expedition to study environmental conditions on some of the most remote coral reefs in the Pacific