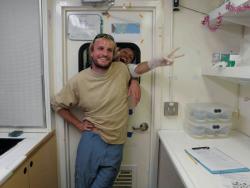 Enlarge image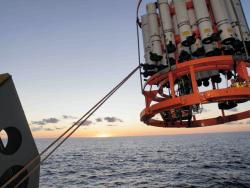 Enlarge image
A beautiful sunset delopment.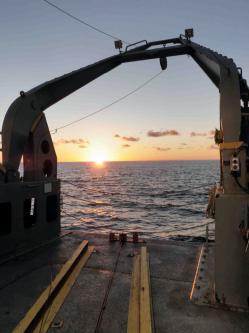 Enlarge image
A tale of two Thursdays
Karen Stamieszkin
It was the best if times and the worst of times aboard the R/V Melville, for on the tenth of December the crew and scientists met a fate unusual to the human race. Thursday the tenth was to occur twice. This only happens when one crosses the international dateline, or when one is abducted by aliens, transported through space-time, and then re-introduced to Earth at the beginning of the same day on which the abduction occurred, the former being more commonly documented than the latter. For Max, of the trace metals team from the University of Hawaii, he would have two birthdays; for others, there would simply be two Thursdays, for one of which there would be no extra pay. The regularity of life aboard the Melville whittles the line between the best and worst of days to a wisp. However, the first Thursday being spectacularly calm, with the sea like glass and a hot sun, it was generally accepted with ease that the day would be repeated.
Happy birthday, MAX!!!