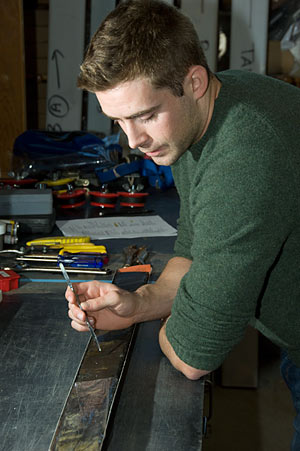 Related Links

As Director of the Coastal Ocean Institute (COI), I have been both excited and challenged to oversee this dynamic center of excellence. I particularly enjoy interacting with students, scientists, policymakers, and media. One goal of mine for the Institute was to increase communication and outreach. A great success in this area has been our recently launched web site on tsunamis, spearheaded by Dr. Jian Lin (Geology and Geophysics) and Web Communications Manager Danielle Fino. The site features an impressive display of graphics and scientific content that has been well received by everyone from tsunami scientists to travel writers. My plan is to continue to develop other web sites addressing coastal topics, such as beach closures, sea level rise and hurricanes.

COI makes an important contribution to WHOI by providing support to scientists, post-doctoral scholars and Joint-Program students. COI funded four research projects in 2009:
Adam Soule (Geology & Geophysics) is using terrestrial laser-scanning to monitor bluff erosion in Boston Harbor.
Using a high-frequency radar system, Anthony Kirincich (Physical Oceanography) is measuring inner-shelf circulation at the Martha's Vineyard Coastal Observatory (MVCO).
Bernhard Peucker-Ehrenbrink and Zhaohui Wang (Marine Chemistry & Geochemistry) are establishing a Connecticut River Observatory to increase our understanding of how rivers influence the composition of the oceans.
Louis St. Laurent (Physical Oceanography) is studying how turbulence on the shelf break affects biological activity, especially predation.
The Institution relies heavily on our pool of post-doctoral scientists for leading many of our research projects and for recruiting scientific staff. Hence, COI post-doctoral scientists are paramount for the current and continued excellence of coastal research at WHOI. The Institute supported several post-doctoral scholars and Joint Program graduate students in various ways in 2009. Post-doctoral scholar Juliette Smith (Biology) is studying the ecophysiology of a recently cultivated marine dinoflagellate, Dinophysis, focusing on its production of Diarrhetic Shellfish Poisoning toxins. Post-doctoral scholar Gordon Zhang (Applied Ocean Physics & Engineering) is studying the dynamics of strong along-shore currents and the accumulation of plankton at the continental shelf break off the coast of New England.

In keeping with COI's theme of studying natural and anthropogenic threats to the coastal environment, COI-sponsored graduate student Phil Lane (Geology & Geophysics) is working with Jeff Donnelly (Geology & Geophysics) to develop records of Atlantic hurricane activity going back as far as 5,000 years. These records are based on sediment cores extracted from coastal ponds and marshes that contain signatures of repeated inundation from hurricane storm surges. His field sites are located along Buzzards Bay, Massachusetts and Apalachee Bay, Florida, and are part of a sparse but growing network of paleohurricane records. Graduate student Elizabeth Halliday (Biology) is developing a quantitative and more accurate method to rapidly identify viable fecal indicator bacteria in beach sand.

Thank you to all who contributed their support to the COI.

—Christopher Reddy, Institute Director