| | |
| --- | --- |
| REMUS 100 Sensor Slideshow | |
Some Ideas Aren't as Wild as You Think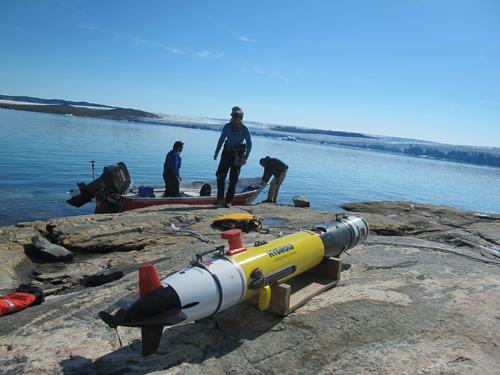 1. REMUS-100, Glacierbot, awaits its next mission alongside a glacier in Greenland. (A. Kukulya)
2. Engineering Assistant, Amy Kukulya of WHOI, prepares auxilary equipment for REMUS with an Imagenex pencil beam sonar and 900 kHz sidescan sonar to study the formation of sand ripples on the seafloor, especially their displacement during storms. Two surverys took place off Fort Walden Beach, FL in the fall 2004 two weeks after Hurricane Ivan. (Peter Traykovski)
3. Imagery acquired by the REMUS RIPPLES vehicle off Fort Walden Beach, FL, fall 2004. (Peter Traykovski)
4. The REMUS plankton pump vehicle transits to a pre-programmed location and loiters. It then pumps a volume of seawater through a filter and stores a sample for recovery. It is the only REMUS add-on sensor that brings back physical samples. Researchers down at Rutgers use it to sample upwelling and non-upwelling conditions at LEO-15.
5. REMUS outfitted with a plankton pump sensor has been used by researchers at Rutgers to help understand the physical mechanisms that produce very high concentrations of bivalve larvae, expecially surfclams near the LEO-15 research area.
6. This is an image from DIDSON, acquired with a REMUS, of a lost torpedo. (REMUS)
7. This is the same torpedo as seen in the previous photo, except this one was capture using REMUS' 900 kHz sidescan sonar.
8. REMUS outfitted with a forward looking sonar known as DIDSON.
9. This sensor was developed by SPAWARS, San diego to detect chemical plumes downstream from its source. An Adaptive Mission Planner (AMP) uses current and sensor data to estimate a plumes track and follow it to its source.
10. This video plankton recorder is an existing instrument that has been re-fitted for a REMUS. It images plankton in a 7mm cubic volume of seawater. (Cabell Davis)