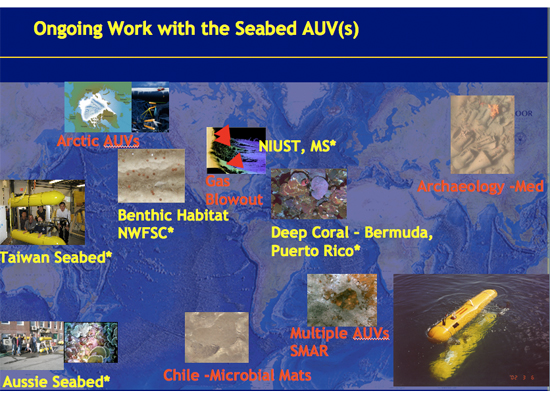 1. Ongoing work with the Seabed Class of AUVs. The subtitles in yellow refer to vehicles being used by people other than at WHOI.
2. Vehicle Characteristics for the 5000m rated Jaguar and Puma vehicles - Navigation, sensing systems and software are virtually identical between these systems and the Seabed AUVs that are rated to 700m or 2000m. The only difference between vehicles with different depth ratings have to do with size and weight.
3. The research team for the 2003 Puerto Rico expedition aboard the R/V Chapman.
4. Deploying the AUV off the R/V Oceanus in the George's Bank region off the coast of Massachusetts
5. We have deployed the AUV off very small vessels such as the R/V Sultana pictured here as well as large vessels including the Swedsh icebreaker Oden.
6. Deploying the vehicle in the Arctic
7. We have used multiple vehicles for research on navigation and communicatios for multi-vehicle operations. In this case we are testing on the transit prior to deploying the AUVs on the Southern mid-atlantic region close to Ascension Island off the R/V Knorr.
8. One way to recover the vehicle is to walk out on an ice ridge and hook a line onto it. Do not try this on just any ocean.
9. Sirius (the seabed class AUV) owned and operated by the Australian Center for Field Robotics
10. Deploying the vehicle in the Arctic from a lead of opportunity.