Related Multimedia

Related Files

Date
Sunday, October 17, 2010
Noon to 5:00 p.m.
Woods Hole Village
Schedule of Events
Alvin Past, Present, and Future
2:00 to 3:00 • Redfield Auditorium • 45 Water Street, Woods Hole
Hear from scientists and engineers about Alvin's history, what it's like to take a dive in Alvin, and the major changes the sub will undergo in the coming year. Speakers:
Alvin Open House
3:00 to 4:30 • WHOI Dock • 98 Water Street, Woods Hole
See the sub and talk to the people who help make it the hardest working deep-diving research sub in the U.S.

WHOI Ocean Science Exhibit Center
Noon to 5:00 • 15 School Street, Woods Hole
Learn more about Alvin, sit in a life-size mock up of the Alvin personnel sphere, watch high-definition video of life in the ocean's depths.



Panel Discussion Video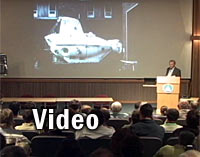 »
View Video of the Panel Discussions
Additional Information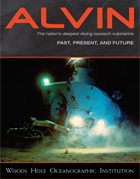 Alvin: Past, Present, and Future
Read more about
Alvin's
accomplishments, what it's like to dive in
Alvin
, and what's in store for the nation's hardest-working deep-sea submersible.
» Download PDF

Human-Occupied Vehicle Alvin
Alvin
is a 3-person research submarine that takes scientists deep into the ocean. Since its launch in 1964, the
Alvin
has taken more than 2,500 scientists, engineers and observers to visit the floor of the deep sea.
» Visit Website

Alvin's Pilots
A tight-knit group with the 'right stuff' to guide a submersible on the seafloor.
» Visit Website

AQs about Alvin
Find out how
Alvin
works and why it is used.
» Visit Website

Interactive Alvin
The deep diving submersible
Alvin
helped to turn a sunless, freezing marine world into a new frontier. More than 4,000 dives to the seafloor have allowed scientists to discover undersea volcanoes, deep-sea minerals, and hundreds of previously unknown organisms. Learn more about the vehicle in this interactive feature.
» Visit Website

What Is It Like To Go Down In Alvin?
From Dive and Discover Hot Topics.
» Visit Website

Oceanographic Tools: Alvin
From Dive and Discover Deeper Discovery.
» Visit Website
Related Links

Support Ocean Science


In 2011 Alvin will undergo a multimillion dollar upgrade, allowing the sub to explore even greater depths. Your support of ocean exploration will help advance oceanography for generations to come.


» Visit Website




Last updated: April 3, 2012