Welcome to the Woods Hole Osprey Cam
July 22, 2015
After consulting with experts on the situation on the osprey nest, the osprey chick has been removed from the nest and is being cared for at a wildlife rehabilitation facility.With that, we are shutting off the camera for the season. You can read background on the nest activities this season on the Window on Wildlife Discussion Forum. We appreciate your care and interest in the Osprey Cam.
---
Ospreys are special birds. They are the only birds-of-prey that live almost exclusively on a diet of fish, which they catch on spectacular, sweeping dives after coming to a near-hover above the water. Ospreys are also on the rebound after DDT was banned in the U.S., but remain threatened by hunting in other countries. Here you can watch the inhabitants of one nest in Woods Hole, Mass., that is ideally located near the inland ponds and coastline of southwestern Cape Cod.
about ospreys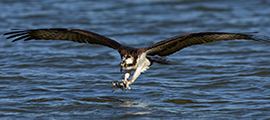 Learn more about one of the world's most widespread birds-of-prey
Send your photos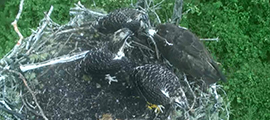 Share your Osprey Cam screen grabs or photos of ospreys near you. Email OspreyCam@whoi.edu.