SharkCam Lost and Found
At the end of their December 2015 expedition to the shark-filled waters off Guadalupe Island, the SharkCam team lost contact with their newest vehicle in nearly 600 feet of water. This is the story of what happened and what they did to get it back.
Return of SharkCam: Into the Dark
SharkCam returned to Guadalupe Island, Mexico, to follow great white sharks deeper and into the night to give researchers never-before-seen views of the ocean's top predator in the wild.
Inside SharkCam
Learn how REMUS SharkCam is able to take you into the world of the great white shark to give you an up-close look at the ocean's top predator.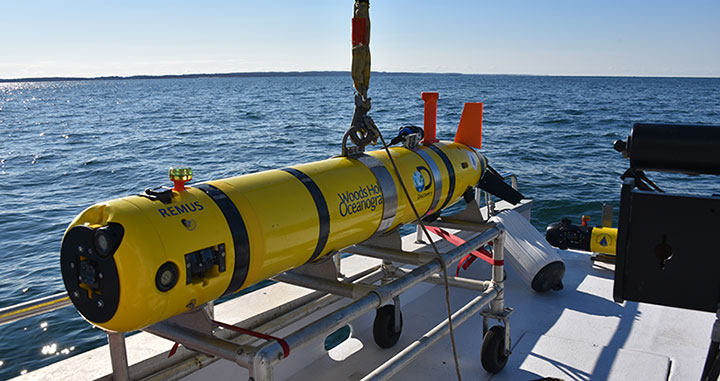 REMUS SharkCam: The hunter and the hunted
In 2013, WHOI engineers Amy Kukulya and Roger Stokey from the Oceanographic Systems Lab took a specially equipped REMUS "SharkCam" underwater vehicle to Guadalupe Island in Mexico to film great white sharks in the wild. The captured more than they bargained for.
WHOI engineers Amy Kukulya and Roger Stokey discuss REMUS SharkCam
Interview with SharkCam Engineers Amy Kukulya and Roger Stokey from Woods Hole Oceanographic Institution.
The Ocean's Hidden Predators: Revealed
Marine biologist Greg Skomal and engineer Amy Kukulya discuss the importance of sharks in the ecosystem, the threats they are under, and how new technology--the SharkCam, is helping researchers learn more about these top predators.
Five Questions:WHOI's Simon Thorrold on Sharks
WHOI biologist and senior scientist Simon Thorrold discusses sharks and why they are important to a healthy ocean.