Undergraduate Fellowships for Minorities
A research project is the heart of the Minority Fellowship experience. All Fellows are expected to work on a project selected in collaboration with their sponsor(s) that will provide meaningful results during a 10 to 12 week Summer Fellowship. Project topics span a vast spectrum of research in ocean sciences and engineering conducted in WHOI's science departments and the Woods Hole Field Station of the U. S. Geological Survey (USGS).
Fellows have many occasions to interact with current MIT/WHOI Joint Program graduate students, from the Q&A session designed specifically for that purpose, to the Ethics in Science Workshop.
In addition, fellowship recipients have the opportunity to attend and participate in a busy schedule of talks, seminars and a hands-on, one-day, at-sea practicum cruise onboard the R/V Tioga focusing on data collection and sampling methods with advanced oceanographic technology and instruments. The cruise is especially designed for Fellows and not only provides practical training but also brings the group together socially through a shared field experience.

The online application link for the 2013 Minority Fellowship program is now OPEN! Applications will be accepted from November 5, 2012 through February 15, 2013.
Here's what some past fellows had to say:
"I loved the program overall. It helped me gain research experience and knowledge (both from scientific literature and from the lectures)." MF '10
Multimedia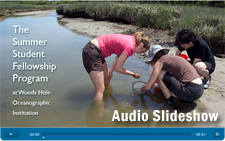 Summer Student Fellow Audio Slideshow
In 2009, the WHOI Summer Student Fellowship program celebrated its 50th year of bringing bright, talented students to Woods Hole to learn more about ocean science, conduct independent research alongside world-class scientists, and get a better understanding of what studying for a Ph.D. and being a professional scientist are all about.

Additional Information