Case Studies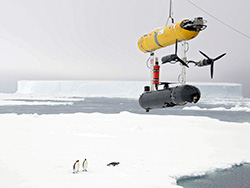 SeaBed Technologies Inc.
Hanu Singh wanted to commercialize his SeaBed vehicle and imaging technology that he and his colleagues invented at WHOI. He requested a license and described what he wanted to do in a short business plan that he presented to OAO. OAO reviewed the plan, and presented it to the AOPE Chair, and the WHOI Trustee Business Development Committee. The plan was approved, and the license was granted to Hanu, that he could then take to start his company, SeaBed Technologies, Inc. WHOI made an explicit decision to not own equity in the company, based on several factors, such as desire by founders for capital, availability of cash, and perceived risk. Sometimes WHOI will have a stake in the spin out company, other times, it will decide not to (e.g., yes for EOM Offshore, LLC and Petrel Biosensors Inc., no for Hydroid; both conscious decisions the Institution made when the companies spun out). In all cases, the license to these companies provides that royalties are paid to WHOI.
Since Hanu maintains his full-time Scientific Staff position at WHOI, he works in his spare time to establish and build SeaBed Technologies, Inc. and all activities related to the company are conducted off campus.
Hanu's decision to start a company came about because he saw a business opportunity based on his unique technology and a strong market for the capabilities he had to offer. The technology is not patented, but rather protection relies on the complexity of his system and his know-how to make the systems perform as desired.
Hanu's advice to WHOI staff interested in commercializing their invention or idea: be transparent in your endeavor, be realistic, and understand that you need to wear two hats—one as a WHOI PI, the other as a business person representing a company. Find the support you need for each hat, and be able to clarify each role you have to others.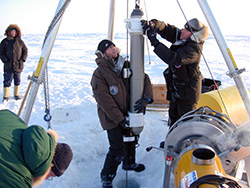 Ice Tethered Profiler
The Ice Tethered Profiler makes it possible to profile the water column under ice everyday for up to a full year. The profilers currently deployed on the Arctic Ice Sheet provide real-time data used in physical oceanographic studies of the Arctic Ocean basin. John Toole worked with McLane Research Laboratories to transfer the technology out of WHOI for broader use in the scientific field. This, in turn, helped make the capability available for all scientists to use, and for field of Physical Oceanography to continue to evolve.
Related Information
» Ice Tethered Profiler Website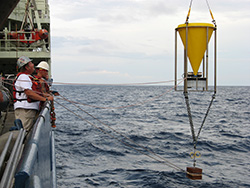 McLane Sediment Traps
The McLane Sediment Traps obtain time-series samples of settling particles in the ocean water column providing critical data relevant to radionuclide behavior, global carbon cycle investigations, and environmental studies. The traps have provided globally consistent data for over 20 years, and the compiled data has provided a new understanding of carbon sequestration in the oceans over time. The technology was developed at WHOI, commercialized at McLane, and WHOI continues to receive a generous royalty amount based on the sales.
Related Information
» Sediment Traps, McLane Labs Website
Last updated: January 16, 2014