Nereid Under Ice (NUI)
Overview
The Deep Submergence Laboratory at the Woods Hole Oceanographic Institution, supported by a grant from the National Science Foundation, has been developing a robotic underwater vehicle that will provide the Polar Research Community with a capability to tele-operate, under direct real-time human supervision, a remotely-controlled inspection and survey vehicle under ice at horizontal standoff distances up to 20 km from a support vessel. The Nereid Under-Ice (Nereid UI) vehicle will enable exploration and detailed examination of biological and physical ice-margin and under-ice environments through the use of high-definition video in addition to a range of acoustic, chemical, and biological sensors tailored to suit the needs of an individual expedition. The goal of the Nereid UI system is to provide scientific access to under-ice and ice-margin environments that is presently impractical or infeasible.
The Nereid UI project commenced in September 2011, and completed core-system docktrials in September 2013. Incremental field testing is presently underway, with full-system docktrials slated for April/May 2014.

The vehicle will ship to Tromso, Norway May 21, 2014 for its first field expedition under sea-ice in the Fram Strait.

We welcome input from the Polar Science Community on how best to serve your scientific objectives.

Contact: Michael Jakuba, mjakuba@whoi.edu
Project Team
Principal Investigators: Andrew D. Bowen1, Dana R. Yoerger1, Christopher German1, James C. Kinsey1, Louis L. Whitcomb1,2 Larry Mayer3

Engineering Team: Michael V. Jakuba1 (lead), Christopher L. Taylor1 (electrical systems lead), Daniel Gomez-Ibanez1 (power systems and telemetry lead), Casey Machado1 (mechanical systems lead), Glenn MacDonald1 (LARS lead), Stefano Suman1 (software lead), Andrew Billings1 (thrusters lead), Keenan Ball1 (acoustic systems lead), Christopher McFarland2 (navigation), and many others.

1Woods Hole Oceanographic Institution
2Laboratory for Computational Sensing and Dynamics, Johns Hopkins University
3Center for Coastal and Ocean Mapping, University of New Hampshire
Capabilities
Real-time exploration under direct human control far from influence of host ice breaker
HD video and real-time visualization of mapping and survey data products
Respond to features of interest by altering sensing modality and trajectory as desired
Vertical mobility – access to pressure-ridges, melt-pools, crevasses, general close inspection and mapping.
Land against underside of ice or on seafloor
Precision access to under-ice boundary layer
Access beneath glacial ice tongues and shelves
Future manipulation, sample retrieval, and instrument emplacement capability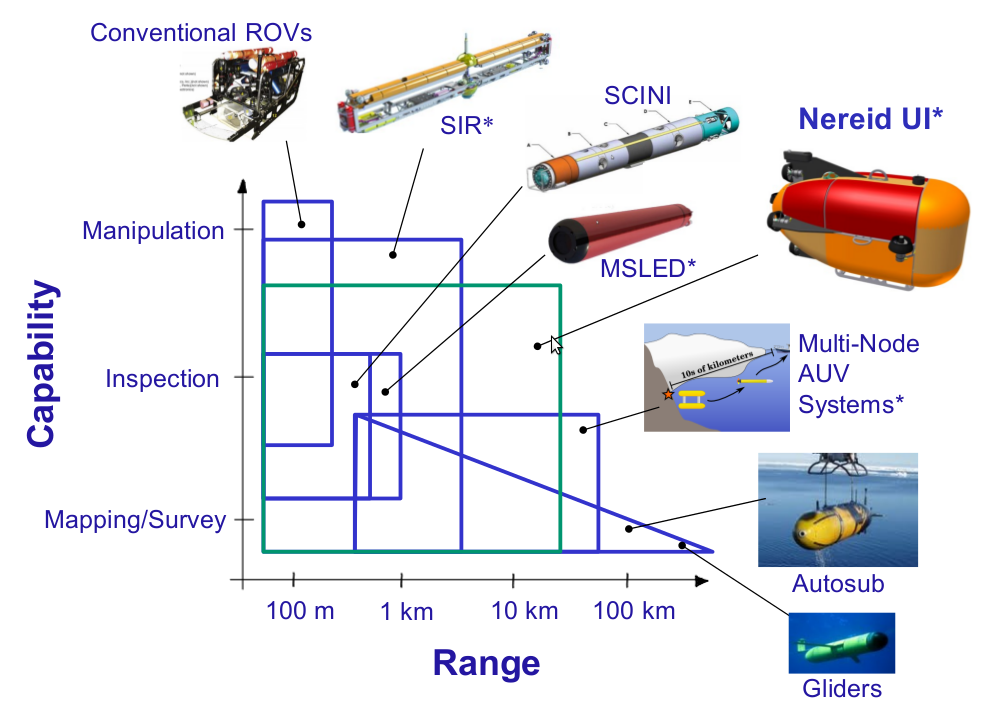 Capabililties cross-comparison with other scientific systems targeted for the under-ice environment. Nereid Under-Ice extends the range over which ROV-like inspection and real-time telepresence is possible relative to conventional ROV systems. (*denotes systems under development as of 2013).


Specifications
Specifications
Range
40 km @ 1 m/sec plus 20 km reserve (preliminary). Maximum speed in excess of 1.3 m/s.
Closed-loop control of heading, depth, ice-relative and geo-referenced position (within 150 m of ice and seafloor, respectively)
Air Weight
1800-2000 kg depening on configuration.
Depth Rating
2500 m
Battery
18 kWhr lithium-ion
Time
On board precision atomic clock synchronized to GPS, 1 ppb drift rate/year.
Navigation
Inertial
IXSea Phins INS/north-seeking gyro-compass; back-up magnetic compasses (3)
Depth
Paroscientific Nano-Resolution pressure sensor; SBE 49 FastCAT back-up
Acoustic
up/down 300 kHz ADCP/DVLs; Blueview P900 imaging sonar for obstacle avoidance, One-way travel-time acoustic navigational aiding at 10 Hz, 3.5 kHz.
Communication
Tether
Fiber-optic communications-only Gb Ethernet, 20 km
Acoustic

LF (3.5 kHz) 20-300 bps for ship to vehicle (20 km range); HF (10 kHz) 300 bs, ship-to-vehicle (1-5 km range), vehicle to sensor; vehicle to vehicle
Imaging
Acoustic

TBD. Fieldwork in July 2014 will employ an Imagenex DT100.
Optical
Real-time color HD-SDI video on internal pan/tilt/zoom (Kongsberg OE12-522); LED lighting (8 DSPL Sphere, dimmable), 3 channels SD, encoded on board.
Chemical/Physical Sensors (permanent)

Seabird FastCAT-49 pumped CTD
Biological Sensors (permanent)
WetLabs FLNTURTD Chl/backscatter fluorometer (0-30 ug/l, 0-10 NTU)
Auxiliary payload allowance (bow/spine):
Native support for 10 auxiliary sensors. ~100 kg wet weight, 500 Whr Energy, 1000 W total (6 high-power channels with Gb Ethernet and/or RS-232, 100 W per channel, 6 low-power channels 3-15 W per channel, RS-232). 4 hardware trigger lines. All channels logged on board and delivered in real-time topside. Other communications protocols on request.
Auxiliary payload allowance: spine (upward-looking, protected)
240 mm x 450 mm x 500 mm (width, length, depth)
Auxiliary payload allowance: nose/chin (forward/down-looking, protected)
~0.8 m3 total available volume, reconfigurable.
Acknowledgements
This work is funded under NSF's Office of Polar Programs ANT-1126311. Additional funding is provided by the James Family Foundation, the George Frederick Jewett Foundation East and the Woods Hole Oceanographic Institution.
Originally published: March 21, 2014